Each week there are plenty of new games coming out. Although with so much going on it can be hard to keep track of them all. Thankfully Checkpoint is here to sift through them all and bring you our highlights of the week.
So let's jump in and have a look at what's coming out this week.
Kentucky Route Zero (TV Edition / PC Edition) | 28/01/2020
Genre: Adventure
Platforms: PC, PS4, Xbox One, Switch
"A magical realist adventure game in five acts, featuring a haunting electronic score, and a suite of hymns and bluegrass standards recorded by The Bedquilt Ramblers. Rendered in a striking visual style that draws as much from theater, film, and experimental electronic art as it does from the history of videogames, this is a story of unpayable debts, abandoned futures, and the human drive to find community." – [source]
Journey to the Savage Planet | 29/01/2020
Genre: Adventure/Exploration
Platforms: PC, PS4, Xbox One
"In this colorful, co-op adventure game you play as the newest recruit to Kindred Aerospace. Dropped onto an uncharted planet with little equipment, you must determine if this planet is fit for human habitation but perhaps you are not the first to set foot here…" – [source]
Warhammer Underworlds: Online (Early Access) | 29/01/2020
Genre: Strategy
Platforms: PC
"Warhammer Underworlds: Online is a digital adaptation of the explosive, high-stakes, turn-based strategy tabletop game from Games Workshop that pits mighty warbands from the Age of Sigmar universe against one another in an eternal player versus player battle for Glory. Choose a warband, build your decks and carve a path to victory using dice-and-card mechanics that offer boundless strategic depth." – [source]
Cook, Serve, Delicious! 3?! (Early Access) | 29/01/2020
Genre: Simulation / Strategy
Platforms: PC
"Hit the road in this massive sequel to the million-selling Cook, Serve, Delicious! series as you travel across the United States to participate in the Iron Cook National Foodtruck Championships."
"Set in the radically-changed war-torn America of 2042, play through an all new story-driven campaign where you cook hundreds of foods—including many brand new to the series—across hundreds of levels in a new gameplay structure that has been completely redesigned to deliver fast-paced action, or take it easy with the all new Chill Mode that can be toggled on or off at any time!" – [source]
Warcraft III: Reforged | 29/01/2020
Genre: Real-Time Strategy
Platforms: PC
"Warcraft III: Reforged is a stunning reimagining of the revolutionary real-time strategy game that laid the foundation for Azeroth's most epic stories. It is a remake in the truest sense, featuring a thorough visual overhaul, a suite of contemporary social and matchmaking features, and more. Command the Night Elves, Undead, Orcs, and Humans as alliances shift and armies clash in this timeless real-time strategy game." – [source]
Coffee Talk | 29/01/2020
Genre: Adventure
Platforms: PC, PS4, Xbox One, Switch
"Coffee Talk is a game about listening to people's problems and help them by serving a warm drink out of the ingredients you have. It is a game that tries to depict our lives as humanly as possible while having a cast that is more than just humans."
"Developed and published by Toge Productions, the game was inspired by the calm feelings of drinking warm drinks in the middle of a cold rainy night, alone or accompanied by friends. The game features visual aesthetics that are inspired by 90s anime, classic pixel art adventure games, and the chill imageries often associated with lo-fi chillhop music." – [source]
The Pedestrian | 29/01/2020
Genre: Puzzle
Platforms: PC
"The Pedestrian is a 2.5D side scrolling puzzle platformer. You are The Pedestrian! Enter into a dynamic 3D world with stunning graphics and challenging puzzles."
"You play by rearranging and reconnecting public signs in order to explore and advance through each engaging environment." – [source]
Skellboy | 30/01/2020
Genre: Action / Adventure
Platforms: PC, Switch
"Sometimes, when there is nobody up to the task, old heroes have to rise from the grave to save the day! Crush your enemies and make good use of their guts – literally, as you can augment Skippy with your foe's body parts and weapons!"
"Help Skippy, the cubic skeleton, to fight off Squaruman's endless forces of undead and vicious foes in this rectangular action packed cardboard adventure!" – [source]
MindSeize | 30/01/2020
Genre: Metroidvania
Platforms: PC
"MindSeize is a single player 2D Metroidvania game set in a sci-fi universe. Explore untamed planets and stop the mysterious organization that stole the mind of your daughter."
"You play as the private investigator M.C. Fox, who is chasing a dangerous criminal organization 'The Ascended' across the universe. The first confrontation between M.C. and the leader of The Ascended severely injured M.C. and left him crippled. They also managed to seize the mind of his daughter Taryn. This left only one choice for our protagonist: hire a crew, connect his consciousness into a robotic body called MAG and continue the chase!" – [source]
Speaking Simulator | 30/01/2020
Genre: Simulator / Comedy
Platforms: PC, Switch
"Infiltrate a world of extremely trusting humans, speak to them, and convince them that you're definitely not a robot."
"Move your mouth and tongue to make your words come out. Make your way through 10 regular human conversations like the first date, a job interview, and a tragic eulogy."
"Unfortunately, we cut corners on your safety features. If you make errors your systems will overload and your face will explode a bit. Warning: if you explode too much the humans will realise that you are a robot." – [source]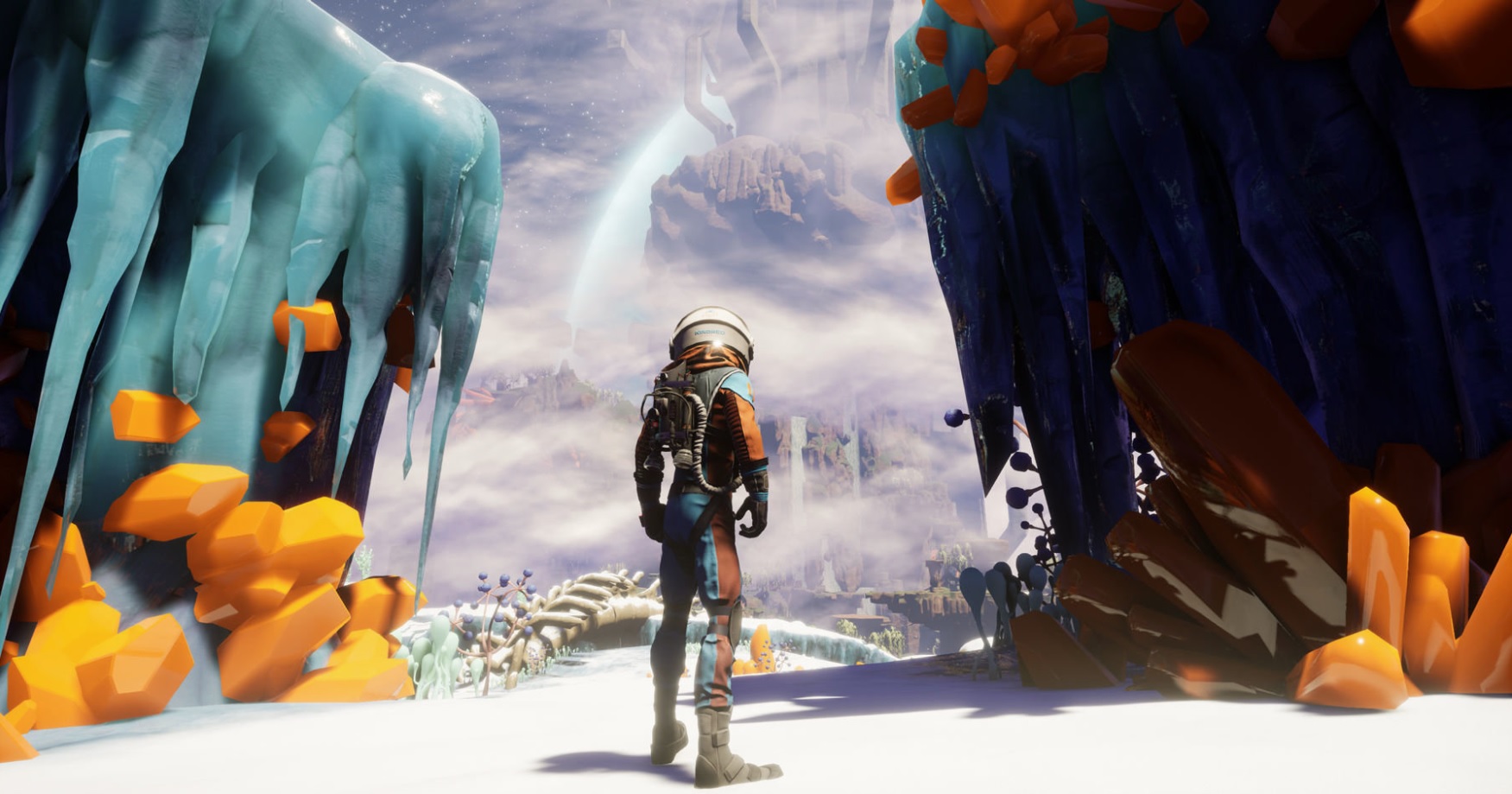 Journey to the Savage Planet
29/01/2020
I'll be honest, in a stacked week like this one, it wasn't easy to select just one game to be our top pick. Warcraft 3 and Kentucky Route Zero have already solidified themselves as fantastic titles and would have made for safe choices. Although sometimes a game manages to capture your imagination and get you so excited for its possibilities.
Journey to the Savage Planet is looking to launch us into another world entirely. It's a gorgeous and creative looking game being made by a newly formed studio headed by an industry veteran who had previously worked on the Assassin's Creed franchise. Can the game be everything we dreamed it would? I have high hopes.