Each week there are plenty of new games coming out. Although with so much going on it can be hard to keep track of them all. Thankfully Checkpoint is here to sift through them all and bring you our highlights of the week.
So let's jump in and have a look at what's coming out this week.
Risk of Rain 2
Date (Aus): 11/08/2020
Genre: Roguelike / Shooter
Platforms: PC
"The classic multiplayer roguelike, Risk of Rain, returns with an extra dimension and more challenging action. No run will ever be the same with randomized stages, enemies, bosses, and items. Play solo, or team up with up to four friends to fight your way through hordes of monsters, unlock new loot, and find a way to escape the planet.
With each run, you'll learn the patterns of your foes, and even the longest odds can be overcome with enough skill. A unique scaling system means both you and your foes limitlessly increase in power over the course of a game–what once was a bossfight will in time become a common enemy.
Myriad survivors, items, enemies, and bosses return to Risk 2, and many new ones are joining the fight. Brand new survivors like the Artificer and MUL-T debut alongside classic survivors such as the Engineer, Huntress, and–of course–the Commando. With over 75 items to unlock and exploit, each run will keep you cleverly strategizing your way out of sticky situations."
Parkasaurus
Date (Aus): 13/08/2020
Genre: Management / Simulation
Platforms: PC
"Parkasaurus is a dinosaur tycoon management simulation where you take care of your dinosaurs by constructing well-designed exhibits, researching specialized technologies, and maximizing profits to expand into the ultimate dinosaur theme park. Do you favor development that favors your dinosaurs or the guests?"
Total War Saga: TROY
Date (Aus): 14/08/2020
Genre: Strategy
Platforms: PC
"TROY is the latest Total War Saga title; inspired by Homer's Iliad, it focuses on the historical flashpoint of the Trojan War, evolving the series with new period-inspired features.
Through Total War's unique blend of grand, turn-based empire management and spectacular real-time battles, Troy explores this epic conflict from both the Greek and Trojan perspectives – peeling back the layers of myth and legend to reveal the realities that may have inspired them.
Experience the events surrounding the era-defining Trojan War, brought to life as never before. Realize your legend as one of eight iconic heroes. Dive into a character-led narrative drama and overcome your antagonists. Build your empire through strategy, statecraft, diplomacy and all-out war, as you conquer this vast and striking recreation of the Bronze Age Mediterranean."
Kill It With Fire
Date (Aus): 14/08/2020
Genre: Simulation / Comedy
Platforms: PC
"The spider – mankind's most ancient and deadly nemesis. As a licensed Kill It With Fire exterminator, it's time to fight back! Assemble your arsenal of increasingly excessive weapons, track spiders across suburbia, and burn everything in your path!
To defeat spiders you must exploit their one weakness: FIRE. Or bullets. Or explosions, throwing stars, gettin' smushed by stuff…pretty much anything, really. But that doesn't mean it'll be easy – first you've gotta find the spiders. Use state-of-the-art arachnid tracking technology to pinpoint your quarry's location among hundreds of potential hiding spots – then, torch everything and smash the spider with a frying pan after it runs out. It's the only way to be sure."
Boomerang Fu
Date (Aus): 14/08/2020
Genre: Local Multiplayer / Action
Platforms: PC, Xbox One, Switch
"Roast and toast your friends in lightning-fast rounds of cute physics combat for up to 6 players. Perfect for parties!


Discover a ridiculous range of power-ups like explosive boomerangs, disguises and telekinesis. Then stack your power-ups together to form outrageous combinations!
It only takes one stick and three buttons to pulverize your pals. Anyone can play immediately, but hardcore players will love mastering the advanced techniques of this lost martial art. Deflect attacks, recall dropped boomerangs, and curve your throws around corners to become a powerful boomerang assassin.
Journey to an edible world as you do battle in over 30 Kung Fu arenas, each filled with unique tools and traps. Jump over moving platforms and sneak through lush foliage. Trigger sliding walls to squish your foes. Dive between giant rolling pins and delight the Toaster King."
EA Sports UFC 4
Date (Aus): 07/08/2020
Genre: Sports / Fighting
Platforms: PS4, Xbox One
"In EA SPORTS UFC 4 the fighter you become is shaped by your fight style, your achievements, and your personality. Develop and customize your character through a unified progression system across all modes. Go from unknown amateur to UFC superstar in the new Career Mode, experience the origins of combat sports in two all-new environments; The Kumite and The Backyard, or challenge the world in new Blitz Battles or Online World Championships to become the undisputed champ. In gameplay, fluid clinch-to-strike combinations offer more responsive and authentic stand-up gameplay, while overhauled takedown and ground mechanics deliver more control in those key phases of the fight. No matter how, or where, you play EA SPORTS UFC 4 puts you at the centre of every fight."
Bite the Bullet
Date (Aus): 14/08/2020
Genre: Action RPG
Platforms: PC, Xbox One, Switch
"Bite The Bullet is the world's first Run & Gun & Eat. In this roguelite RPG shooter you must eat enemies, bullets and more to powerup your character, weapons, and abilities. Gun down zombies, robots and giant mutant bosses with a barrage of bullets before chowing down on their corpses to craft new weapons, unlock new abilities and special attacks, and transform into a powerful Zombro form to smash foes. Explore four character classes and a skill tree based on your diet – and remember, you are what you eat!
How you play is driven by how you choose to eat. The carnivorous Gorivore or vegan Slaughterer of the Soil that have their own unique abilities and perks, changing how you defeat enemies and navigate levels. Customize your character with every choice and every bite. Maximize your build for your playstyle, run the world again with a different diet for a new challenge, and team up with a friend in co-op to ramp up the bullets and the calories."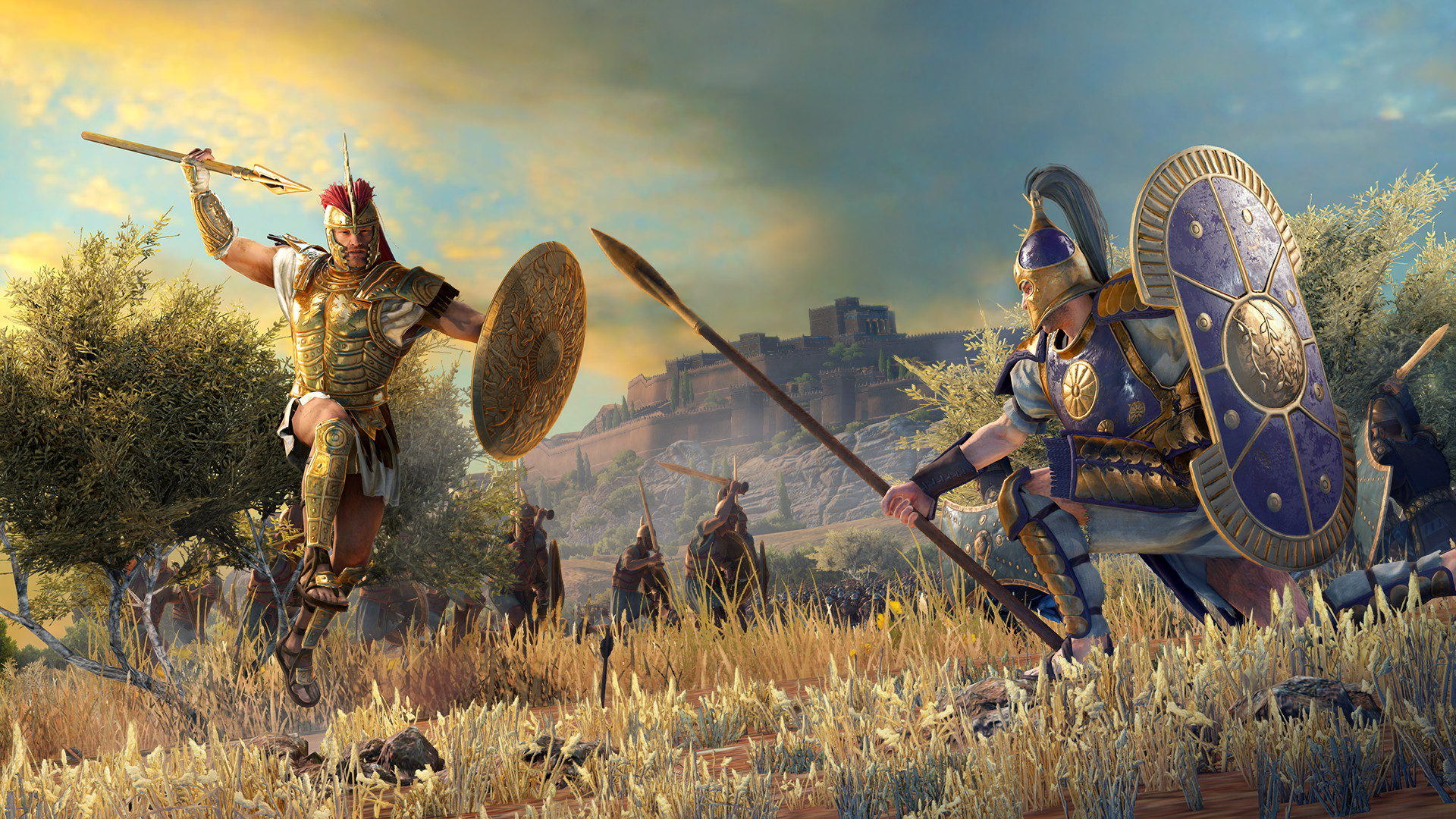 Total War Saga: TROY
The Total War series is a massive franchise for strategy fans. With a focus on Solo play and a unique blend of real-time battles and turn-based empire management, this PC series of games has established itself as big player within the strategy sphere.
A Total War Saga: TROY is the latest in the series. It's also the first time the series will focus on the Trojan War, a 20-year conflict set within the Bronze Age. This exciting new release will also be completely free on the Epic Games Store for the first 24 hours of release. It doesn't get much better than that.
What new titles coming out are you most excited for this week? Be sure to let us know!
Don't forget last week's Coming Out to make sure you didn't miss anything.