Video World is a rhythm narrative game that combines so many heart-soaring elements. It's got queerness, synth-pop, '90s nostalgia, a cute art style, and even punny pumpkins! To top it all off, it's made in Melbourne by local musician, Jacob Leaney, for his solo music project, Monster Mansion. With all these winning elements, it's pretty easy to fall in love with this game! We were lucky enough to have a chat to the game developer/music producer to pick his very talented brain ahead of the game's January 22 release.
Video World is set in the 1990s. It was a time before online streaming services became so prevalent, and back when video stores were a much-needed cure for our boredom. Leaney purposely chose the setting of a video store as he loves environments in games "that are nostalgic/cozy/safe/warm." He also told us that "I yearn to re-create my most beloved places from real life in games – such as a video store." 
In this world of the video store, the main protagonist, Casper, finds himself working what he believes to be an ordinary, boring night at his job as a video shop clerk. However, the appearance of talking pumpkin Jill, who encourages him to find his inner voice through songs that he will write "in the future", makes it far from the usual night.
Leaney incorporates regular jobs for Casper to complete on his shift in the video store, mixing the real world with the "spooky" world of pumpkin Jill, making it a well-rounded Halloween romp. These jobs include restocking, returning videos, and cleaning up trash that those no good litter-bugging customers have dropped.
Between these tasks is when the real fun occurs. Here you complete rhythm challenges to Leaney's original songs. There are three in total and damn are they catchy! To complete the tasks that Jill sets out for you, the player needs to press the arrow keys that match the patterns shown on the screen in time to one of Leaney's tracks. If you struggle with rhythm games, there are also a number of game modes, including narrative mode, for those who want to chill and enjoy the game's story.
Leaney left school early to study music and music production and as a teenager was part of the alt-rock band Inventions, though he admits that the "music industry wasn't quite enough for me" and therefore took a game design course in the hopes of becoming a composer. He found he loved creating video games just as much as he loved creating music. Video World obviously combines these two loves. He told us that he knew "it would be great to create games that incorporate the songs that I wrote, and I was confident it was a pretty unique approach."
For Leaney, it's about giving Casper "the joy of just SINGING."
When we asked Leaney about the connection between the narrative of the game and the narrative within the music, he admits he gave himself "freedom to just have fun with it. I had no specific message in mind for the game to convey, or for it to connect too deeply with the lyrics." For Leaney, it's about giving Casper "the joy of just SINGING."
Jill is the reason that Casper embraces his love of singing and is the catalyst for the tunes in the game. Not surprisingly, when we ask Leaney whether he believes that video games are a good way for people to listen to music, he stresses the power in the connection between sound and memories.
"Whenever I hear the Halo theme song, I can't help but have flashes of memories of playing with my brother when we were 11 or 12 – I can almost smell the original Xbox's plastic from overheating when we played too much! I think there's lots of strength in embedding people's experience of a song with meaningful actions in a game; imagine defeating the final boss or similar while an epic final chorus of a song is blasting in the background."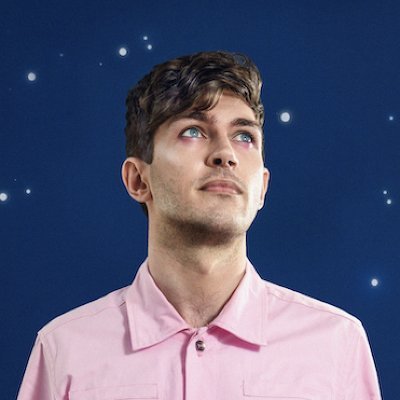 Video World certainly has some nostalgic elements, with the punny nature of Jill reminiscent of the comedic elements in games Leaney played when he was younger.
"Games like Banjo Kazooie and Donkey Kong 64 were important games for me as a kid and I think the humorous writing rubbed off on me. My goal for this game was just to make something that I could have lots of fun making – and what's funner than scripting puns!"
Though he played classic rhythm games like Guitar Hero/Rock Band as a kid, they weren't necessarily what inspired him to create a rhythm game. In fact, Leaney told us that most of these games "don't typically feature characters, narratives, or action which are the things that I enjoy most about games!" Therefore, inspiration came from "Nintendo games where you have to memorize and repeat musical/rhythmic sequences".
So, what's next for Video World? Well its sequel, I Love You Tokyo, actually started production before Video World. "While in production for I Love You Tokyo, I wanted to take a break, so created Video World as a small/fun project that turned into something more substantial that I'm very excited about."
The sequel is described as a "romantic narrative game driven by catchy interactive songs. Players follow musician Casper as he sings his way through cozy 3D vignettes set in Australia, LA, and Japan and has intimate conversations with a small cast of characters." Leaney also describes I Love You Tokyo as "quite different to Video World in terms of the music/rhythm mechanics – it's simpler – but it will be longer and take the player to at least 10 different cozy, cute locations."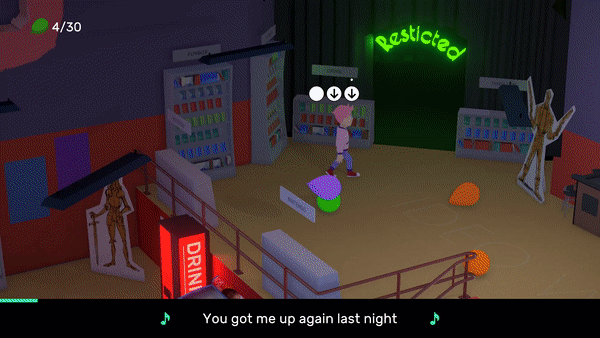 We also couldn't help but ask Leaney about the inclusion of a queer romance within Video World. He said "to me, games are an amazing place to look at real life through a different lens. I like reflecting myself and my life in them – dreams, desires, fears, real experiences, emotions, relationships etc. I identify as a queer person so including queer characters is completely natural for me!"
Video World will be released on PC on January the 22nd 2021. The game has a page on Steam where you can place it on your wishlist, and to have a sneak peek of the songs from the game you can follow Leaney's socials. I Love You Tokyo is set to release sometime in late 2021.