Each week there are plenty of new games coming out. Although with so much going on it can be hard to keep track of them all. Thankfully Checkpoint is here to sift through them all and bring you our highlights of the week.
So let's jump in and have a look at what's coming out in gaming this week.
Chivalry 2
Date: 08/06/2021
Genre: Action / Fighting
Platforms: PC, PS4, PS5, XB1, XBX
"Chivalry 2 is a multiplayer first person slasher inspired by epic medieval movie battles. Players are thrust into the action of every iconic moment of the era – from clashing swords, to storms of flaming arrows, to sprawling castle sieges and more."
Edge Of Eternity
Date: 08/06/2021
Genre: Action / Adventure / RPG
Platforms: PC
"The world of Heryon is torn apart. Years ago, the arrival of a mysterious alien force ultimately plunged the planet into an endless cataclysmic war where both magic and technology were unleashed to their worst and darkest extremes.
Now an even greater threat has emerged : in a despicable act of war, the invaders released the Corrosion, a fatal disease turning living forms of all kinds into misshapen abominations.
In these desperate times, a young soldier will have to face his destiny and embark on an epic journey that will change the fate of Heryon forever…"
Backbone
Date: 08/06/2021
Genre: Adventure
Platforms: PC
"Backbone is a post-noir roleplaying detective adventure, in which you step into the shoes of raccoon private investigator, Howard Lotor, and explore dystopian Vancouver, BC, beautifully rendered in high resolution pixel art.
After years of small-time cases, lonely evenings, and just barely scraping by, Howard Lotor is swept into a job quite unlike any other before it. What starts as a menial case slowly unravels into something much darker, pitting Howard against the oppressive, systemic power hierarchies of the City itself."
Neptunia ReVerse
Date: 08/06/2021
Genre: RPG
Platforms: PS5
"The origins of the Neptunia series get a new lease of life in Neptunia ReVerse, launching on the PlayStation 5.
An upgraded, enhanced version of Hyperdimension Neptunia™ Re;Birth1, in Neptunia ReVerse you'll be able to experience Neptune's first adventure once more with all the benefits of the new generation of console hardware."
Final Fantasy VII Remake Intergrade
Date: 10/06/2021
Genre: RPG
Platforms: PS5
"FINAL FANTASY VII REMAKE INTERGRADE is an enhanced and expanded version of the critically acclaimed and award-winning FINAL FANTASY VII REMAKE for PlayStation 5. FINAL FANTASY VII REMAKE INTERGRADE comes bundled with FF7R EPISODE INTERmission featuring Yuffie as the main character which introduces an exhilarating new story arc, and numerous gameplay additions for players to enjoy."
We Are Football
Date: 10/06/2021
Genre: Sports / Simulation
Platforms: PC
"As a manager and trainer in WE ARE FOOTBALL, you'll come face to face with the latest trends in the world of football, experiencing all the emotional highs and lows of your favorite club.
For the first time ever, this modern football manager game also offers a women's football game mode, featuring all the same functionality as well as many unique gameplay elements. To maintain and ensure the highest quality across all game modes, WE ARE FOOTBALL has been developed with experienced football management veterans such as Gerald Köhler, Rolf Langenberg, and Dirk Winter."
Ninja Gaiden Master Collection
Date: 10/06/2021
Genre: Action
Platforms: PC, PS4, XB1, Switch
"Enjoy 3 games from the NINJA GAIDEN series in this one title. 
Each title is still just as fun as you remember while providing the same high speed action of the original releases.
Look forward to heated battles with fearsome opponents!
In addition to Ryu Hayabusa, 4 other characters, Ayane, Rachel, Momiji, and Kasumi, are also playable. You can create a tag team with your favorite characters and freely swap out the playable character during battles.
The heroines included in this title are the same as the original versions. In addition, the characters that are playable and scenes (modes) vary for each title.
All of the previously released game modes and DLC costumes for each title are included in this one set. In addition to Ryu Hayabusa, each of the other characters also have many different costumes to choose from, allowing you to enjoy action packed battles in whichever outfit you prefer."
Chicory: A Colorful Tale
Date: 10/06/2021
Genre: Adventure / RPG
Platforms: PC, PS4, PS5
"Chicory: A Colorful Tale is a top-down adventure game in a coloring book world where you can draw on anything. Use your painting powers to explore new places, solve puzzles, help your friends, and change the world!
Something terrible happened. Chicory, superstar artist and wielder of the Brush, is missing, and all the color in the land vanished with her. It's up to you, Chicory's number one fan, to pick up the Brush and fill in for her. It's a big job… but you're ready for it! Probably!"
A Rogue Escape
Date: 10/06/2021
Genre: Simulation
Platforms: Oculus, PC VR
"It was your only way off this forsaken planet, but standing aboard a colossal stolen mech, you find yourself surrounded by unfamiliar buttons, levers, and monitors. In full VR, push, pull, press and hack everything you can find in an attempt to activate this lumbering beast and make your escape."
Wave Break
Date: 11/06/2021
Genre: Action / Sports
Platforms: PC, Switch
"Wave Break is the world's first skateBOATING game, inspired by arcade skateboarding classics. Grind, grab, kickflip and shoot your way through an explosive 80s crime-filled Miami Vice themed world.
Enjoy an episodic single player campaign, ranked online multiplayer, multiple custom game modes, and an advanced park creator. From tropical beaches to frozen tundras, ride the waves and score the world's biggest combo with style."
Game Builder Garage
Date: 11/06/2021
Genre: Educational
Platforms: Switch
"Have you ever dreamed of building your own video games? The Game Builder Garage™ software is a great place to start! Anyone can learn the basics of game design and visual programming with step-by-step lessons."
Dariusburst Another Chronicle EX+
Date: 11/06/2021
Genre: Action / Arcade
Platforms: PS4, Switch
"Take part in the galaxy's most awesome adventure yet, with this brand new update to the arcade classic Dariusburst: Another Chronicle! CHAOS has devastated the universe as the biomechanical hordes take on humanity once again. Without the support of the human network, the Silver Hawks plunge into the depths of EVIL fitted with Burst technology and set out liberate Planet Darius!"
Spirit Lucky's Big Adventure
Date: 11/06/2021
Genre: Action / Adventure
Platforms: PC, PS4, XB1, Switch
"Explore the wild frontier with Lucky's faithful mustang, Spirit, and best friends, Abigail and Pru. Where will friendship, and a mysterious treasure map lead you?"
Guilty Gear -Strive-
Date: 11/06/2021
Genre: Action / Fighter
Platforms: PC, PS4, PS5
"Discover the Smell of the Game with Guilty Gear -Strive-! Immerse yourself in new gameplay mechanics designed to be simple and welcoming for fighting game newcomers, yet deep and creative for veterans. Ride the Fire into a heavy metal inspired alternate future full of over-the-top action, style and fun! Blazing!
"Guilty Gear -Strive-" is the latest entry in the critically acclaimed Guilty Gear fighting game franchise. Created by Daisuke Ishiwatari and developed by Arc System Works, "Guilty Gear -Strive-" upholds the series' reputation for a high octane soundtrack, groundbreaking hybrid 2D/3D cell-shaded graphics and intense, rewarding gameplay."
Ratchet & Clank: Rift Apart
Date: 11/06/2021
Genre: Action / Adventure
Platforms: PS5
"Go dimension-hopping with Ratchet and Clank as they take on an evil emperor from another reality. Jump between action-packed worlds, and beyond at mind-blowing speeds – complete with dazzling visuals and an insane arsenal – as the intergalactic adventurers blast onto the PS5™ console."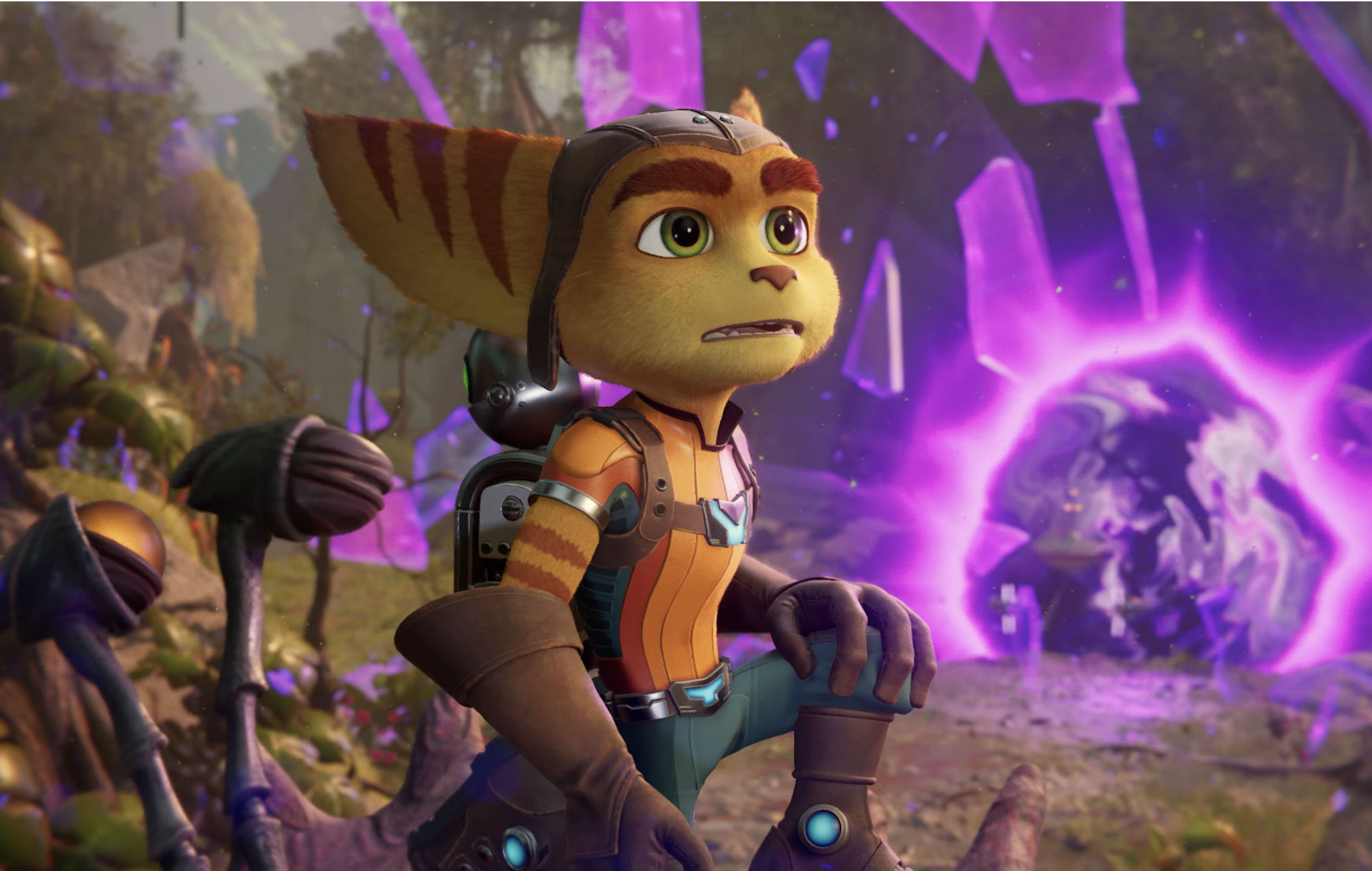 Ratchet & Clank: Rift Apart
An Absolute classic franchise brimming with nostalgia and new adventures. Add this with the power of the PS5 bringing us such crisp imagery full of vibrancy. How could we NOT be looking forward to this one?