Each week there are plenty of new games coming out. Although with so much going on it can be hard to keep track of them all. Thankfully Checkpoint is here to sift through them all and bring you our highlights of the week.
So let's jump in and have a look at what's coming out in gaming this week.
Into the Pit
Date: 19/10/2021
Genre: Action / Roguelite
Platforms: PC, Xbox One
"As members of a family of lore-hunting mystics, you and your cousin Luridia separately wander the land following rumors of occult power. After discovering a demonic pit in a nearby village, Luridia's once prolific letters grow silent.
Something has gone terribly wrong.
Now it is up to you to journey to the desolate hamlet under dark eldritch skies. What did Luridia discover? And what great power has this village unearthed?"
Youtubers Life 2
Date: 19/10/2021
Genre: Adventure / Simulation
Platforms: PC
"Create your own channel and decide which is the best content to cover: trending video games, improvised streamings, professional reviews… Or all of them! Collect cards to make the best content and choose the most suitable reaction for each video and situation. Record, edit, and publish high-quality videos to get your first subscribers and views, and make money in no time."
The Caligula Effect 2
Date: 19/10/2021
Genre:  Strategy / RPG
Platforms: PS4, Switch
"The virtuadoll Regret creates Redo, a simulation in which people are trapped. To escape from Redo, a group of "awakened" high school students re-establish the Go-Home Club to fight against Regret's reign and escape to the real world."
Inscryption
Date: 19/10/2021
Genre:  Adventure / Strategy
Platforms: PC
"From the creator of Pony Island and The Hex comes the latest mind melting, self-destructing love letter to video games. Inscryption is an inky black card-based odyssey that blends the deckbuilding roguelike, escape-room style puzzles, and psychological horror into a blood-laced smoothie. Darker still are the secrets inscrybed upon the cards…"
War Mongrels
Date: 19/10/2021
Genre: Action / Adventure / Strategy
Platforms: PC
"War Mongrels is an isometric real-time tactics game that takes place on the eastern front of World War II. Dynamic and tactical gameplay with stealth elements, tightly packed into a dark, fascinating story! Play on your own or in online co-op."
Spectacular Sparky
Date: 20/10/2021
Genre: Action / Platformer
Platforms: PC, Switch
"Spectacular Sparky is an action-packed platform/shooter with wacky characters, explosive weapons and boss battles to treasure. Sparky is an adorably insane intergalactic bounty hunter who can dash through obstacles, fire his weapons in any direction and even extend his jumps by flapping his long space-rabbit ears. Each time he brings down a boss, his connected confidante Shigg (half shark, half pig) is ready to point him in the direction of yet another space fugitive.
In the grand tradition of irreverent 1990s video-game heroes, Spectacular Sparky is as sassy as he is fearless. His voice-acted wisecracks and sarcastic jabs tend to get under the skin of his enemies in a most amusing fashion. And his universe is awash with spikes, lava, buzzsaws, super-saturated colors, slick parallax scrolling and mega-driven music, the way every game ought to be."
Escape Simulator
Date: 21/10/2021
Genre: Adventure / Simulation
Platforms: PC
"Escape Simulator is a first-person puzzler you can play solo or in an online co-op. Explore a growing set of highly interactive escape rooms. Move furniture, pick up and examine everything, smash pots and break locks! Supports community-made rooms through the level editor."
Tandem: A Tale of Shadows
Date: 21/10/2021
Genre: Action / Adventure
Platforms: PC, PS4, Xbox One, Switch
"Tandem : A Tale of Shadows redefines the puzzle platformer genre with a unique gameplay and exceptional aesthetics. Help Emma and the teddy bear Fenton solve the mystery of the disappearance of the famous magician Thomas Kane."
Echo Generation
Date: 21/10/2021
Genre: Adventure / RPG / Strategy
Platforms: PC, Xbox One, Xbox Series X
"Echo Generation is a turn-based adventure game about a gang of kids investigating supernatural occurrences while battling monsters and mechs to save their small town."
A Little To The Left
Date: 21/10/2021
Genre: Puzzle
Platforms: PC
"A Little To The Left is a cozy puzzle game that has you sort, stack, and organize household items into pleasing arrangements while you keep an eye out for a mischievous cat with an inclination for chaos. Check out this playful and intuitive puzzler with 50+ satisfying messes to tidy."
Growbot
Date: 21/10/2021
Genre: Adventure
Platforms: PC
"Growbot is a 2D point-and-click adventure set upon a beautiful biopunk space station. You play as Nara, a growbot in training to become a captain. When your station home is attacked by rapidly growing crystals, it's down to you to save it."
Disciples: Liberation
Date: 21/10/2021
Genre: RPG / Strategy
Platforms: PC, PS4, PS5, Xbox One, Xbox Series X
"Disciples: Liberation is a mature, dark fantasy strategy RPG with turn-based combat. Liberate the land of Nevendaar and uncover the endless stories hidden within this richly detailed world where every decision has a consequence, and every wrong move could be deadly."
Resident Evil 4 VR
Date: 21/10/2021
Genre: Action / Horror
Platforms: Quest 2
"Explore the iconic world of Resident Evil 4 in this all-new version, entirely made for VR. Step into the shoes of special agent Leon S. Kennedy on his mission to rescue the U.S. President's daughter who has been kidnapped by a mysterious cult. Find your way through a rural village in Europe, come face to face with challenging enemies, and uncover secrets and gameplay that have revolutionized the entire survival horror genre. Battle horrific creatures infected by the Las Plagas parasite and face off against aggressive enemies including mind-controlled villagers and discover their connection to Los Illuminados, the cult behind the abduction"
The Dark Pictures Anthology: House of Ashes
Date: 22/10/2021
Genre: Adventure / Horror
Platforms: PC, PS4, PS5, Xbox One, Xbox Series X
"The Dark Pictures Anthology is a series of standalone, cinematic branching horror games where the decisions you make in the game determine the story and the outcome you receive.
House of Ashes is the third game in the series.
In House of Ashes, at the close of the Iraq War, Special Forces hunting for weapons of mass destruction unearth something far deadlier – a buried Sumerian temple containing a nest of unearthly creatures. To survive the night below, they must forge a brotherhood with their enemies from the world above."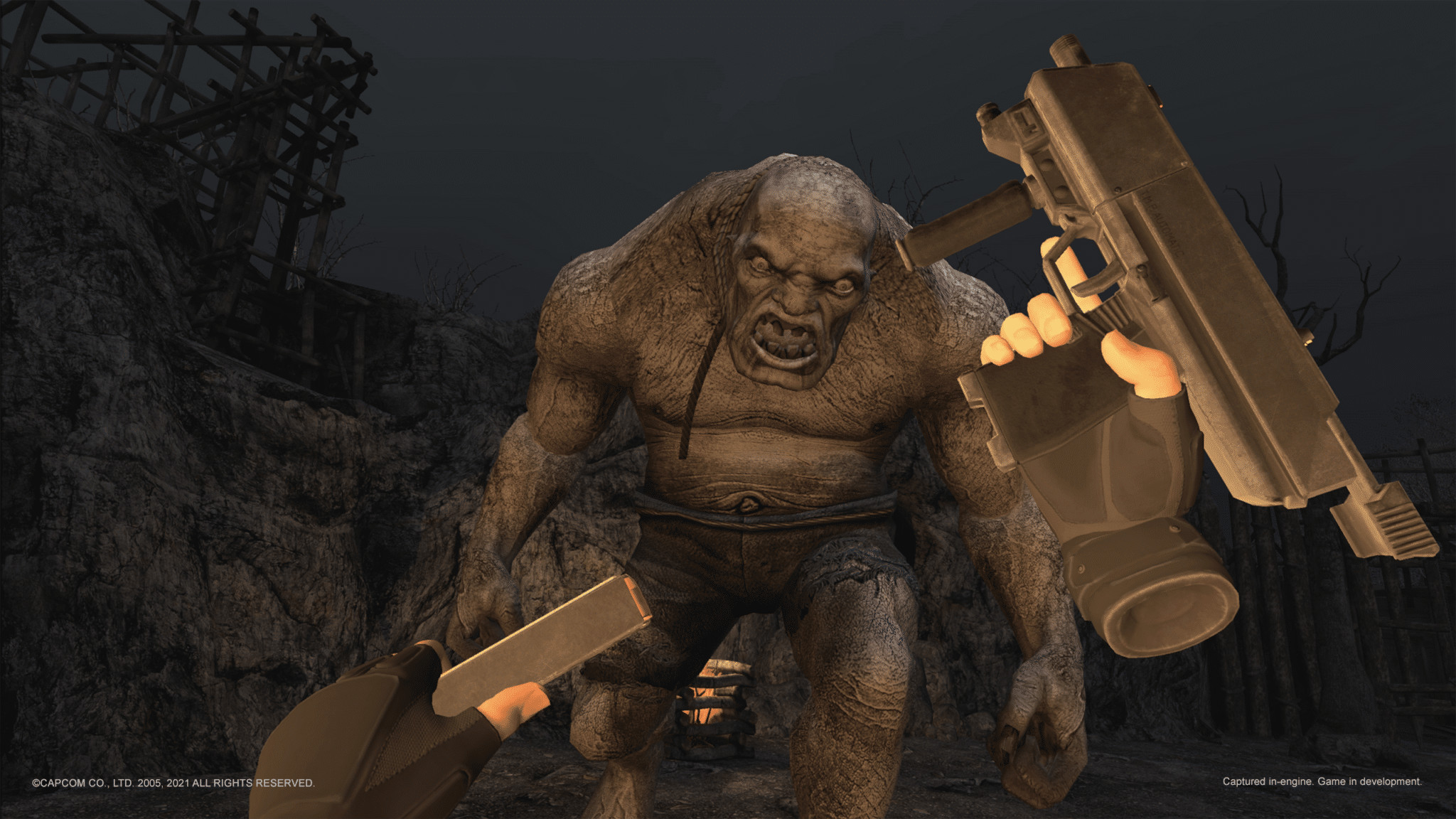 Resident Evil 4 VR
What better way to get that October Adrenaline pumping than with a horror classic in VR! Perfectly timed for Halloween, we're hoping to see this be a satisfying and chilling new perspective into a beloved Resident Evil game.