There's no denying that the news of the next Elder Scrolls Online (ESO) chapter is making waves across the community. We had a chat with Creative Director at Zenimax Studios, Rich Lambert, about The Elder Scrolls Online: High Isle – The Legacy of the Bretons, the new in-game trading card game Trials of Tribute, and all about companions Ember and Isobel.
You can also listen to the full interview on Checkpoint Intimates via your favourite podcast service.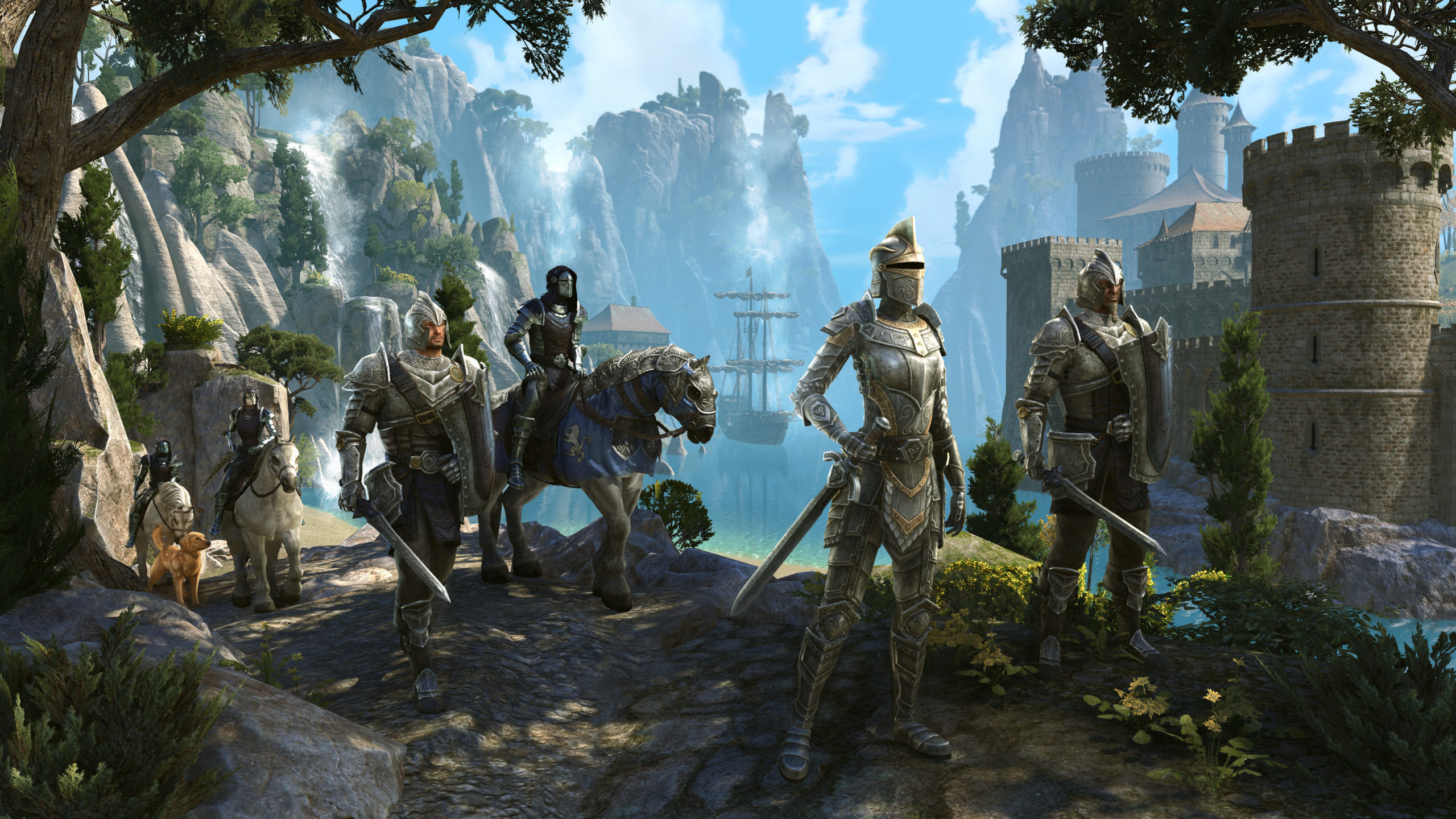 Seafaring on The High Isles
Well, as many Elder Scrolls fans had guessed—2022's chapter of ESO is called High Isle. It features the Bretons' and their feudal society city of High Rock, just north of Hammerfell. Players will be sent through a deadly story of lies, manipulation, and assassinations for political gain and intrigue.
Rich explains, "the entire year is focused on the Bretons and their culture. We're telling a story a little bit different than ones we've told in the past—a more grounded and political type of story, rather than those cosmic threats that are threatening to destroy the world".
It's actually quite refreshing to look forward to a narrative more character and writing-driven. The Elder Scrolls Online: Blackwood was such an extravagant event and chapter, it would be beyond challenging to up the ante on Mehrunes Dagon presence. Instead, we are treated to a tale about a "secret society" and the impending High King.
Within the teaser released earlier this year, three ships flying familiar flags are seen over a stormy and violent ocean. Rich didn't want to outright say it, but the Three Banners war will be a heavy part of the High Isle – The Legacy of the Bretons chapter. With "lots of clues, twists, and turns", this year's story is shaping up to be different but very exciting.
Tales of Tribute
During our chat, Rich let us know that a new trading card game (TCG) called Tales of Tribute will now be embedded within ESO. Completely separate to Elder Scrolls: Legends, this will be the chapter's big mechanical/feature addition. The collectible card game will nicely fit in with High Rock's economy of markets and collaboration.
Like Pazaak from Star Wars: Knights of the Old Republic or Gwent from The Witcher, this TCG will be a fun side activity for players. Rich says it will stand out against other card games by "providing an equal footing at the start of every match", opponents drawing cards from a communal pile. Player decks are shuffled together and they'll draw from the central pile.
Tales of Tribute cards will be obtained from playing the new High Isle chapter. Cards are spread across Tamriel through various avenues. Players will find new and upgraded cards in drops from defeating enemies or completing dungeons, entire decks can be found from finishing major story missions, and certain NPC Tales of Tribute masters will offer challenges for top tier cards.
Rich reassured us that there are no microtransactions for Tales of Tribute at the moment. The initial plan is to have everything earned by playing and potentially introduce buyable cards in the future.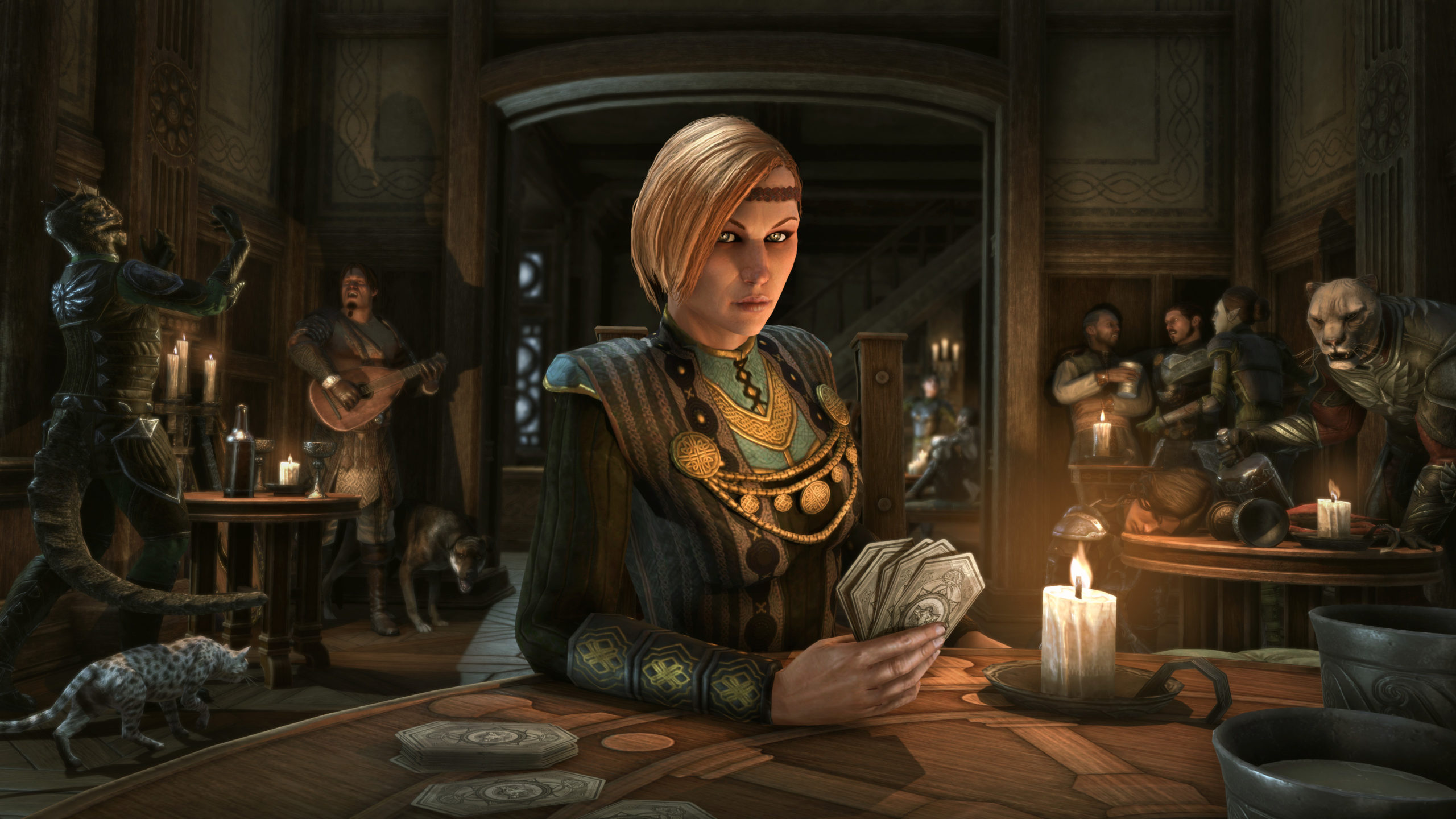 The friends we make along the way
Mirri and Bastian are going to have some competition because The Elder Scrolls Online: High Isle includes two more companions for fans to befriend and love. Ember is our new Khajiit friend who grew up on the streets doing some ethically-ambiguous things to get by, and Isobel is a Breton Knight who wants to do right by the people of High Rock.
Similar to Blackwood's content, Ember and Isobel will have their own likes and dislikes, depending on player actions. Building a reputation and connection with these newcomers will depend on how noble or deceitful your decisions are as you play.
Both companions will have their own storylines and quests. Following Ember through her backstory of struggle and "less than legal activities that you can pursue in-game" will likely contradict some of the actions of Isobel's moral compass. This dynamic is going to be interesting to see unfold, and simply having more companions is a welcome addition.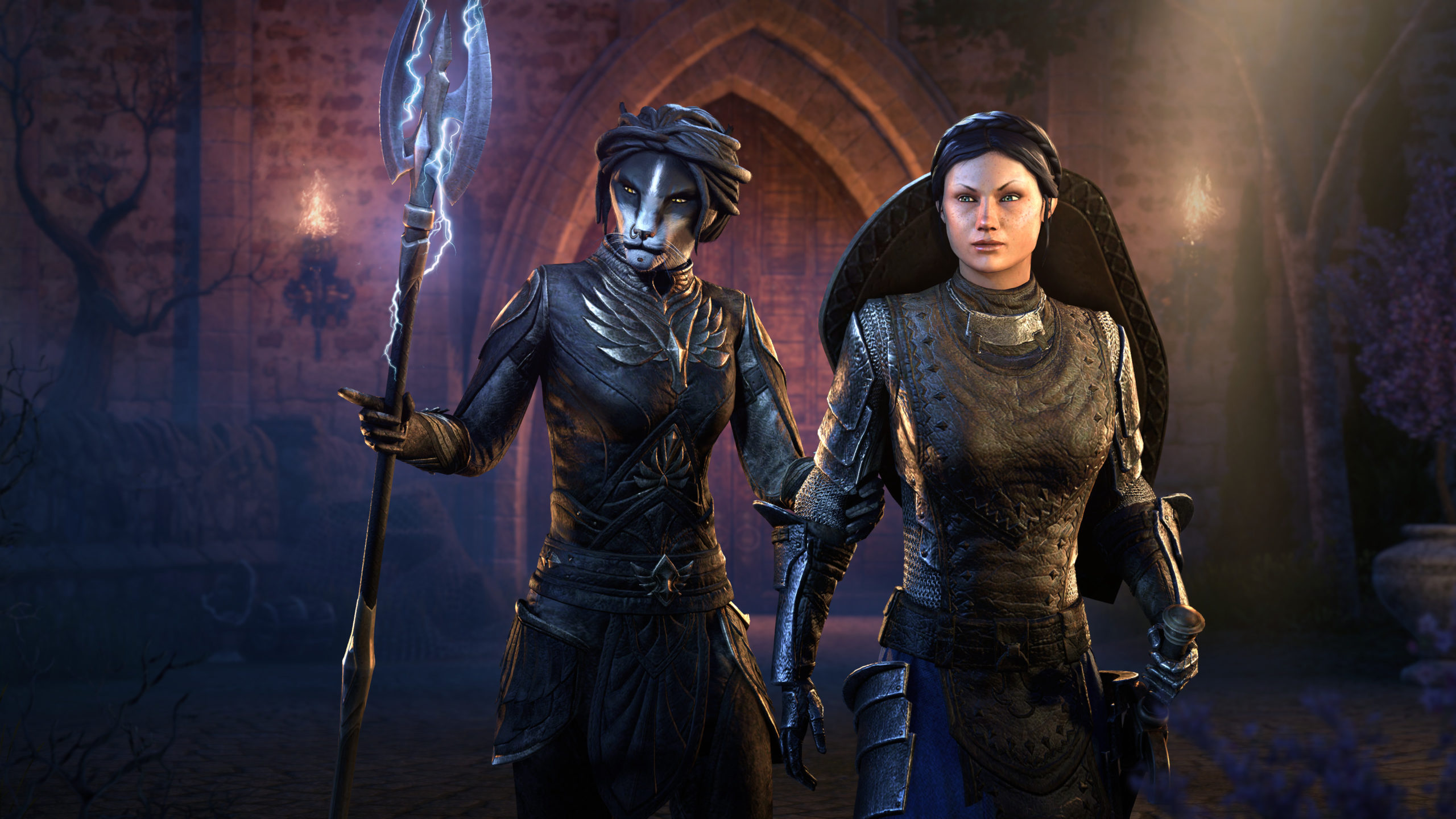 PVP and Dread Sail Reef
Rich let us know that Zenimax Online's PVP efforts for High Isle will be focused on performance. He explains, "especially during prime time, it's not great. We want to make sure that we don't make PVP worse by adding new things to add to that. We're not adding anything new right now".
While that may be sad news to some, a new Trial called Dread Sail Reef will be included. Centered around a story of seafaring and pirates, players will face a new spin on these multiplayer dungeons. Following on from the positive reception of the Rockgrove Trial in Blackwood, Dread Sail Reef will involve evolving environments and boss battles for up to 12 players to enjoy.
"Political. Gorgeous. Bretons."
This is how Rich Lambert described this year's upcoming chapter in three words. The Elder Scrolls Online: High Isle – The Legacy of the Bretons chapter releases on PC, Mac, and Stadia on June 6th and Xbox and PlayStation consoles on June 21st 2022.