Each week there are plenty of new games coming out. Although with so much going on it can be hard to keep track of them all. Thankfully Checkpoint is here to sift through them all and bring you our highlights of the week.
So let's jump in and have a look at what's coming out in gaming this week.
Infernax
Date: 14/02/2022
Genre: Action / Adventure / RPG
Platforms: PC, PS4, Xbox One, Xbox Series X|S, Switch
"Infernax is the adventures of a great knight who returns to his homeland only to find it plagued with unholy magic. Uncover the mysteries of the curse and face the consequences of your actions."
Dynasty Warriors 9 Empires
Date: 15/02/2022
Genre: Action / Strategy / Simulation
Platforms: PC, PS4, PS5, Xbox One, Xbox Series X|S, Switch
"A new release in the Empires series, featuring a mix of thrilling action and country capturing simulation. Experience the human drama of the Three Kingdoms in a way only Empires can provide. Fight exciting Castle Sieges and manipulate the country's Politics. Welcome to the Empires experience!"
Rumbleverse
Date: 15/02/2022
Genre: Action / Adventure / MMO RPG
Platforms: PC, PS4, Xbox One
"Rumbleverse is an all-new, free-to-play, 40-person Brawler Royale where anyone can be a champion. You play as your own unique citizen of Grapital City, as you battle your way to victory!
Customize your fighter by mixing and matching hundreds of unique items, and stand out from the crowd.
Get launched from a cannon, drop into the streets, and prepare to throw down! Where you land is up to you, but beware — there's chaos around every corner and on top of the tallest skyscraper!"
The King of Fighters XV
Date: 17/02/2022
Genre: Action
Platforms: PC, PS4, PS5, Xbox One, Xbox Series X|S
"Since its debut in 1994, the KOF fighting game series has been driving the world to new heights of excitement with its appealing characters and unique game system. Six years have passed since the last title in the series, and now KOF XV surpasses all of its predecessors in terms of graphics, systems, and online experience!"
Voice of Cards: The Forsaken Maiden
Date: 17/02/2022
Genre: RPG, Card Game
Platforms: PC, PS4, Switch
"Voice of Cards: The Forsaken Maiden is set on a remote chain of islands that have been protected by the maidens for generations, but which now face destruction. The hero of the story vows to save the islanders and sets sail for the high seas, together with Laty, a girl who failed to become a maiden.
The second game in the unique Voice of Cards series, where all elements are presented entirely through the medium of cards, in the tradition of tabletop RPGs and gamebooks.
A touching tale set in a world of melancholic beauty, brought to you by YOKO TARO (Creative Director), Keiichi Okabe (Music Director) and Kimihiko Fujisaka (Character Designer)."
Assassin's Creed: The Ezio Collection
Date: 17/02/2022
Genre: Action / Adventure
Platforms: Switch (port)
"Experience the award-winning series as you become Ezio Auditore da Firenze, the most celebrated and iconic Master Assassin in the franchise. Includes the acclaimed single-player campaigns and all solo DLC from three games: Assassin's Creed® II, Assassin's Creed® Brotherhood, and Assassin's Creed® Revelations, as well as two short films. Live the complete saga of a Master Assassin.
Learn the ways of the Assassins and seek vengeance for the betrayal of your family. Journey through 15th-century Renaissance Italy and become the most legendary leader of the Brotherhood, then embark on a final quest of discovery as you learn the truth about the Creed.Includes enhanced features for the Nintendo Switch™ system, such as HD Rumble and more."
Total War: Warhammer III
Date: 17/02/2022
Genre: Action / Strategy
Platforms: PC
"The cataclysmic conclusion to the Total War: WARHAMMER trilogy is coming. Rally your forces and step into the Realm of Chaos, a dimension of mind-bending horror where the very fate of the world will be decided. Will you conquer your Daemons… or command them?"
Horizon: Forbidden West
Date: 18/02/2022
Genre: Action / Adventure
Platforms: PS4, PS5
"Explore distant lands, fight bigger and more awe-inspiring machines, and encounter astonishing new tribes as you return to the far-future, post-apocalyptic world of Horizon.
The land is dying. Vicious storms and an unstoppable blight ravage the scattered remnants of humanity, while fearsome new machines prowl their borders. Life on Earth is hurtling towards another extinction, and no one knows why.
It's up to Aloy to uncover the secrets behind these threats and restore order and balance to the world. Along the way, she must reunite with old friends, forge alliances with warring new factions and unravel the legacy of the ancient past – all the while trying to stay one step ahead of a seemingly undefeatable new enemy."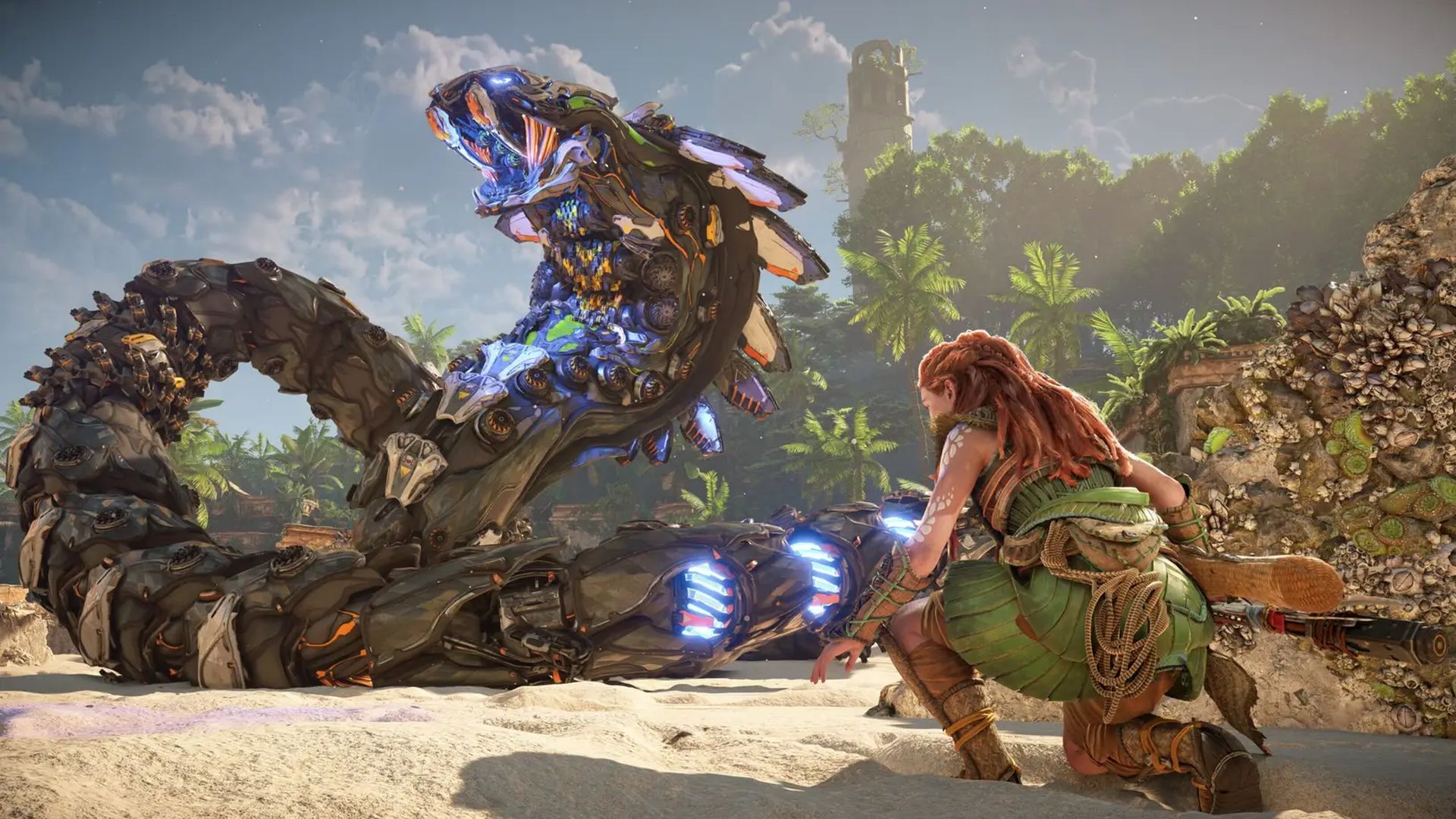 Horizon: Forbidden West
Long-awaited, the next adventure of Aloy is finally here. The story itself is going to be a great one to get into, we all love a world in peril, with stunning visuals to go along with it of course. It's hard not to see why we're looking forward to Horizon: Forbidden West the most this week!
Be sure to check out last week's Coming Out to see what you may have missed!
What new titles coming out are you most excited for this week? Let us know!