Each week there are plenty of new games coming out. Although with so much going on it can be hard to keep track of them all. Thankfully Checkpoint is here to sift through them all and bring you our highlights of the week.
So let's jump in and have a look at what's coming out in gaming this week.
We Were Here Forever
Date: 10/05/2022
Genre: Adventure / Indie
Platforms: PC
"You and your fellow prisoner are trapped in the realm of Castle Rock – were you betrayed, or simply not that clever? To escape, you must explore the sinister castle for puzzles and plot your escape together. Secrets and riddles are hidden in the shadows. Just be aware that nothing is what it seems in this mysterious Antarctic adventure. Can you two escape together, or will you be trapped… forever?"
Salt and Sacrifice
Date: 10/05/2022
Genre: Action / RPG
Platforms: PC, PS4, PS5
"A once-peaceful kingdom is plunged into chaos by encroaching tides of Mages: merciless embodiments of elemental chaos. The Marked Inquisitors, a doomed force of the condemned, once again mobilizes to stand against the existential threat of Magic. A buried secret threatens to bring an ancient empire to utter ruin. As a Marked Inquisitor, you'll journey through the western frontier: pursuing, hunting, and obliterating the Mages that roam the realm. You may be bound to the Inquisition, but your choices are yours."
Prinny Presents NIS Classics Volume 2
Date: 10/05/2022
Genre: RPG
Platforms: PC, Switch
"BACK AFTER 10+ YEARS, DOOD!
Two action-packed RPG classics are making their first explosive entrances since their decade-plus debuts! Experience Makai Kingdom: Reclaimed and Rebound (now with new content, dood!) and Z.H.P.: Unlosing Ranger vs. Darkdeath Evilman on modern platforms for the first time in over 10 years, with English and Japanese audio!"
Eiyuden Chronicle: Rising
Date: 10/05/2022
Genre: Action / Adventure / RPG
Platforms: PC, PS4, PS5, Xbox One, Xbox Series X, Switch
"Eiyuden Chronicle: Rising combines a thrilling adventure through ancient ruins with the tale of one town's rise from the ashes.
Drawn by lenses and other treasure in the nearby Runebarrows, our heroes learn that the town is struggling to rebuild after an earthquake and decide to help. Along the way, they'll resolve disputes between eager adventurers and wary locals who don't think the Barrows should be disturbed. And they'll learn more about each other's reasons for seeking treasure, deepening their bonds in the process."
Brigandine The Legend of Runersia
Date: 11/05/2022
Genre: Strategy / RPG
Platforms: PC
"The continent of Runersia is home to six major powers with more than 40 bases, 100 knights, and 50 types of monsters. Select a ruler, organize knights and monsters into troops, and conquer enemy bases! How you wish to do battle is entire up to you, so devise the best strategies and lead your nation toward continental conquest! How will your legend unfold?"
Source of Madness
Date: 11/05/2022
Genre: Action / Roguelite
Platforms: PC, PS4, PS5, Xbox One, Xbox Series X, Switch
"Source of Madness is a side-scrolling dark action roguelite set in the Loam Lands, a twisted Lovecraftian inspired world powered by procedural generation and AI machine learning. Take on the role of a new Acolyte as they embark on a nightmarish odyssey. Uncover the cosmic secrets of the Loam Lands and The Tower of Madness, the moon's mysterious Citadel."
Riftbound
Date: 12/05/2022
Genre: Strategy / RPG
Platforms: PC
"Riftbound is the explosive easy to learn yet uniquely deep lane-defense strategy game. Defend against waves of undead by choosing the right mix of defenders, spells and upgrades from five schools of magic. Plan your best defense, unleash combos and vanquish enemy bosses!"
Seven Pirates H
Date: 12/05/2022
Genre: Adventure / RPG
Platforms: Switch
"Seven Pirates H is a traditional RPG focused on exploration and discovery with a gigantic dose of fanservice thrown in! As Parute, you'll command your party of monster girls in combat against naughty enemies, exploiting weaknesses to gain the upper hand in turn-based combat. Adventure across islands and ride Otton to reach secret areas, gather items and enhance your abilities as you level up! With the special "Booby Training" system, you can control the bust size of the all-female crew for stat boosts, bigger for increased power and defense or smaller for improved speed and agility!"
The Centennial Case : A Shijima Story
Date: 12/05/2022
Genre: Adventure
Platforms: PC, PS4, PS5, Switch
"The Centennial Case: A Shijima Story is a new unique mystery-adventure game.
Directed by Koichiro Ito, and with Yasuhito Tachibana as the Cinematographer and Scenario Director, beautiful yet thrilling live-action footage intertwines with mysteries to solve, creating highly immersive gameplay.
The player follows a chain of murders which take place over the span of a century. Four murders have been committed in three different time periods – 1922, 1972, and 2022. Each episode is comprised of three parts, the Incident phase, the Reasoning phase, and the Solution phase, inviting the player to seamlessly enter into this world of mystery. Explore these time periods, collect multiple clues, and solve a 100-year mystery."
Cantata (Early Access)
Date: 12/05/2022
Genre: Strategy / Indie
Platforms: PC
"Cantata is a character-driven tactical strategy game that puts you in the middle of a spiritual, pragmatic war for survival. Play as one of the nine commanding officers from one of the three factions – the Machines, Humans or Aliens – and leverage your faction's unique powers and abilities to slowly expand your hold on this alien world."
Ultimate Epic Battle Simulator 2 (Early Access)
Date: 12/05/2022
Genre: Action / Strategy / Simulation
Platforms: PC
"Welcome to Ultimate Epic Battle Simulator 2, the most ridiculous and insane battle simulator in existence! Create eye watering battles with hundreds of thousands, and even millions of characters on screen! Jump into multiple story and player driven campaigns or make your own and share them with your friends! Sandbox mode will return, with infinite army sizes and far greater flexibility than ever. FPS invasion will also be returning, where you play through the eyes of a soldier fighting off hordes of zombies in first person."
Let's Get Fit
Date: 13/05/2022
Genre: Fitness / Sport
Platforms: Switch
"Get in Shape with Let's Get Fit!
Follow pre-made workout programs ranging from soft gymnastics to high intensity exercises and track your progress with the in-game calendar. Complete challenges or set up custom workout routines tailored to your personal needs with more than 100 fitness moves available, guaranteeing a full body workout."
Evil Dead: The Game
Date: 13/05/2022
Genre: Action / Horror
Platforms: PC, PS4, PS5, Xbox One, Xbox Series X
"Step into the shoes of Ash Williams or his friends from the iconic Evil Dead franchise and work together in a game loaded with over-the-top co-op and PVP multiplayer action! Play as a team of four survivors, exploring, looting, managing your fear, and finding key items to seal the breach between worlds in a game inspired by all three original Evil Dead films as well as the STARZ original Ash vs Evil Dead television series."
Kingdom Gun
Date: 14/05/2022
Genre:  Action / Adventure / Indie
Platforms: PC
"Play solo or team up with 2 – 4 players and battle through hordes of enemies in this action roguelite! Multiple playable characters, discover secrets, unique abilities, and tons of unique items!"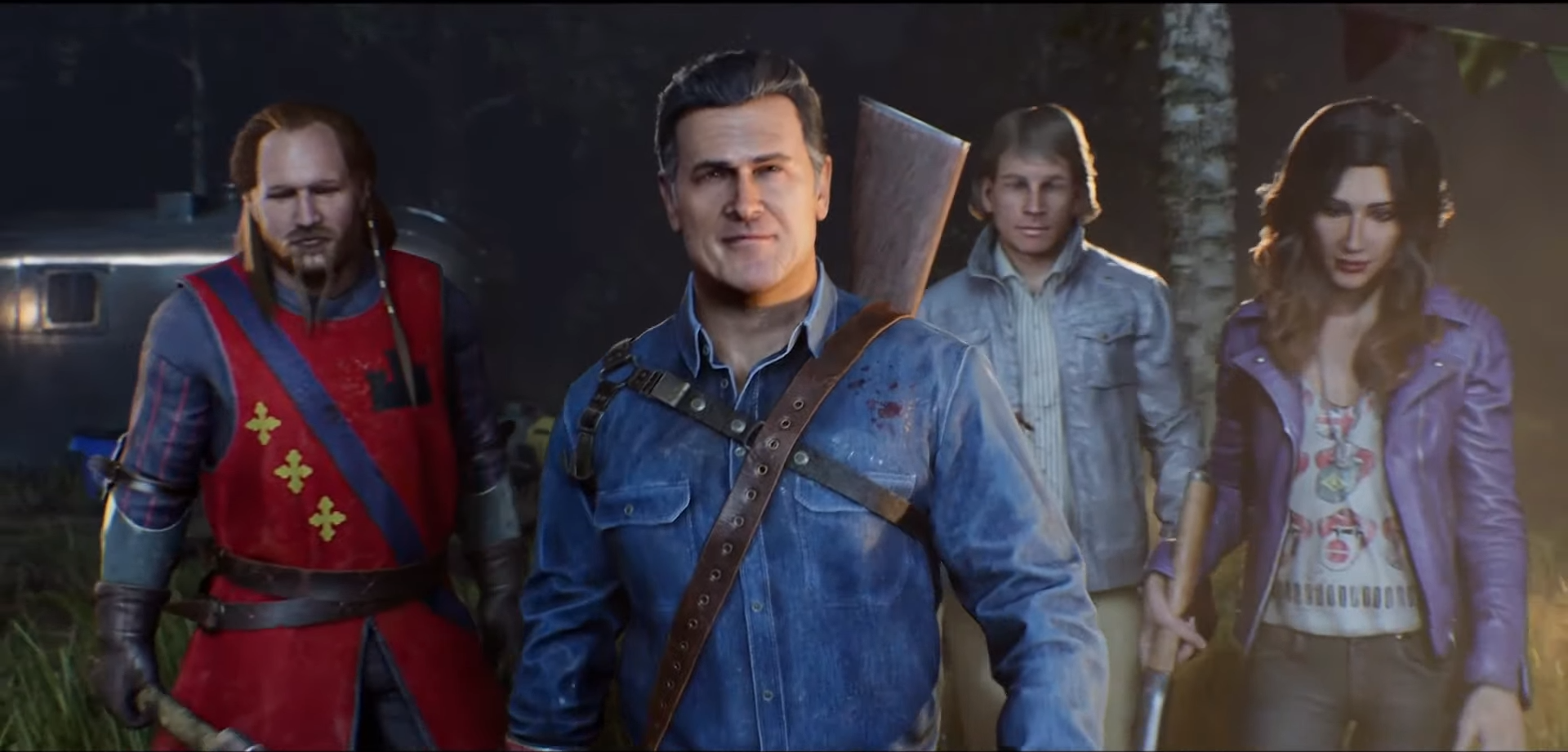 Evil Dead: The Game
It's easy to look forward to popular name franchises turning into video games. While it may look to follow the trends of other similar horror multiplayer games out there, we hope to see this title stand out!
Be sure to check out last week's Coming Out to see what you may have missed!
What new titles coming out are you most excited for this week? Let us know!