Each week there are plenty of new games coming out. Although with so much going on it can be hard to keep track of them all. Thankfully Checkpoint is here to sift through them all and bring you our highlights of the week.
So let's jump in and have a look at what's coming out in gaming this week.
Dwerve
Date: 31/05/2022
Genre: Strategy / RPG
Platforms: PC
"Dwerve is a tower defense dungeon crawler RPG where you play as a young dwarf tinkerer who adventures into a ruined kingdom and unearths the lost technologies of the ancient warsmiths: turrets and traps. These are the only weapons that can protect the dwarves from Witch-Queen Vandra and her army of bloodthirsty trolls and monstrous creatures hellbent on conquering the surface."
Corpse Factory
Date: 31/05/2022
Genre: Adventure
Platforms: PC, Switch
"CORPSE FACTORY is a visual novel driven by pure suspense. It's a psychological thriller with full English voice acting performed by an all-star cast. Become part of the story and influence the ending of this spine-chilling tale. Immerse yourself in the darkness with an atmospheric original soundtrack, with a vocal performance by Emi Evans (Nier:Automata) and music composed by Alec Shea."
Diablo Immortal
Date: 02/06/2022
Genre: Action / Adventure / MMO
Platforms: PC, iOS, Android
"Diablo Immortal™ is a brand-new game in Blizzard Entertainment's genre-defining action role-playing game series set between the events of Diablo® II: Lord of Destruction® and Diablo III®. Explore the nightmarish realm of Sanctuary like never before, now a massively multiplayer online role-playing game (MMORPG) where angels and demons wage an endless war over dominion of the mortal realm. Join forces with countless other players on an epic quest to collect the shattered fragments of the corrupted Worldstone and prevent the Lord of Terror's return."
Souldiers
Date: 02/06/2022
Genre: Action / Adventure
Platforms: PC, PS4, PS5, Xbox One, Xbox Series X, Switch
"While out fighting for the glory of your kingdom, you and your fellow soldiers are whisked away to Terragaya, a mystical land on the fringes of the afterlife. Your task is to locate the Guardian and move on to the next world. The hitch? You and your compatriots never actually died.
Battle your way to the heart of the mystery: Outwit cunning enemies, solve nefarious puzzles, upgrade your character and explore every corner of a dazzling, intricate 16-bit world. Souldiers is a handcrafted retro epic for the ages."
Card Shark
Date: 02/06/2022
Genre: Adventure / Indie
Platforms: PC, Switch
"Our adversaries tonight? An unscrupulous group of scoundrels and rogues, rumoured to possess an unlimited fund between them. If we stick to the strategies you've learnt, this will be a walkover." – Comte de Saint-Germain
Card Shark is an adventure game full of cunning, intrigue, and delectable deceit. Enter a world where you'll need to play your opponents better than you play your cards."
Gravitar: Recharged
Date: 02/06/2022
Genre: Action / Arcade
Platforms: PC, PS4, PS5, Xbox One, Xbox Series X, Switch
"The cult classic Gravitar has been Recharged. Complete missions in each solar system, navigating a variety of challenging environments, each with varying levels of gravity that will test your skills as a pilot before unlocking new solar systems to explore."
EMPYRE: Dukes of the Far Frontier
Date: 03/06/2022
Genre: RPG
Platforms: PC
"Set in a Neo-Victorian Wild West, The Archduke welcomes you to the Utopian city of Bliss, a city built by steam-powered automatons. The promise of a carefree life awaits. Or does it? Claw your way through the dark secrets lying under the surface in this isometric alternate history RPG adventure."
TOKOYO: The Tower of Perpetuity
Date: 03/06/2022
Genre: Action / Roguelike
Platforms: PC, Switch
"You find yourself trapped in a mysterious tower – one that transforms its very structure every 24 hours, where you must surpass countless poor fallen souls and make your way to the heretofore unseen top!"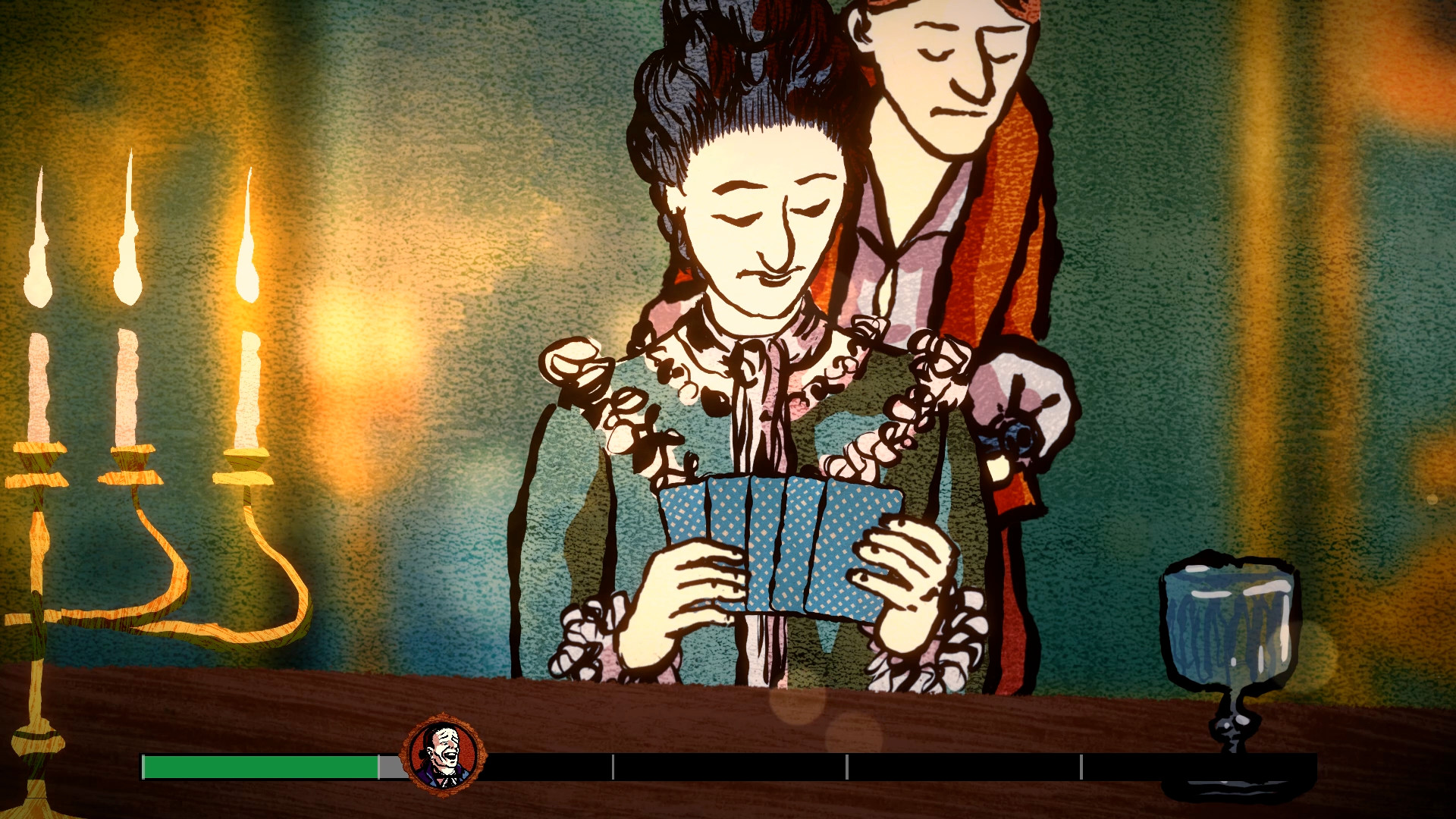 Card Shark
This beautifully animated game of deceit is certainly a release to keep your eyes on. As someone who is terrible at cards to begin with, a game all about cheating your way to victory does sound deliciously tempting.
Be sure to check out last week's Coming Out to see what you may have missed!
What new titles coming out are you most excited for this week? Let us know!