I saw Trash at PAX Aus. Okay, so that's not a great opener – especially since it was one of my favourite new games that I played this year. Not an easy thing to achieve considering there were SO many brilliant indie games, but Trash deserves the honour. Give the trailer a look below!
Trash is an open-world co-op adventure being made by Bin Chicken, formerly 15 Minutes of Game, a growing studio in the Melbourne indie games scene. Jump, glide, shield, smash and most importantly recycle your way across a derelict island. Once the base of the planet's biggest energy corporation, it's now a wasteland of broken objects you as a player might recognise. Resin is now the dominant life form, coming from an unknown source. Playing as a Resin-based Morphite, you're the only one who holds the power to restore balance to the island and discover what created Resin life! Collect materials in order to craft new character forms that will help you survive.
From the get-go, Trash does well to showcase the world you'll be traversing with expansive camera pans across a landscape that is just begging you to explore it. There are even procedurally generated challenge zones that appear across the world. It's also set to feature online multiplayer, allowing players to team up and take on the island together. You'll even be able to act as a spawn point if your partner isn't as good at platformer games as you.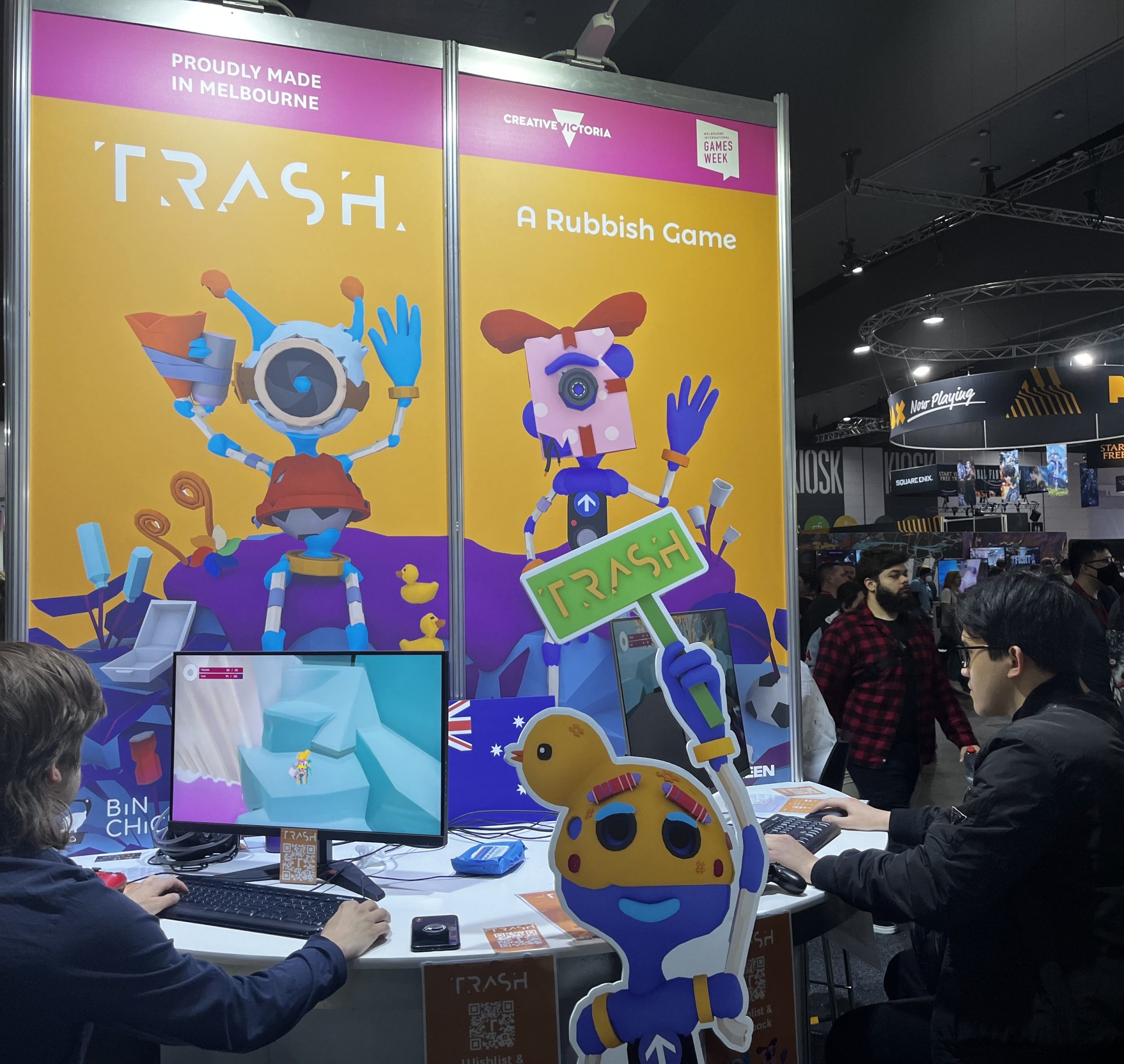 I was lucky enough to play the game at PAX Aus and chat with Bin Chicken's creative director, Charlie Kenihan, on the expo floor. "Once you save a section, your relationship with all the AI and different trash creatures changes. It's that kind of a holistic approach to healing the world and learning as a species", said Kenihan.
"It's hard to balance. Firstly, the concept of making rubbish beautiful. It's actually very challenging. Rubbish is ugly and horrible. And then making something that can touch on environmental themes in an approachable way that isn't seen as overbearing. Letting players play it and then picking up on that sub-narrative and the lessons that can be learned from the game experience as a whole."
The team is dedicated to environmental advocacy, so Trash is a game that underneath it all is trying to educate people about sustainability and recycling.
Trash will be a lot of fun when it releases for sure. Co-op, platforming, crafting, and customisation are all huge draw-ins for me. Seeing familiar items in the game, such as the VW BUG bonnet, being used in the customisation machine really helps you as a player relate to the game as well. You can tell there's a lot of heart behind this game that comes across in the message it's giving to the player. Trash already feels like a lot of time has been invested into it by the developers and it shows in the demo.
I'm pretty excited to see Trash release in 2023 and I'm even more hopeful we'll see its release on the Switch soon after since it's the type of co-op game that lends well to the console. If you can't wait that long, jump on Trash's Steam page and test the demo out now!