Each week there are plenty of new games coming out. Although with so much going on it can be hard to keep track of them all. Thankfully Checkpoint is here to sift through them all and bring you our highlights of the week.
So let's jump in and have a look at what's coming out in gaming this week.
The Knight Witch
Date: 29/11/2022
Genre: Action / Adventure
Platforms: PC, PS4, PS5, Xbox One, Xbox Series X, Switch
"The Knight Witch is a metroidvania adventure game with fast-paced, shoot 'em up combat set in a beautifully hand-drawn world. Cast devastating card-based spells, forge close bonds, and make moral choices all in your quest to save your home and discover who's behind the War Golem invasion."
Warhammer 40,000: Darktide
Date: 30/11/2022
Genre: Action / Adventure
Platforms: PC, Xbox Series X
"Take back the city of Tertium from hordes of bloodthirsty foes in this intense and brutal action shooter. Warhammer 40,000: Darktide is the new co-op focused experience from the award-winning team behind the Vermintide series.
In the depths of the hive, the seeds of corruption threaten to turn into an overwhelming tide of darkness. A mysterious and sinister new force is seeking to take control of the entire city. It is up to you and your allies in the Inquisition to root out the enemy before the city succumbs to Chaos. As Tertium falls, Rejects Will Rise."
Ascend: Reborn
Date: 01/12/2022
Genre: Action / RPG
Platforms: PC
"Ascend Reborn is an old-school, 3rd person action RPG. Wage war as a brutal Caos warrior on your journey to Ascension. The reign of the Titans has come to an end. The New Gods have risen to claim ultimate power and need a champion. Will you rise to the challenge?"
Moonshine Inc.
Date: 01/12/2022
Genre: Strategy / Simulation
Platforms: PC
"We love moonshin'. Now, you get to play a story-rich management game focused on crafting moonshine, brandy, whisky, and vodka. You'll ferment, distill, then name your booze how you want it. You'll run that business big. Smart, yet discreetly. Cause ain't nothin' illegal… 'til you get caught!"
Romancing SaGa -Minstrel Song- Remastered
Date: 01/12/2022
Genre: RPG
Platforms: PC, PS4, PS5, Switch, iOS, Android
"The original Romancing SaGa -Minstrel Song- included many of the SaGa series trademark elements, such as the Glimmer and Combo mechanics and was considered to be the epitome of the series when it first released.
The free scenario system that lets you create your own storyline remains at the core of the game, letting you select one of eight protagonists with completely different origins and backstories, then set off on a unique journey.
This remastered edition has evolved in all areas, featuring upgraded HD graphics and numerous enhancements to improve playability. This makes it highly recommended for both fans of the original and newcomers to the SaGa series."
Marvel's Midnight Suns
Date: 02/12/2022
Genre: Strategy / RPG
Platforms: PC, PS4, PS5, Xbox One, Xbox Series X
"Marvel's Midnight Suns is the ultimate crossover event combining the rich story, character relationships, customization and progression of an RPG with the tactical strategy and combat mechanics of a revolutionary new card-based tactics game. Set in the darker side of the Marvel Universe, you will forge unbreakable bonds with legendary Marvel Super Heroes and dangerous supernatural warriors in the fight against the world's greatest threat yet…the demonic forces of Lilith and the elder god Chthon."
The Callisto Protocol
Date: 02/12/2022
Genre: Action / Adventure
Platforms: PC, PS4, PS5, Xbox One, Xbox Series X
"In this narrative-driven, third-person survival horror game set 300 years in the future, the player will take on the role of Jacob Lee – a victim of fate thrown into Black Iron Prison, a maximum-security penitentiary located on Jupiter's moon, Callisto. When inmates begin to transform into monstrous creatures, the prison is thrown into chaos. To survive, Jacob must battle his way to safety to escape Black Iron Prison, while uncovering the dark and disturbing secrets buried beneath the surface of Callisto. Using a unique blend of shooting and close-quarters combat, Jacob will need to adapt his tactics to combat the rapidly evolving creatures while scavenging to unlock new weapons, gear, and abilities to outrun the growing threat and escape the horrors of Jupiter's Dead Moon."
Need for Speed Unbound
Date: 02/12/2022
Genre: Action / Racing
Platforms: PC, PS5, Xbox Series X
"Race to the top, definitely don't flop. Outsmart the cops, and enter weekly qualifiers for The Grand: the ultimate street race. Pack your garage with precision-tuned, custom rides and light up the streets with your style."
Lover Pretend
Date: 02/12/2022
Genre: RPG
Platforms: Switch
"Living alone with no romantic experience whatsoever, Chiyuki struggles with writing stories about love. But one day, on the hunt for clues for the identity of her father, Chiyuki learns that he may have been involved in the production of a romantic drama based on a script her mother wrote before she was born.
In a stroke of luck, Chiyuki lands a job as an assistant for an upcoming film working with the sons of the former staff from her mother's soap opera. But things take an even more surprising turn when she becomes the main love interest!"
Goonya Monster
Date: 04/12/2022
Genre: Action / Indie
Platforms: PC, PS5, Switch
"GOONYA MONSTER is a party game where you go on a rampage playing as characters designed by Terada Tera. Split into Busters and Monsters to face off against one another! An absolutely absurd battle awaits you!"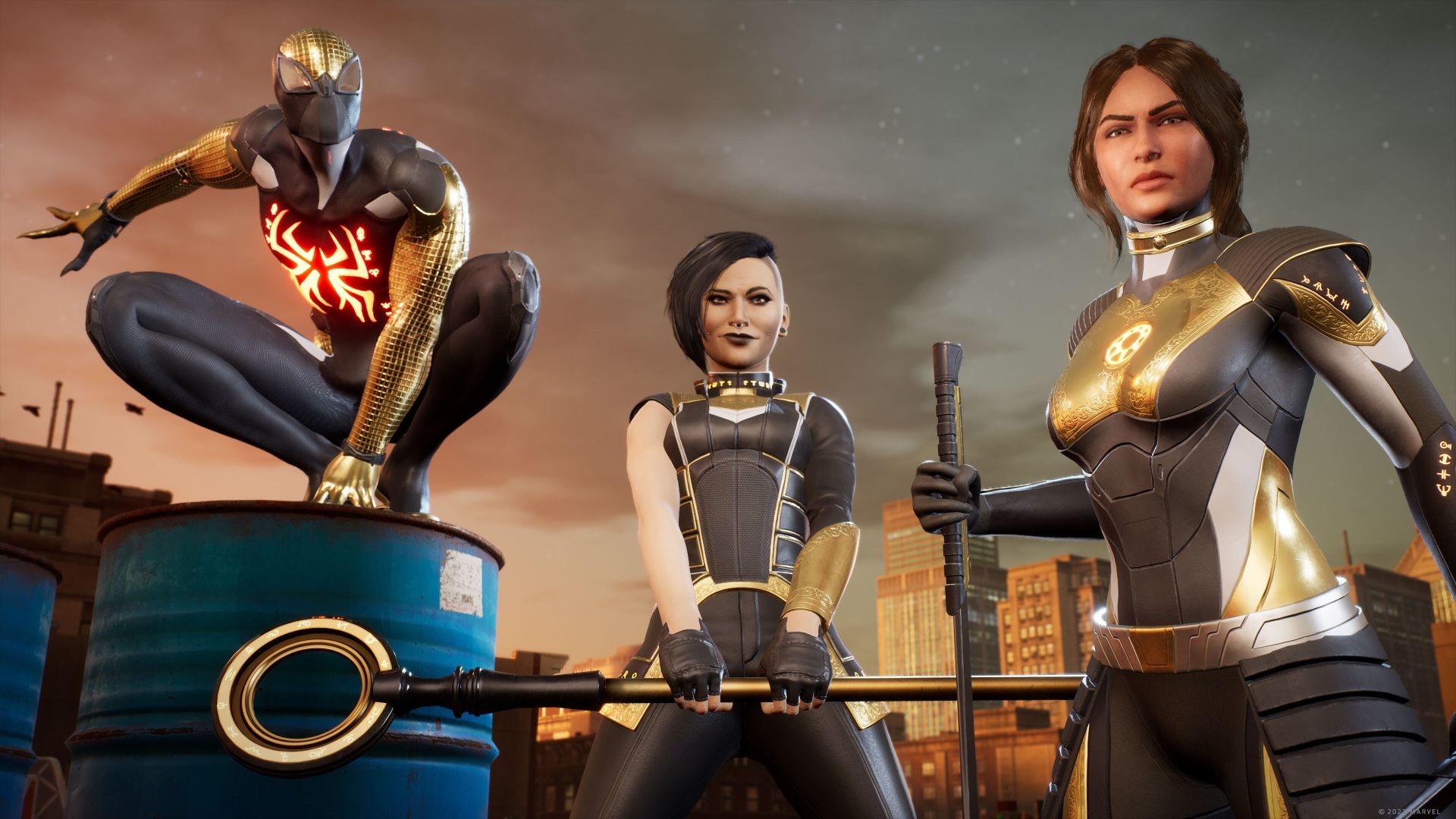 Marvel's Midnight Suns
We are strongly hoping that Marvel's Midnight Suns is a pleasant surprise to expectations. If the game is able to maintain the strong strategic combat of past Firaxis games, it may end up drawing more gamers into the fantastic world of tactics RPGs.
Be sure to check out last week's Coming Out to see what you may have missed!
What new titles coming out are you most excited for this week? Let us know!