Each week there are plenty of new games coming out. Although with so much going on it can be hard to keep track of them all. Thankfully Checkpoint is here to sift through them all and bring you our highlights of the week.
So let's jump in and have a look at what's coming out in gaming this week.
Impaler
Date: 06/12/2022
Genre: Action / Indie
Platforms: PC
"Impaler is challenging, rewards movement, and each run feels different thanks to rogue-like elements. Overcome the increasingly difficult hordes of monsters by upgrading your weapons & abilities. Impaler has a retro art style, a great soundtrack, and a custom engine for extra smooth frame rates."
Kynseed
Date: 06/12/2022
Genre: Adventure / Simulation / RPG
Platforms: PC
"Kynseed is a Life Sim Sandbox RPG brought to you by developers who worked on the Fable series for Lionhead Studios. Live your life in a world where everyone ages and dies, including your pets! Take control of the mystical Kynseed and grow your family legacy over generations as you pass your skills and powers down to your children."
Knights of Honour II: Sovereign
Date: 06/12/2022
Genre: Strategy / Simulation
Platforms: PC
"Knights of Honor II: Sovereign includes all the depth players desire while being the gate-way game to the grand strategy genre, presenting the world as a living, breathing miniature, alive and ripe for the taking. Choose your royal court carefully and determine the destiny of your people, be it riches, conquest, intrigue, trade, or defeat! Raise armies to defend your lands or take war to the enemy – even jump into battle directly in action-packed RTS combat. The path is open: become the true Sovereign of your people."
Sunshine Shuffle
Date: 06/12/2022
Genre: Adventure / Casual
Platforms: PC
"Sunshine Shuffle is a narrative poker adventure featuring talking animals with criminal pasts and adorable outfits! Play Texas Hold 'Em with the remaining members of the 'Morning Shift', a group of working-class creatures turned would-be Robin Hoods who crossed the Fishie Mob, and mostly lived to tell the tale. Unravel the story of how the largest bank on the Eastern Seaboard was robbed in a single afternoon as you play. Win hands to earn tokens and decorate the S.S. Sunshine with new light fixtures, chairs, card decks, and more. And try to boogie to the game's vibrant, wiggle-inducing original ska soundtrack as you stare into the cold eyes of a 12 year-old kitten with nothing left to lose."
Hello Neighbor 2
Date: 06/12/2022
Genre: Adventure / Strategy
Platforms: PC, PS4, PS5, Xbox One, Xbox Series X
"Hello Neighbor 2 is a family friendly horror game that invites you to a seemingly quiet town of Raven Brooks where everyone is hiding something. You are an investigative journalist looking to uncover the darkest secrets of your neighbors and solve the case of Mr.Peterson, infamous antagonist of Hello Neighbor 1. Sneak around, search for clues behind the mysteries and play against complex opponents controlled by advanced AIs – the whole town is your playground now!"
Mirror Forge
Date: 06/12/2022
Genre: Adventure / Horror
Platforms: PC
"Mirror Forge is a first-person psychological survival horror game featuring alternate dimensions wreathed in darkness and beings ripped from nightmares. Tackle deadly puzzles. Survive threats both seen… and unseen. Piece together clues from an alien world. Above all else, avoid the grasp of utter madness when reality warps around you."
IXION
Date: 07/12/2022
Genre: Strategy / Simulation
Platforms: PC
"Authorised by DOLOS AEC, you will guide the Tiqqun space station onwards in a perilous journey to find a new home for humanity. Station infrastructure, population management, exploration, survival, these responsibilities fall to you. Will you find hope out there in the dark? Good luck Administrator."
SAMURAI MAIDEN
Date: 08/12/2022
Genre: Action / Adventure / RPG
Platforms: PC, PS4, PS5, Switch
"A young woman from the 21st century with sharp swordsmanship skills finds herself in Honnō-ji during the Sengoku period! Together with a trio of newfound ninja friends, she races through the Underworld beneath Honnō-ji, confronted by enraged corpses at every turn!"
The Forest Quartet
Date: 08/12/2022
Genre: Adventure / Puzzle
Platforms: PC, PS4, PS5
"The Forest Quartet is a puzzle adventure about a gone, but not forgotten, lead singer. Play her spirit and travel through 3 acts unique to the members of her band for a final farewell concert. Face their emotions, solve puzzles and fight the corruption plaguing their souls."
NecroBouncer
Date: 08/12/2022
Genre: Action / Indie
Platforms: PC
"Grab your magic staff and step into the shoes of a necromancer working as a bouncer at a nightclub. Selflessly crawl the dungeon club and face scores of inebriated monstrosities ready to welcome your back after your holiday break. It's time to get to work!"
Choo-Choo Charles
Date: 09/12/2022
Genre: Action / Adventure / Horror
Platforms: PC
"Navigate an open-world island in an old train, upgrade it over time, and use it to fight an evil spider train named Charles."
Dragon Quest Treasure
Date: 09/12/2022
Genre: Action / Adventure / RPG
Platforms: Switch
"Erik and his sister Mia live on a Viking longship, dreaming of the day they can explore the world in search of grand treasure. One night they encounter a pair of otherworldly creatures, Porcus and Purrsula, and are whisked away to a mysterious place known as Draconia – a legendary land full of treasures just waiting to be discovered. The adventure Erik and Mia have always dreamed of is finally underway!"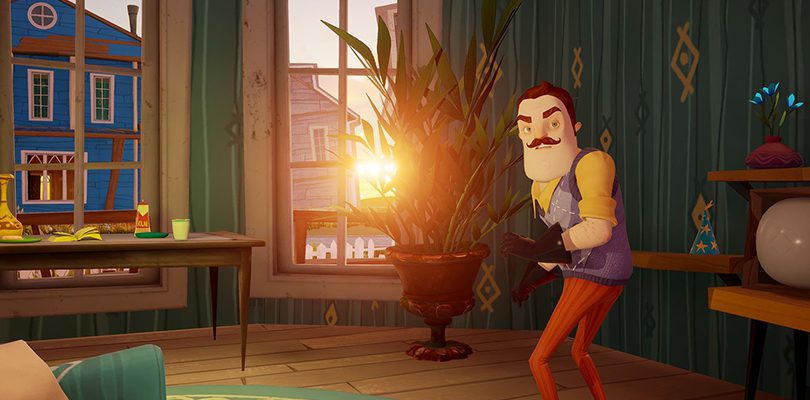 Hello Neighbor 2
Hello Neighbor originally became an unpredicted favourite of let's players and gamers alike, even before the game was fully ready to go. Now we can jump into the nostalgia with the second instalment and tackle a whole new experience of stealth, enemies, and obstacles to overcome.
Be sure to check out last week's Coming Out to see what you may have missed!
What new titles coming out are you most excited for this week? Let us know!