During the day whenever I play console games, I'll often listen to them through the soundbar underneath the TV. But when it comes to later at night, especially when everyone's gone to bed, a headset is a good idea. The HyperX Cloud Stinger 2 is a great option for those late-night adventures, or even during the day. In April we reviewed the wireless version of this headset. This wired version of the Stinger 2 is primarily for PlayStation 4 and 5, and it's PC compatible. As far as headsets go, it's not a bad option if you want something that feels solid but won't break the bank.
I'm not a newcomer to HyperX headsets but they're not my main option for both PC and consoles. Though since using it, it's not a bad headset to use for those days and nights I do play games. When it comes to using it on the PC, it's pretty decent. Playing Baldur's Gate 3 has some great spatial sounds, and the angelic sounds are really shown through this headset. Due to the fact that it only has one input jack, I wasn't able to use the microphone. With enough configurations, it could be achievable, but PC is not its target gaming center. With that said, the Stinger 2 is easy to grab and play. The only technical prowess to flex is putting it inside the headphone socket and you're good to go.
Using the HyperX Cloud Stinger 2 for its intended console purpose, it stacks up pretty well. The bass really hits, which can be a positive or a negative for some people, but it's a positive for me. The thumping sound of a bass-heavy score feels like it's creeping into my mind. It's fantastic! I'm pleasantly surprised with how it sounds. Every step and every voice that comes from the game sounds downright amazing. Audio is a major component in storytelling, thus wearing a headset that makes you feel like you're there is fantastic. The Stinger 2 has a volume control wheel underneath the earcup, instead of messing in menus you can change it and not miss out on the action. While this headset isn't noise-canceling, it's pretty good at isolating only the sounds of whatever game you are playing.
Along with that, the headset itself is super lightweight. Seriously, I sometimes don't even think that I'm wearing it. Comparing that with my regular headset, it is leagues lighter. With that said, I don't feel precious; a few clatters to the ground aren't going to break it. The headset also features 90° rotating cups, which is great when you need to take them off for a moment. The earcups and the size of the headset itself are great and it has an adjustable band. Most headsets I've used in the past hurt my head after using them for not even an hour, especially when they need to break them in like shoes. But Stinger 2 felt so comfortable and easy to use that it didn't feel like a new headset at all.
The padding of the cushions is memory foam, thus, it'll contort to your ears/head shape. One of the issues I had was that they felt rather enormous. Of course, with headsets, it's a "one size fits all" kind of deal. They can't create three sets of cups to encompass all ear types. But with the bonus that they are large, at least I know they cover my ears well, compared to a partial or half cover.
One of the more genius functions of headsets is a moveable microphone that can swivel to mute and unmute. The Stinger 2 alerts audibly when you're muted and un-muted. The audio quality of the mic isn't the greatest, but it's not terrible quality. Obviously, when it comes to budget headsets you have to sacrifice some things. Even with that said, the Stinger 2 feels like quality. It does come with its own pop filter, but it's removable, which thank goodness because it's so unnecessarily large. Especially since the mic itself is pretty minuscule. Most headsets don't come with a pop filter and in HyperX's photos for the headset, it doesn't have the pop filter on it. Which is an odd choice in my opinion.
However, because the Stinger 2 is wired, you're still plagued with the same issues that come with wired headsets. You can't just put the controller on the table and walk away for a moment. Either you'll have to bring your controller with you or leave it. I like being able to walk around the house to do things while I listen to a cutscene play out. Especially in games that don't pause during cutscenes like Baldur's Gate 3. But it's such a small thing that it doesn't even really take away from how great of a headset it is. Add to this the fact that wired headphones sound a lot better than wireless due to said wire, plus you don't have to charge wired headsets, and it's a fine trade-off.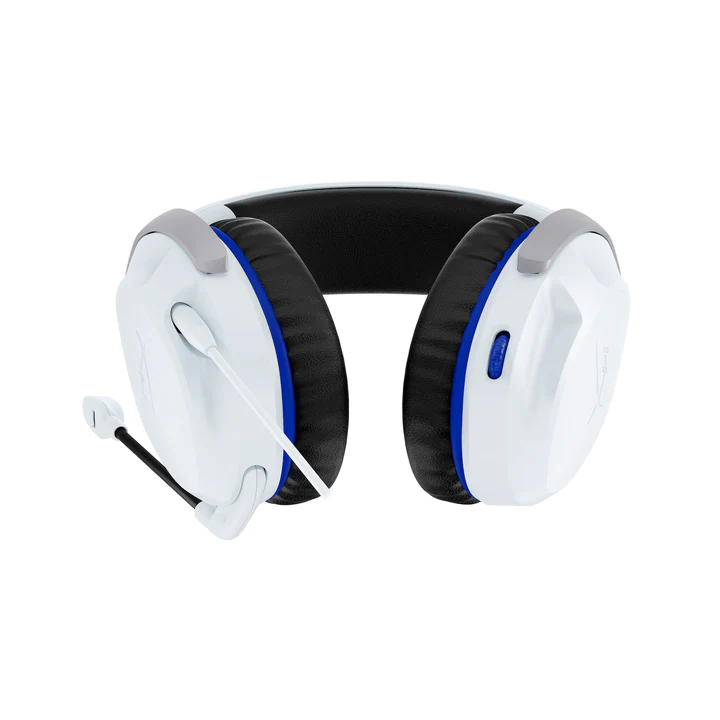 The Cloud Stinger 2 is a great option to choose from in the "budget"-sphere of headsets for consoles. It's lightweight, the audio is great, and… well, it won't burn a hole in your wallet, at just under $100! Of course, the term budget is different for everyone. Some might see this as expensive and others might see it as cheap, your mileage may vary. But it's a great price for what it offers. Being able to game while up late at night and not being able to disturb family or roommates is an added bonus. In addition, HyperX offers a 2-year warranty, which is a pretty good deal not to pass up on.
The HyperX Cloud Stinger 2 will be a headset I'll reach for next time I'm gaming on my PlayStation.