Over the weekend SonicFox claimed the victor's trophy for Dragon Ball FighterZ at EVO 2018. The pro gamer having bested his opponent in what was a long and slightly controversial finish to the Arc System Works' game tournament. Adorning the garbs of his "fursona", Dominique "SonicFox" McLean managed to come back from a difficult first round of fighting to beat his rival gamer Goichi "GO1" Kishida. The tournament took place in Las Vegas at the Mandalay Bay Events Centre with both a fully packed stadium and approximately 250,000 additional viewers watching the battle on Twitch.
Having just won the final, SonicFox wasted no time hopping onto his Twitter account to reinforce the importance of his win, particularly for those in the LGBTQ+ community. Using his account, SonicFox Tweeted about his sexuality and made a comment concerning the fact that he isn't used to people supporting him:
Having been widely praised for his open approach to life, even going so far as to wear his blue fursuit during his appearance in the final, SonicFox did the LGBTQ+ gaming community proud. The significance of his win was made all the more important due to the fact that the 20-year-old is one of the very few pro gamers who is openly part of the queer community. He has been regularly retweeting messages of support and congratulations since winning the comp, many of who were commenting on the importance of his win and the overall impact he has had on gaymers in the fighting game community.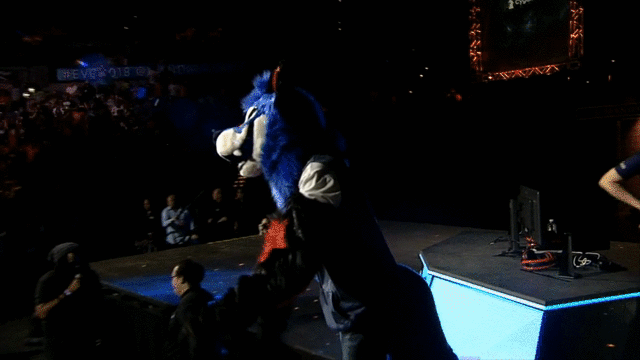 A very nerve-wracking fight, almost reminiscent of a real Dragon Ball Z episode, both gamers gave it their all, but it was the "Black Queer Furry" who came out on top. This is SonicFox's fourth EVO tournament win, having won previous trophies in 2014 for Injustice: Gods Among Us, and in both 2015 and 2016 for Mortal Kombat X. With another win under his belt, I'm excited to see what will come next for this young and inspirational gamer in years to come. A hearty congratulations to SonicFox and his win at EVO 2018, you've once again done our community proud!