Super Mario Maker 2 has only been out for a few days. It's a well received game and it was only a matter of time before the levels people have made got crazier and crazier. The creator of famously difficult platformer Celeste has joined the fun and taken it upon himself to give a spin of the game's level design mechanics. The results, of course, are fun and challenging chaos across the four levels he has designed thus far. You can see one of the levels  for yourself below in a gameplay video from ShackNews.
The developer, Matt Thorson, has shared his Celeste style difficulty spin on these Mario Maker levels via a twitter thread that deserves some love. Additionally, we have listed the level codes below for anyone daring enough to give them a go.
Levels: 
-Banzai Bounce: Q43-GXB-WHG
-Desert of Despair: H8K-3B9-WDG
-Starlight Shells: PHP-GYT-VJG
-Shrine of the Sacred Stilletto: 5YG-7DN-PGG
Matt Thorson's Maker ID (So you can follow him for possible future levels):
JVY-3W4-11H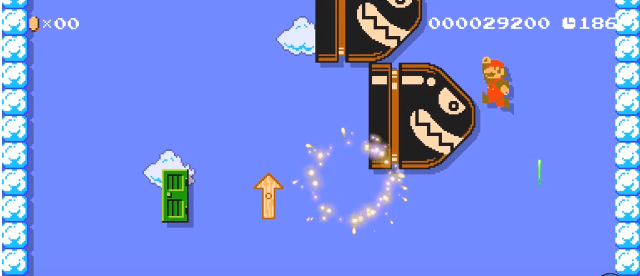 There you have it. This pairing of Thorson and Super Mario Maker 2 is a match made in heaven. Now Celeste fans are able to enjoy levels to the fashion of the difficult platformer, while using Super Mario Maker 2's world and mechanics. Try the levels if you dare, we can only assume they're frustratingly fun.