Eric Barone, AKA ConcernedApe, is not finished tinkering with Stardew Valley. The developer's hit 2016 farming simulator has steadily been supported by subsequent patches and updates since release.
This month, Barone has announced content update 1.4, aimed at fleshing out late-game marriage events, as well as adding new hairstyles, a new farm map and some tweaks to how multiplayer works. In his own words, "content-wise, nearly every aspect of the game has been expanded or improved upon in some way."
The first new addition to Version 1.4 is 14-heart events for each of the marriage candidates in the game. This will hopefully encourage players to keep at wooing their spouses after marriage rather than leaving them alone after tying the knot. Barone also announced more endgame content "to keep things going a little further after you've completed everything". However, he held back on details, stating that "you'll just have to wait and see for yourself!"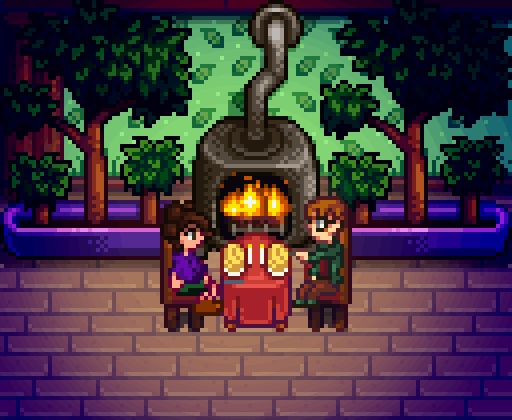 Barone has also announced a new farm map shape, called "Four Corners". He shared an image of the new map on Twitter, although he stated that the screenshot "only reveals a fraction of what's coming". He also outlined some additional new features, such as making fulfilling the Community Centre quests more intuitive and 6 new hairstyles.
Hey everyone, just wanted to share this screenshot from the upcoming 1.4 update! It's a big one, & this image only reveals a fraction of what's coming. Featured here is a new farm map called Four Corners that's perfect for the much requested "separate money" option in multiplayer pic.twitter.com/wwI1nHWpvX

— ConcernedApe (@ConcernedApe) April 27, 2019
There are also some gameplay alterations impacting single- and multi-player. These include making the Wild Bait item no longer "essentially worthless", now giving a small chance to catch twice as many fish. Another change will be the ability to have separate gold balances when in co-op mode, although you can go to Mayor Lewis at any time to separate or re-join your gold balances while in multi-player.
Finally, Update 1.4 will be bringing Fish Ponds to Stardew Valley. This will be a new farm building you can construct alongside barns and coops. With a fish pond, the player will be able to keep and raise fish, and collect eggs and other products.
Another sneak peek into the upcoming 1.4 update… introducing fish ponds, a new farm building that allows you to raise fish and collects eggs (roe) and other products. pic.twitter.com/52MFaP3Fjz

— ConcernedApe (@ConcernedApe) September 5, 2019
The new update will be released for the PC version of Stardew Valley on November 26th. The console and mobile versions of the game will receive the update simulaneously a few weeks later. The update is also set to bring some optimisation improvements to the console versions of the game to improve performance.
ConcernedApe's support for Stardew Valley since release has only made a great game better. From big updates, like adding multiplayer support, to smaller content patches, fans of Stardew Valley have been well served since 2016. For any fans who are looking forward to setting up their own fish ponds in their farms, the update is only a few weeks away.