Peaky Blinders: Mastermind is an upcoming game based on the hit TV show. Set before the events of the first season, Mastermind is a top-down puzzle game in which players must rewind time to coordinate multiple characters simultaneously. Players take control of various members of the Shelby family to uncover a plot against patriarch Tommy. The game will release for PlayStation 4, Xbox One, Nintendo Switch and PC on August 20th
While described as a "puzzle-adventure" game, Peaky Blinders: Mastermind appears to take some cues from stealth games. The trailer shows that players will need to evade enemy cones of vision, or move objects in front of them to block their awareness. Getting spotted means game over; luckily, you are able to rewind time and try again.
A timeline at the bottom of the screen shows a detailed view of each character's actions across time. Presumably, this means you can scrub back and forth and control multiple characters at once, helping each other solve puzzles and deal with enemies. This seems simple enough with two characters, but the trailer also shows a level with at least six characters. That could potentially lead to some exciting time-juggling antics.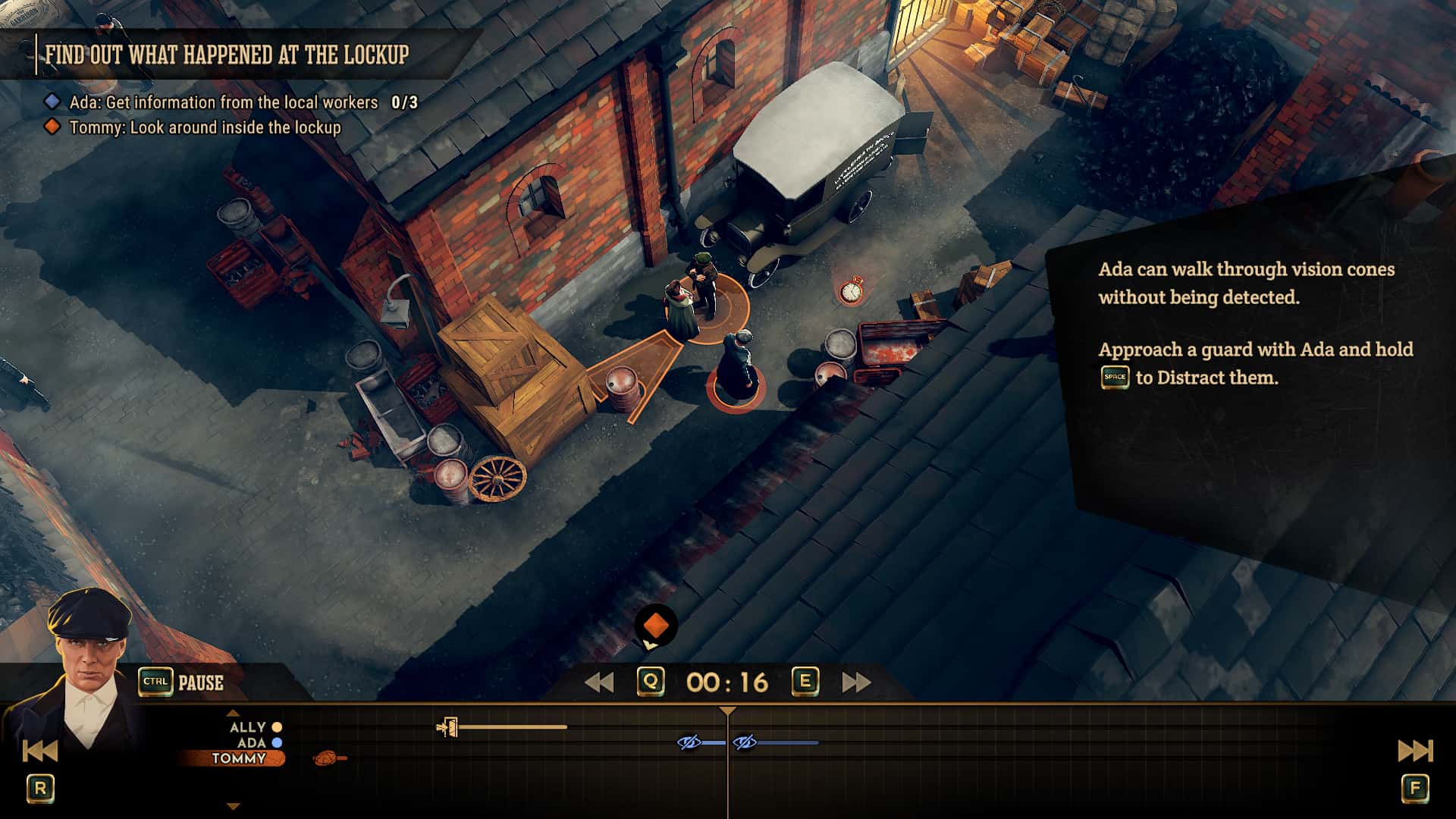 Developed by UK-based studio FuturLab, the game will adapt the world of Peaky Blinders in more ways than one. Along with the above trailer voiced by Cillian Murphy (who plays Tommy in the show), the game's soundtrack will be composed by Feverist, a band whose work was featured in the first season of Peaky Blinders. In fact, anyone who pre-orders Mastermind on PC will receive a free copy of its soundtrack. Plus, the band's EP "Mastermind" will also be released on streaming platforms the same day as the game's release.
Peaky Blinders: Mastermind is certainly not the first game to be based on a TV show. But with an inventive gameplay style, Mastermind might stand out from the crowd and be a great experience on its own merit. Guess we're gonna find out when the game releases later this month. If you haven't already, you can catch up on Peaky Blinders on Netflix. I haven't seen the show, so I can't confirm if time manipulation is something the Shelby family can actually do.