SEGA is celebrating their 60th Anniversary this week, and with this comes some pretty sweet deals on Steam. One of the more curious options, however, is the announcement of a game with a very limited timeframe. Streets of Kamurocho is a Streets of Rage 2 and Yakuza crossover available only this weekend.
An overview of the game's Steam listing says the following:
'In celebration of Sega's 60th Anniversary, Sega mashed Streets of Rage 2 with the ever-popular Ryu Ga Gotoku Studio's Yakuza series, and Streets of Kamurocho was born.

The death of the Tojo Clan's Third Chairman has plunged the organization into chaos. The violence spreads to the streets, and only Kazuma Kiryu and Goro Majima can put an end to the bloodshed!'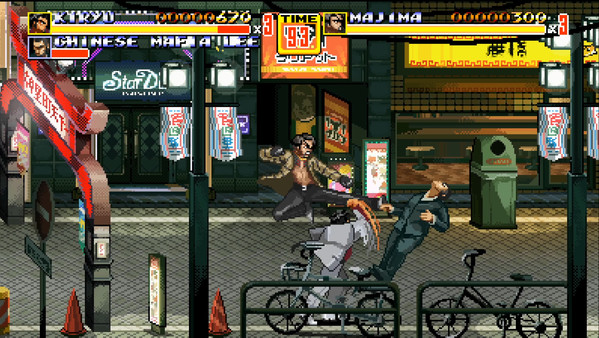 Most curious about the free-to-play game is its limited time-frame for availability. It'll drop this weekend on Saturday October the 17th, and will only be available until the early hours of Tuesday morning for us Aussies. It's an odd choice, but it's not the only game with a limited lifespan. Nintendo's Super Mario 3D All-Stars is said to only be available for six months. .
If you're a SEGA or even Yakuza fan like me, you'll no doubt want to be watching Streets of Kamurocho like a hawk. The best means to do so is by going to the game's Steam listing here and wishlist it. Get throwing those bicycles!