SEGA recently held a results presentation for the ending of the financial year 2021, where they laid out their plans for the future. Some of those plans have been revealed by VideoGamesChronicle, and let's just say there's some exciting stuff in here. As seen in the presentation slides, one of their main focuses will be to "strengthen existing IPs to build a solid structure in three years", with titles such as Sonic, Persona, Yakuza, Phantasy Star Online 2, and Total War.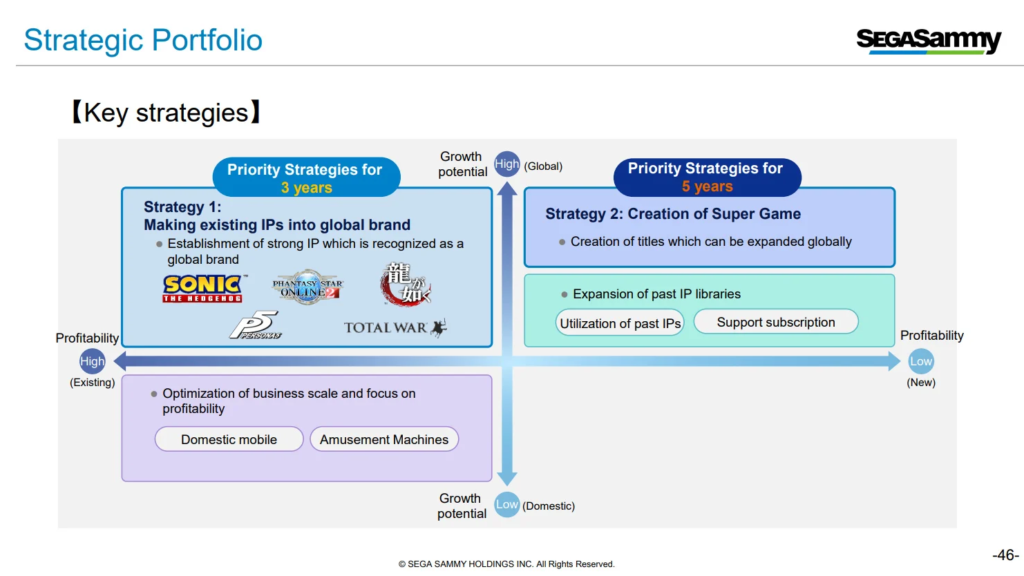 The report mentions a "Super Game", which is described as a 5-year strategy with a high potential for long-term growth, as it will be sold globally. What this Super Game exactly is remains a mystery, but it may mean a brand new IP. While this project is in development, SEGA will also release a number of other projects: a new FPS game, but also some remasters and remakes of older existing titles.
The list of existing 'dormant' IPs being considered for remakes is quite long, and includes some beloved fan favourites such as NiGHTS, Jet Set Radio, Crazy Taxi, and Virtua Fighter. It doesn't seem like they have yet decided on which IP to go with, but now that this list is out there, I'm sure the internet will make their preferences heard.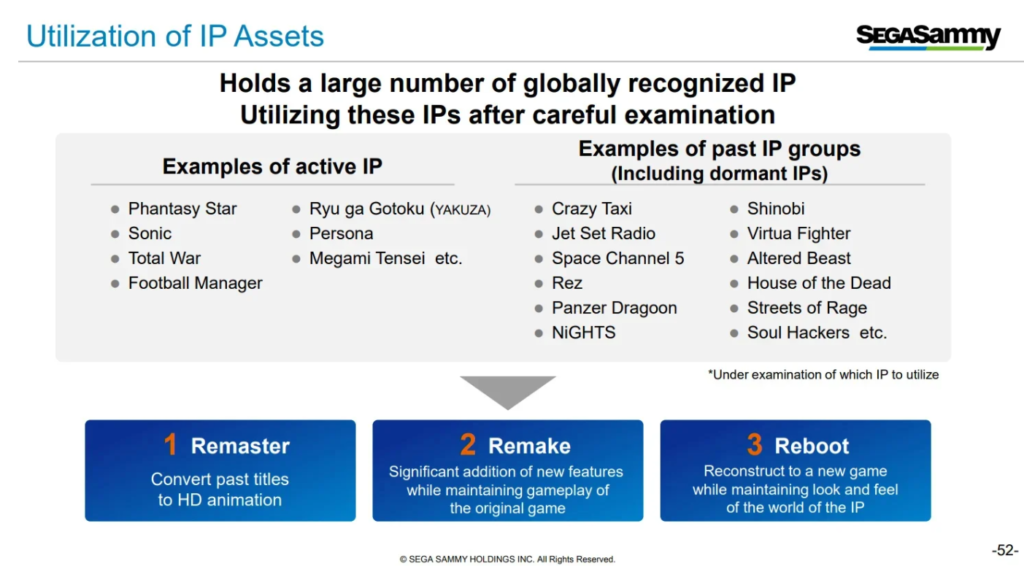 SEGA's pachinko machines were hit with a 10.6 billion yen loss in 2020, probably at least partially due to COVID19. But sales in other places have been quite surprising: approximately 4.4 million Sonic games were sold in that year, even though no new Sonic games have been released in that time. Total War games sold around 4 million, Persona games sold 3 million, and Football Manager titles sold around 3.8 million. It was also announced to be Metacritic's Publisher of the year, so by all rights, it hasn't done too bad.