It appears that Marvel's Avengers is still pushing out content despite a dramatic loss of players after launch. The Black Panther: War for Wakanda expansion is coming to the game in August. It's going to be free as well so if you do still have your copy, maybe it is worth giving it another shot. The trailer for the new expansion does look pretty awesome, check it out below!
It's bittersweet since we lost Chadwick Boseman in August 2020 after a battle with cancer. Boseman truly brought so much to this new character in the Marvel Cinematic Universe. The Avengers game is voiced by a new cast of voice actors. So you won't be hearing Chadwick Boseman in the expansion if that's what you're thinking. The games voice cast is packed with some familiar people though so it's got to get credit for that.
I reckon I'll jump back into Marvel's Avengers again considering there's been a lot added to the game since launch. I did actually enjoy the story of the game but I like, a lot of people found the post-game content not nearly as worthwhile. It's not a game I want to grind, what made the game enjoyable to me at least was the new locations that brought interesting side quests that didn't feel repetitive. This game does try a lot of stuff but it just fails to deliver any of it to the standard promised.
The End of the Roadmap is fast approaching
Crystal Dynamics is nearing the end of the 2021 Content Roadmap as seen below. It's very likely this could be the last update we see for the game that brings major content to the game, but what may another year bring? Marvel's Avengers Battle Royale maybe? but I am genuinely curious to see what they'd do with such an expansive intellectual property.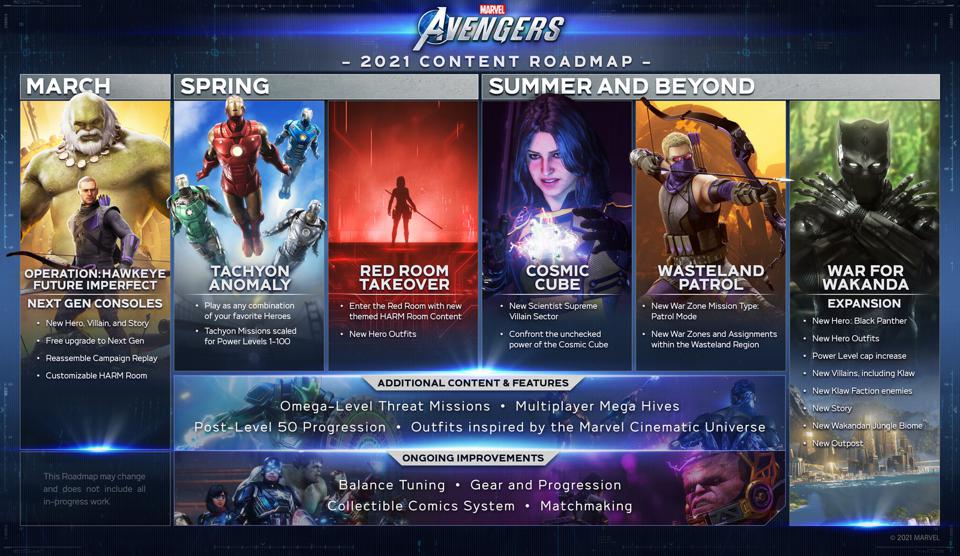 Black Panther: War Of Wakanda is bringing a lot of content to the game, so I guess now might be the time to venture back into it. But honestly, Marvel's Wandervision and Loki have been enough for me lately. Whatever the case for Marvel's Avengers, WAKANDA FOREVER.