Marvel's Guardians of the Galaxy, Marvel's fan-favourite spacefaring heroes, are getting their own action-adventure game. It is being developed by Eidos Montreal, the team behind the recent Deus Ex titles. Fortunately, fans will only have to wait a few months before it comes out.
Marvel's Guardians of the Galaxy is a single-player action-adventure experience, unlike the multiplayer focus of Crystal Dynamics' Marvel's Avengers. Players are put in the mask and rocket boots of Peter Quill, AKA Star-Lord, leader of the Guardians of the Galaxy. The game features the team's lineup from the beloved 2014 Marvel Cinematic Universe film, including Gamora, Drax, Rocket and Groot, as well as an appearance by Mantis from the second film. Apparently Cosmo the Spacedog is showing up as well. In keeping with the retro sci-fi style of the MCU films, players can also expect a lot of great licensed music, such as Bonnie Tyler's Holdin' Out of the Hero and Joan Jett's Bad Reputation, among others.
Players control Star-Lord directly, with his fellow Guardians acting on their own. However, the player can manually direct some of their abilities in combat. Star-Lord also must make decisions as the team leader, wading into team disputes and making choices that might not make everyone happy.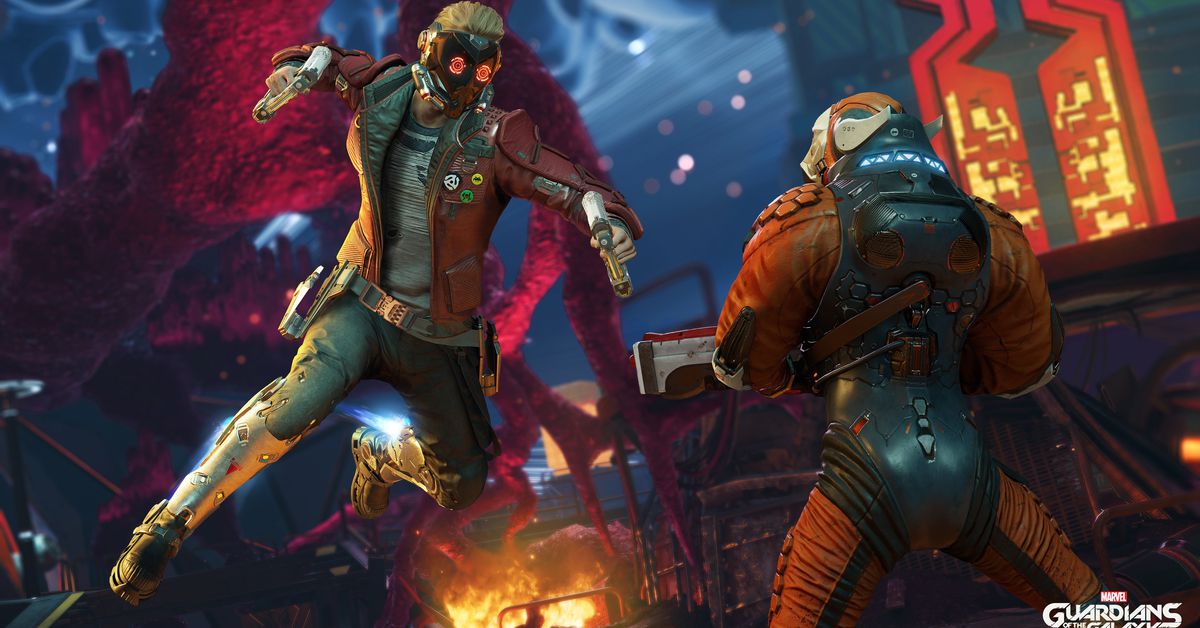 In the gameplay trailer, we see Star-Lord deciding whether to send either Rocket or Groot to a monster collector as part of a mission. More humorously, he can also choose whether to let Drax throw Rocket over a chasm against his will. A popup notification advises that this made Rocket furious, which either suggests that Star-Lord's decisions might have long-term consequences, or is just a fun reference to the rather good 2017 Marvel's Guardians of the Galaxy: The Telltale Series.
"A distinct mix of sci-fi, family drama, and rock n' roll attitude with an edgy aesthetic is the foundation for our Guardians franchise", states Jay Ong, EVP and Head of Marvel Games. "We are thrilled to collaborate with Eidos-Montréal knowing they are the team that can deliver on this core promise. The team's laser-focused vision for our beloved band of misfits shines in Marvel's Guardians of the Galaxy. We are excited for our fans to play it this October."
Surprisingly, the game is not far out from release. We will be able to play Marvel's Guardians of the Galaxy on PS4, PS5, Xbox One, Xbox Series X/S and PC October 26th 2021.