If you missed out on playing the fantastic Ghost of Tsushima when it first released or were waiting for a PS5 version, then your prayers have been answered. A Director's Cut of the title has been announced via the PlayStation Blog which will not only allow for an enhanced experience on the PS5 but will also come loaded with brand new content.
Ghost of Tsushima was critically acclaimed when it released last year, proving to be a fantastic title drawing heavy inspiration from classic Samurai cinema and providing an engaging and captivating world for players to explore. The new Director's Cut of Ghost of Tsushima is set to feature a brand new story expansion that takes place on Iki island. Iki Island will provide a new environment for players to explore, along with new armour, new techniques, new enemies, and even new animals.
The PS5 version will also receive a host of new exclusive features such as support for the DualSense's haptic feedback and adaptive triggers, 3D audio, faster load times, and a higher resolution of 4K with up to 60 FPS. Another long sought-after feature will be exclusive to the PS5 version thanks to the improved hardware, with cutscenes now allowing for Japanese lip-sync to be implemented as the PS5 can render cinematics in real-time.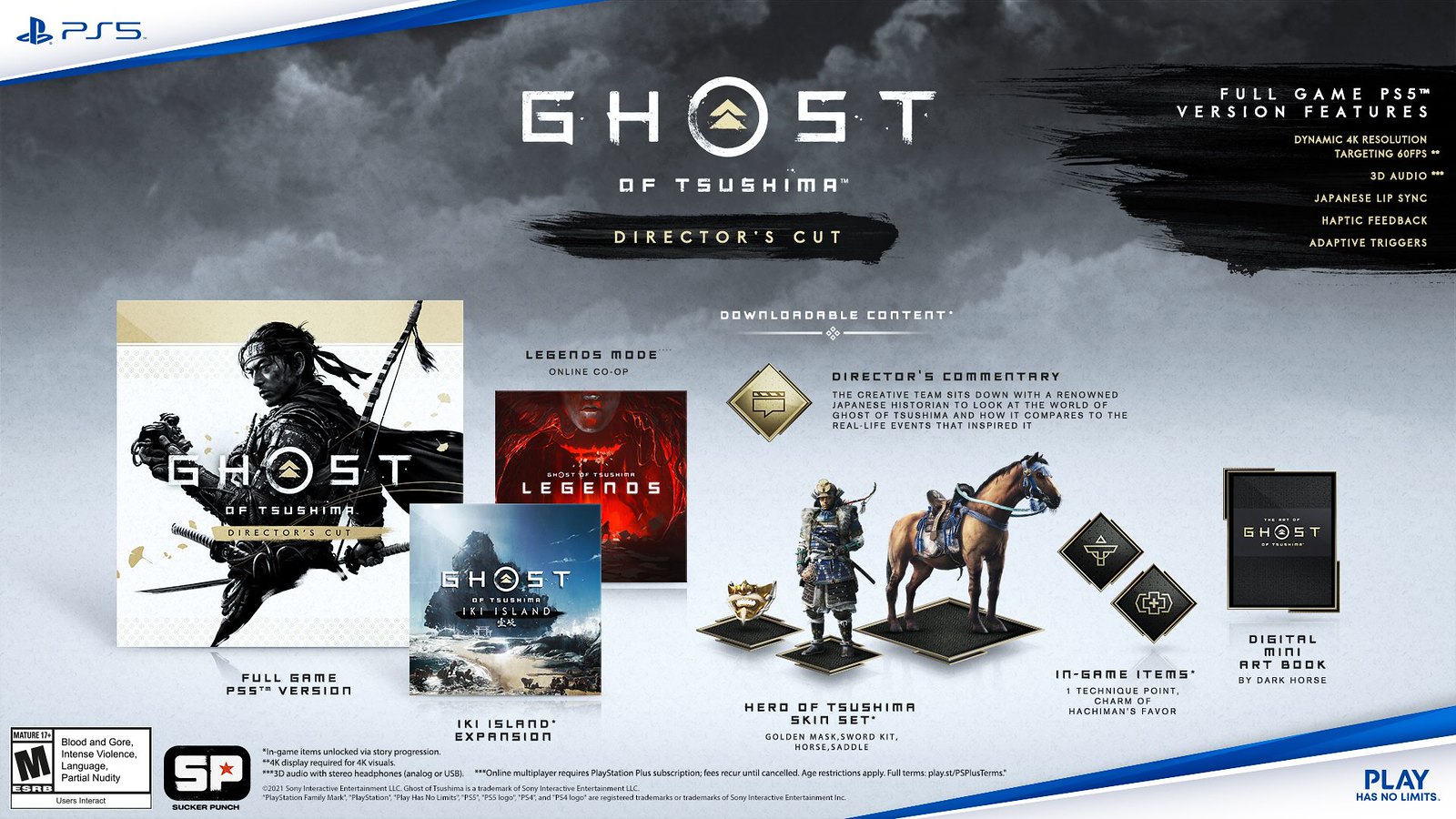 Overall, this seems to be a truly expanded edition of the title, not just a simple bump up in terms of performance, which is a nice treat for fans of the title and further establishing Sony as a first-party title juggernaut.
There is one confusing aspect though in upgrading to the Director's Cut as this is not a free upgrade, with Aussie pricing yet to be confirmed and only converted from the current US pricing. If you already own Ghost of Tsushima on PS4 then you are able to upgrade to the Director's Cut for roughly $25 AUD. Whereas if you are wanting to upgrade to the PS5 version of the Director's Cut, you'll be paying roughly $40 AUD.
Now, if you buy the PS4 version of the Director's Cut you can then upgrade it to the PS5 version for roughly $12 AUD. The title is still set to have a physical release if you do not own the game, which will most likely come with a standard new release price tag.
Ghost of Tsushima: Director's Cut will release on August 20th this year, so if you haven't played this title yet then just hold on a little longer for the improved experience.