NBA 2K22 is the latest instalment in the ever-popular basketball series of games that have long been a yearly release for fans of the sport. And as with any sport, the players are a large part of the main attraction, with each having its own legacy and influence on fans and players past, present, and future. Yesterday, the cover stars of each edition were revealed, including one edition that even features a WNBA player for the very first time.
NBA 2K22 will release the following editions:
– The Standard Edition will be available for $99.95 AUD on PlayStation 4 and Xbox One consoles, $89.95 AUD on Nintendo Switch and PC, and $109.95 AUD  on new-gen consoles (PlayStation 5 and Xbox Series X|S);
– The Cross-Gen Digital Bundle will be available for $124.95 AUD and grant players access to the Standard Edition across previous- and new-gen within the same PlayStation and Xbox consoles;
– NBA 2K22 NBA 75th Anniversary Edition will be available for $149.95 AUD for PlayStation 4, PlayStation 5, Xbox One, Xbox Series X|S, and PC. Dual-gen access is included for both the Cross-Gen Digital Bundle and NBA 75th Anniversary Edition for the PS4/PS5 and Xbox One/Xbox Series X|S platforms and provides a version of the game on each console generation within the same console family. The NBA 75th Anniversary Edition for Nintendo Switch will only be available in digital format in ANZ.
Global basketball phenomenon and two-time NBA All-Star, Luka Dončić, will grace both the Standard Edition and Cross-Gen Digital Bundle editions of the game.
The 75th-anniversary edition cover will feature a specially designed piece of art designed by iconic African-American artist Charly Palmer. This cover elegantly displays 3 of the greats, being; Kareem Abdul-Jabbar, Dirk Nowitzki, and Kevin Durant.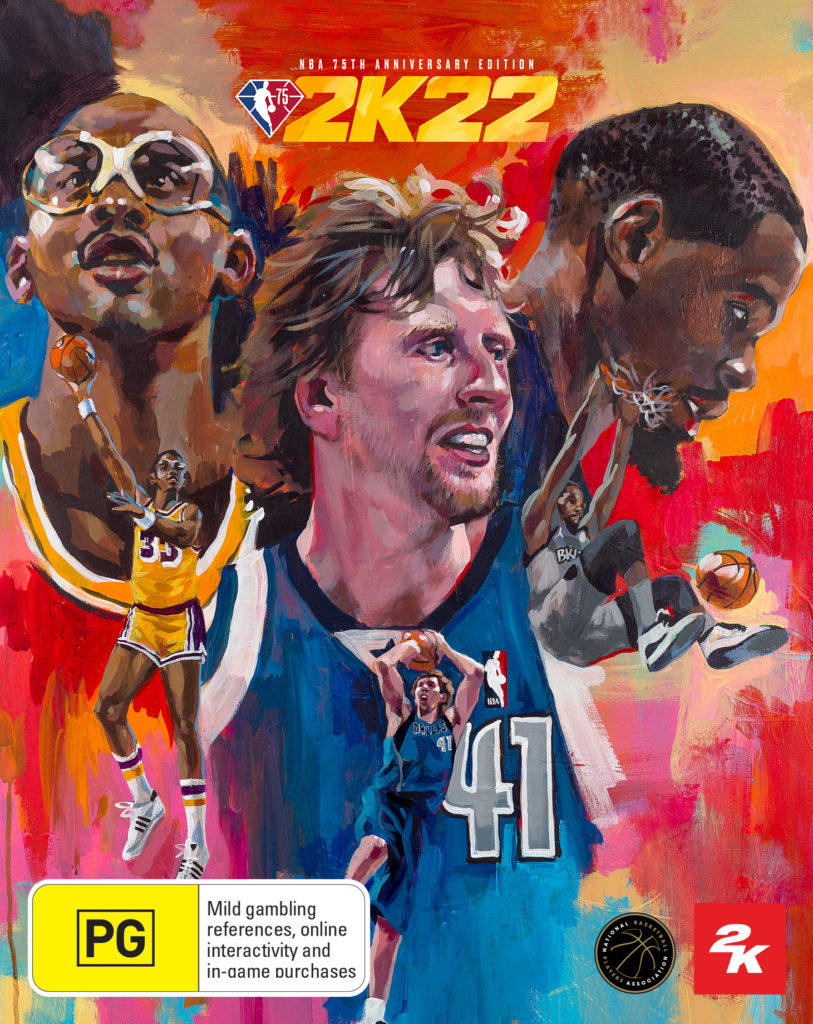 If like me, you are not a big basketball fan, then you may be wondering why these 3 players were chosen, lucky then that I have included a brief snippet for each player below.
– Kareem Abdul-Jabbar is a Hall of Famer, six-time NBA Champion and six-time MVP, and all-time NBA scoring leader. He is also known for his Skyhook technique and activism on social issues.
– Dirk Nowitzki is a 14-time All-Star, NBA Champion and MVP. He is known as the prototypical sharpshooting big man
– Kevin Durant is an 11-time All-Star, league MVP and two-time NBA Champion. He is known for his one-of-a-kind presence in the league, and this cover also marks his third time gracing the front box art.
Further to the above-mentioned cover arts will also be a North American Gamestop exclusive version of the standard edition that features six-time WNBA All-Star and WNBA Champion, Candace Parker. This marks the first time a woman player has ever graced the cover art for an NBA game. Japan will also get its own unique cover art for the standard edition featuring Washington Wizards Rui Hachimura, a rising star who was the first Japanese player to be drafted in the first round in 2019 and the first Japanese player to reach the NBA Playoffs.
All editions of NBA 2K22 are currently scheduled for worldwide release on September 10th 2021, and are available for pre-order today. Which version will you be picking up? Let us know in the comments below or on our socials.