Popular online game creation platform Roblox has been offline for over a day. The source of this mysterious outage is still unknown, and we don't know when the game will come back online.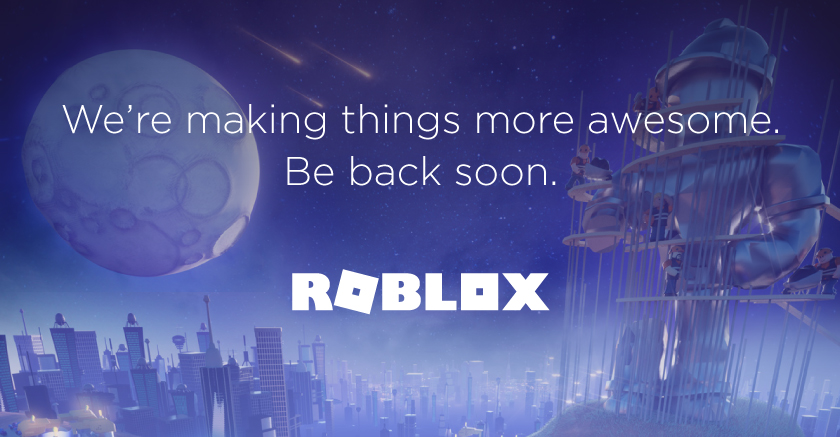 "We're making things more awesome. Be back soon." reads the official Roblox website at the moment. Roblox is an online platform popular among children, which allows players to create their own games using its proprietary Roblox Studio game engine. Considering Roblox became a publicly-traded company earlier this year, this continued blackout is bad news for investors.
One rumoured cause of this recent outage has been a partnership deal with American restaurant chain Chipotle, where 30,000 players each day could access an item that would redeem a voucher for a Chipotle burrito in real life. However, Roblox has gone out of its way to assure everyone that the "outage was not related to any specific experiences or partnerships on the platform".
We believe we have identified an underlying internal cause of the outage. We're in the process of performing the necessary engineering and maintenance work to get Roblox back up and running ASAP. Thanks for your patience.

— Roblox (@Roblox) October 30, 2021
As of the most recent update from this morning, the problem is being worked on, but not much closer to being fixed. The developers believe that they "have identified an underlying internal cause of the outage". The Roblox team are currently in the process of getting the game up and running.
In the meantime, Roblox's playerbase will have to play something else while waiting for the game to come back online. It will remain to be seen if we ever find out what the cause of the blackout was. If it took the game down for nearly two days and counting, it must have been serious. Hopefully, for the game's developers and fans, it will be back online before long.