A popular streaming software, Streamlabs, partnered with Twitch to help bring Xbox to another level and make them look great. Ordinarily, if you wanted to stream Xbox games, you would need a PC and a capture card. Streamlabs is making it easier even with the use of a tablet or phone. However, the service costs $4.99USD per month. Sounds great, right? Except Streamlabs have been accused of plagiarism, and not just by the one company.
In a tweet, Wednesday morning, streaming software Lightstreams tweeted that how Streamlabs and Twitch's announcement is copied word for word. Streamlabs, or in this case, clown emoji, asks Lightstream if they can copy their homework. A popular meme on Twitter where one creator has imitated the first.
🤡 Hey, can I copy your homework?

▽ Yeah, just change it up a bit so it's not obvious you copied.

🤡 Bet. pic.twitter.com/xODY5uDZeP

— Lightstream (@Lightstream) November 16, 2021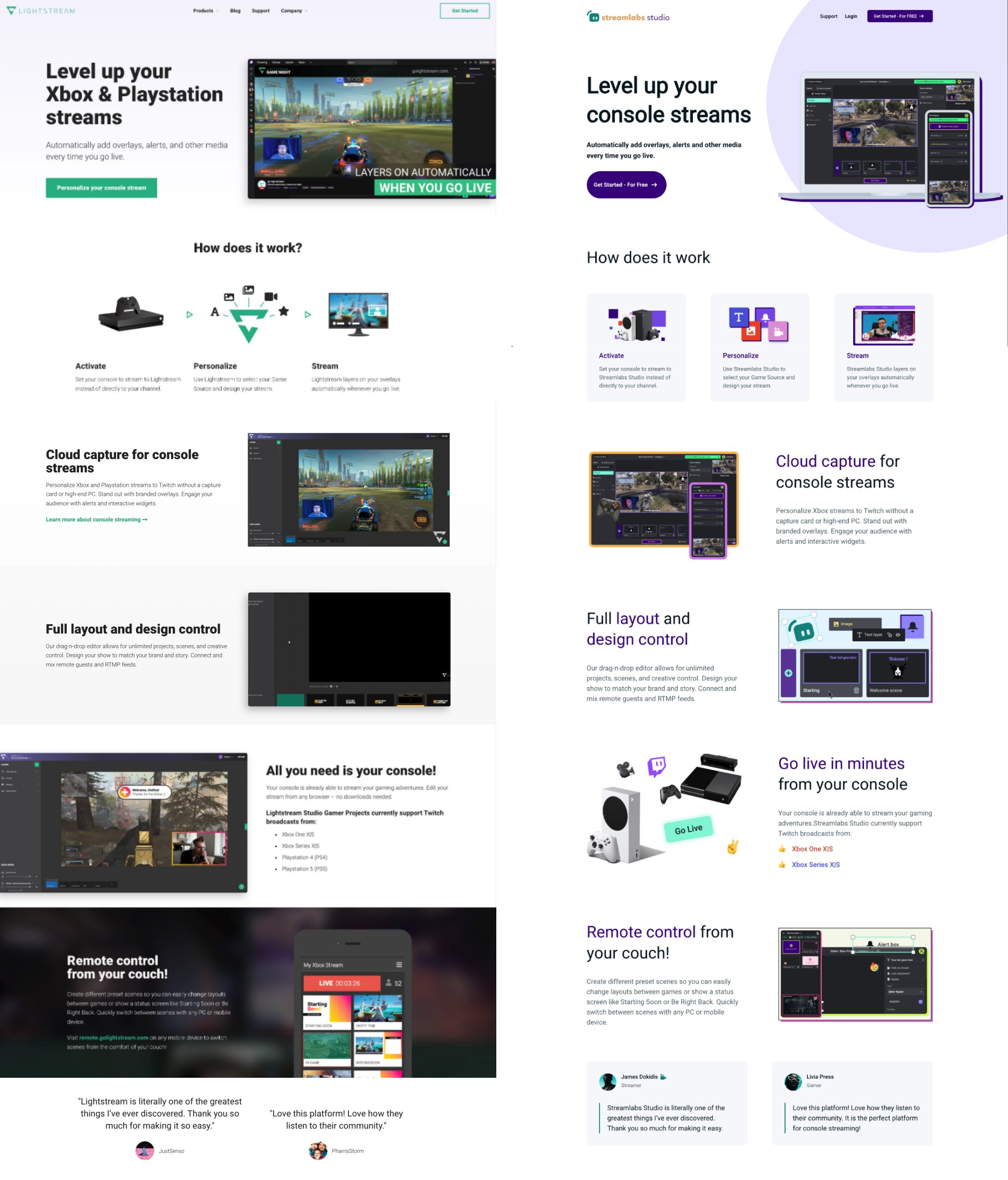 Similarly, both infographics look the same, with Lightstream on the left and Streamlabs on the right. Though the text of the side-by-side images is exactly the same while the images are different.
Also visible are a few user reviews at the bottom. On the left, user JustSenso says "Lightstream is literally one of the greatest things I've ever discovered. Thank you so much for making it so easy." On the right, user James Dokidis' comment reads exactly the same, except for the same of the service.
PharrisStorm says "Love this platform! Love how they listen to their community." Livia Press' review says the same thing but adds: "It is the perfect platform for console streaming!"
Twitch Partner iamBrandon tweeted that when working at Lightstream, he reached out to those mentioned for comments about the service, resulting in the testimonials provided. Streamer PharrisStorm said in the replies that he does use Lightstream, but that "many people will steal their pages and [his] review."
‼️‼️‼️WAIT HOLY SHIT! The user reviews are even a COPY! I KNOW because I reached out to the people in the reviews for these comments when I worked at @Lightstream!

No @streamlabs you need to answer for this! https://t.co/JXv8GSpe0N pic.twitter.com/mPIQKdvWAn

— iamBrandon🏳️‍🌈 (@iamBrandonTV) November 16, 2021
Lightstream CEO and Co-Founder Stu Grubbs Retweeting Lightstream's original Tweet and adding that Streamlabs "should be ashamed of themselves" for copying Lightstream's layout, marketing site and UX.
Another fighter joins the battle!
Why did Grubbs mention OBS? Streamlabs didn't just copy from Lightstreams. OBSProject, an Open Source Software and popular streaming service, retweeted Stu's initial tweet. Additionally saying that when Streamlabs started operating, they asked OBS if they could use the OBS name. "We kindly asked them not to." That didn't stop Streamlabs, who "did so anyway and followed up by filing a trademark." OBS tried to work with Streamlabs to resolve it privately but at each turn, they continued to be uncooperative.
Near the launch of SLOBS, @streamlabs reached out to us about using the OBS name. We kindly asked them not to. They did so anyway and followed up by filing a trademark

We've tried to sort this out in private and they have been uncooperative at every turnhttps://t.co/r1eXr3VxcJ

— OBS (@OBSProject) November 17, 2021
In a few follow-up tweets, OBS says that some users and companies get confused about the differences. The volunteer support team would get angry users "demanding refunds." According to OBS, Streamlabs obeyed the General Public License "but have repeatedly disregarded the spirit of open source and of giving back."
Elgato, a streaming hardware company, replied to Lightstream's initial tweet. In it, they shared a popular meme of James Franco from the Netflix movie The Ballad of Buster Scruggs. Asking someone off-camera "first time?" Implying that Streamlabs has been potentially copying some of Elgato's names and features.
Know that feel. pic.twitter.com/lqwWxL4pY9

— Elgato (@elgato) November 16, 2021
Tucker Schreiber, Co-Founder of Combo a service to use when exporting Twitch clips to TikTok, Instagram and YouTube, tweeted in response to OBS. Mentioning that Streamlabs "reached out to [them]" to ask about Combo, "only to launch a copy of [their] product a few months later."
Streamlabs reached out to us back in February asking a lot of prodding questions about @joincombo only to launch a copy of our product a few months later.

This is much worse. https://t.co/V7qqms0GLq

— Tucker Schreiber (@tuckerschreiber) November 17, 2021
What do your favourite streamers think?
Streamer Pokeimane tweeted Wednesday afternoon about the situation. Saying that if things aren't resolved she'll "be asking them to take [her] face off the platform [and] look to use another donation service."
streamlabs better resolve this entire thread of issues or i'll be asking them to take my face off the platform + look to use another donation service. https://t.co/jfJoxIvc0y

— imane 💜 (@imane) November 17, 2021
Streamer Hasan Piker mirrors Pokemaine's sentiment that if things aren't resolved he'll "never use Streamlabs again."
i will never use @streamlabs again if they don't immediately resolve this matter. https://t.co/bkLYEbTqZ0

— hasanabi (@hasanthehun) November 17, 2021
The response from Streamlabs
Streamlabs responded to Lightstream's initial tweet saying that they made a mistake. The text used on their landing page "was a placeholder that went into production by error." As soon as they found out what had happened, they removed the text and their "intended version is now live." Streamlabs has also reached out directly to Lightstream and apologised.
We made a mistake. Text on the landing page was placeholder text that went into production by error. This is our fault. We removed the text as soon as we found out. Our intended version is now live. Lightstream team is great and we've reached out directly to them to apologize.

— Streamlabs (@streamlabs) November 16, 2021
Following up on that, early Thursday morning, Streamlabs tweeted that it's looking to remove OBS from their name. Its statement mention that its source code is open source, the same as OBS is, and is publically available. Lastly adding "we take responsibility for our actions and will support the community."
— Streamlabs (@streamlabs) November 17, 2021
It should be interesting to see if Streamlabs works out its problems, and support the community as it claims. Or if things will go tits up. Who knows! Do you believe Streamlabs? Have you used it in the past or will you continue to use it? Are you just here for the drama? Let us know.