EPOS has been building their brand more and more in the video game audio space, and we've seen some high quality products from them in the past; first, the GSP 370 we covered back in 2020 offered a tantalisingly large amount of gaming time, while the B20 Microphone came in as a fantastic option for streamers of all kinds. Now we have the H3PRO Hybrid headset, the third addition to the H3 Series, which boasts "low-latency wireless gaming, Bluetooth compatibility and Enhanced Noise Cancellation for PC, console, and mobile gamers".
"With the H3PRO Hybrid, we added all new features to the latest edition of the H3 Series of headsets which include 30 hours of low latency wireless gaming and enhanced noise cancelation through our new ANC function. These latest upgrades allow you to remove constant background noise from your surroundings and allow for the most concentrated and immersive gaming experience yet from our H3 Series headsets." said Nadia, Product Manager, Gaming for EPOS.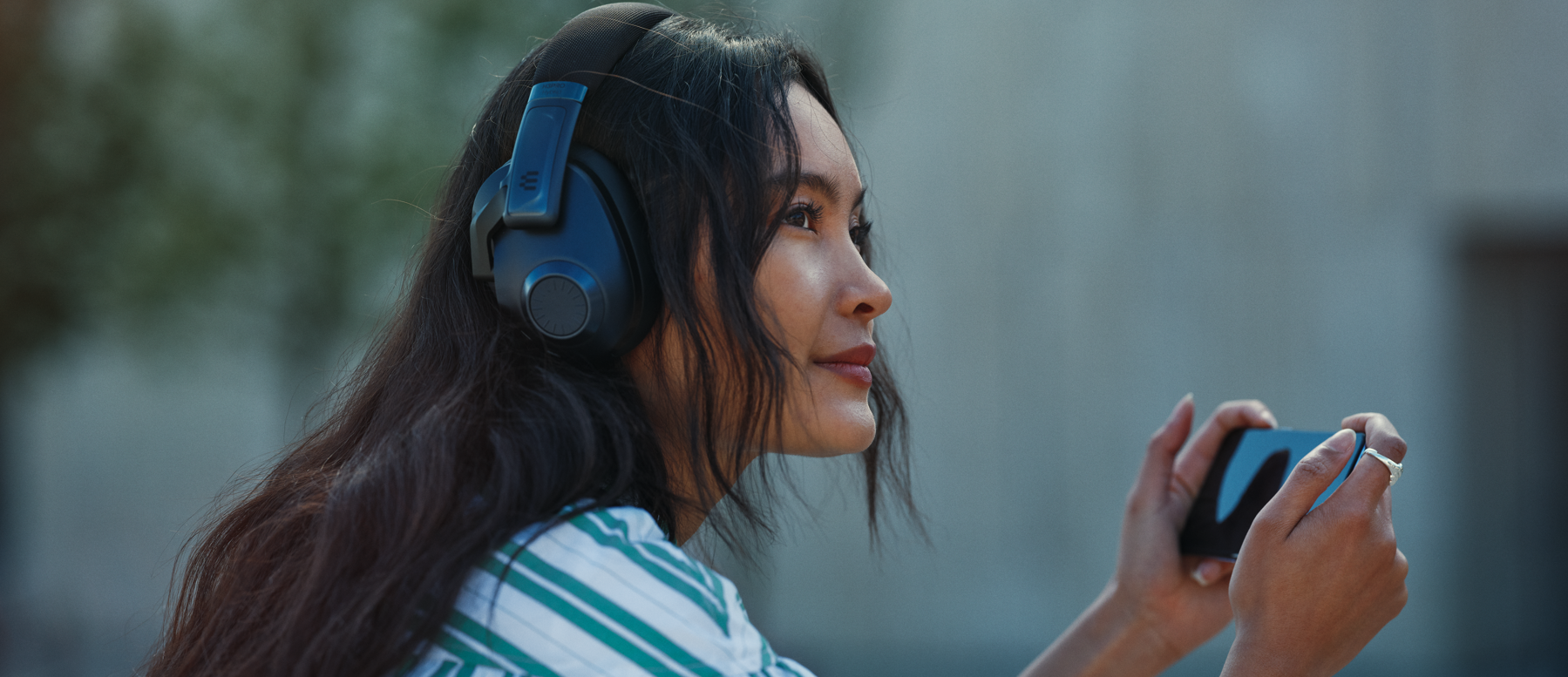 The team at EPOS certainly know how to make a premium headset; the H3PRO Hybrid's simple black design is elegant and feels a bit less "video-gamey" than other headsets available, which means it won't look too egregious if you're wearing it on a Zoom meeting for work or even on public transport. I tested it on both and got less staring than usual, so trust me on that. It includes a stainless-steel slider in the headband and adjustable ear cups, with replaceable ear pads. It offers up to 30 hours of battery life, and anecdotally I can say this is correct – I only needed to charge it about once every few days, and I was wearing it often both for work and for gaming in the evenings.
The ergonomic ear cups seal off outside noise, and even on my large ears they did a good job of this; it does allow for more concentration and immersion in what you're doing. Ease of use is also a big factor, and the H3PRO Hybrid allows you to use either the low-latency dongle or a USB cable that is compatible with PC, PS5 and PS4. Additionally, it can pair with the Xbox family, Nintendo Switch and Mac with a 3.5 mm cable. Really though, the best part is that it operates via Bluetooth as well. Considering the Switch update which now allows Bluetooth functionality, I was able to easily go from taking a work video call on my PC to catching Pokémon, which I totally never did during work hours, if my boss is reading this.
Of course, all of this is for naught if the headset doesn't sound good, but in the case of the H3PRO Hybrid, it sounds extremely high quality no matter what you're doing. Calls sound crisp and clear when chatting with others, whether it's solely on a meeting or via Discord while gaming. There's a deep bass that really sounds punchy when listening to music or experiencing an intense video game moment; it also offers 7.1 Surround Sound, adding to the chaos of a good session of Lost Ark with epic RPG soundtrack popping off in the background, or allowing you to hear the pitter-patter of enemies footsteps in Battlefield 2042 (you know, if you're one of the 4 people still playing it).
This slideshow requires JavaScript.
There's a smart button in the headset that allows you to activate surround sound or switch between equalizer presets, and even works to accept a call if you're interrupted by your colleague while trying to sneak in some daytime Dying Light 2. You can even play the game at the same time and balance the audio, so that the gaming volume is still coming through while taking that phone call… which I totally never did during work hours, if my boss is reading this. The EPOS Gaming Suite of course is available here too, so you can personalise your audio however you like; I dabbled in this and found it just as effective here as it was with my GSP 370.
The microphone is also solid; my squad said that I was coming through quite clearly when I was playing with them, with no "tinny" echo to my voice like I've encountered with other headsets. The mic is muted when lifted, and is also detachable if you are taking the headset out and about. So really, all around the H3PRO Hybrid is a solid option. The part that hurts though is, once again, the price. EPOS offer a premium product, and the cost of that product is a little steep, for sure. I'm all about the classic "you get what you pay for". As an all-in-one headset, it does a commendable job, but there are other cheaper options available if you just need the bare minimum. Still, the high quality that EPOS provide with this headset is hard to argue with.
The EPOS is available for $399 AUD right here.