EA has not been having a good couple of weeks, from them acknowledging Battlefield 2042's failure, to the CEO of EA saying that the FIFA brand is holding them back. And now, we have The Sims 4's newest Game Pack, My Wedding Stories, causing havoc amongst fans of the simulator game.
For the most part, The Sims has released every DLC in all but 5 countries. Those countries are Cuba, Iran, North Korea, Syria, and the Crimea region of Ukraine. This is in large part due to embargoes, sanctions, or laws. And on February 9th, 2022, EA in a blog post said that they've decided to "not release this pack in Russia". It came down to the fact that the main characters — so to speak — are two LGBTQ+ women and Russia has laws around that. In a post by SimsCommunity, they spoke to a lawyer in Russia who said that "The age of the legal majority in Russia is 18. Thus, all content that contains the depiction of LGBT+ neutrally or positively must be labelled as 18+ according to Russian law."
Every pack that has come out in Russia is always 18+, so a lot of Russian fans felt like not releasing at all was a bit of a cop-out on EA's part. EA updated the earlier blog entry a week later and said that they believed their team "could not freely share the storytelling of same-sex couple". But after listening to the community who are in either camp, they've decided to release The Sims 4 My Wedding Stories Game Pack in Russia. The cover and the same-sex couple will be "unaltered and unchanged". Instead of the original release date of February 17th, EA changed it to February 23rd to include Russia.
The seven deadly Sims
EA has a community partnership program, called originally EA Game Changers, but now they're the EA Creator Network. The program doesn't involve only Sims players, it's pretty much for any of EA's IP. But if you want to know anything about any upcoming DLC for The Sims, you'd usually go to someone affiliated with EA in this regard.
Some popular creators under the EA Creator Network refused to cover the new pack until EA released it in Russia. Popular YouTuber Plumbella tweeted that in standing with Jovan, the owner of SimsCommunity, she won't be covering the new pack. James Turner said in his Community tab on YouTube that he also is joining with Jovan in not covering the pack. "It's not fair that members of our community are currently banned from being able to enjoy and experience the game the way they want to". YouTuber and streamer Deligracy tweets that she'll be delaying her review until "more players are able to access it".
hey hens. i won't be covering the new pack until we hear something from ea. this is a personal decision and i am choosing to stand with Jovan (owner of sims community) who is a very good friend of mine. please don't send any hate to the gurus.

— plumbella (@plumbellayt) February 15, 2022
As some other creators have mentioned already – I will also be delaying my review of the new pack until more players are able to access it 🙏🏻

From what I've seen today, this looks promising 🙂 🌈 ❤️

Please do not send hate to sim devs/gurus as this is not their decision.

— Deligracy (@Deligracy) February 16, 2022
Where the wild Sims are
This was the first of the many problems plaguing this game pack. Most of the creators in the Creator Network praised the Build and Buy objects, the Create-a-Sim items, and even the world. But this is where it all stops, as there are far too many bugs that creators and reviewers came across. Plumbella made two videos where if it breaks she'll quit the game. The first video was during the embargo week and clocked in at 2:21. Whereas the second video released post-release date and the whole video is even shorter, at 1:43.
Reviews for the game are rating it buggy as ever. Jess Lee from Digital Spy says in their review, "putting it bluntly, we didn't have one event that went smoothly". And adding that "each wedding ceremony we tried had bugs that completely ruined the experience". Exchanging vows weren't successful, "and in two separate cases, we could not get the couple to marry at all… leading us to cancel the wedding".
Jovan from Sims Community mentioned in his review that while they selected a BoHo dress code, "none of the Sims that [he] invited to the wedding followed the Dress Code rules". But not only that, they all wore everyday outfits including the soon-to-be brides. This pack makes you micromanage everything, and the Sims wouldn't even listen to that.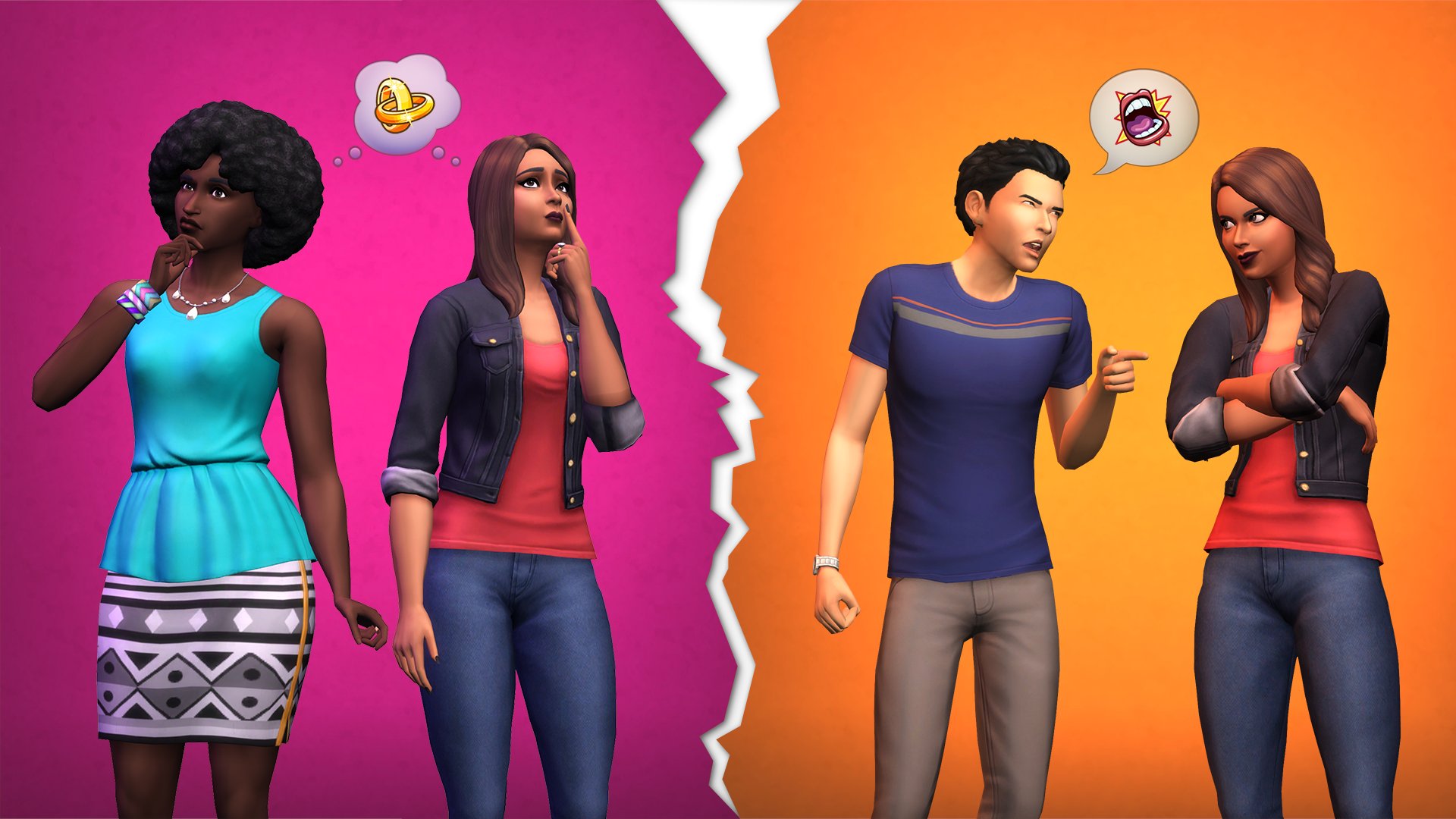 Very bad Sims
But what about fans of the series? Some Sims had a routing issue getting down the aisle, sims don't dress up for the wedding and officiant doesn't show up, some sims will play magical chairs. And, EAMaxis has made it so if you buy this pack, it will replace base game weddings. While there was an update 4 days later, there usually are patch notes that accompany an update. This time, it's non-existent. Most of the updates are "behind the scene fixes" as the Community Lead mentions on the Sims forums.
So, where does that leave us? Well, if you've bought the pack and are experiencing bugs, Carl's Guides has a mod out that fixes it. If you play on consoles, there are no mods to fix anything. The Sims team has gone radio silent since the release of My Wedding Stories, with the last tweet being February 24th. EA has released a non-buyers survey to specific players. And they're most likely targeting players who haven't bought the pack as they ask questions about My Wedding Stories.
Have you bought My Wedding Stories and found too many bugs to count? Do you have no idea The Sims had DLC? Let us know! My Wedding Stories is available now on PC, Mac, PS4 and Xbox One.