Wow, Superman really is getting a lot of press lately! Earlier this year, Melbourne game developer Tyson Bulter-Boschma dropped a sick game demo free on itch.io featuring a concept for what a Superman game might look like. The passion project unsurprisingly went viral, capturing the imaginations of gamers and developers alike. I loved my time in the demo, honestly made me wonder why we haven't seen an open-world game with the man of steel yet.
People may have heard of Tyson Bulter-Boschma as the Creative Director/Founder of Toybox Games Studios, currently working on a title called Hollow Hero. Though now, Tyson is suggesting his Superman demo was stolen, being sold on Steam by scammers.
#Superman in #UE5's CitySample…
I must say, the results are quite spectacular! #IndieGameDev #gamedev #games pic.twitter.com/f8pAE9LTfq

— Tyson Butler-Boschma (@TJATOMICA) April 16, 2022
Recently, the Superman Demo mod was added to Steam for $50.95 AUD. At the time of posting, the game is still currently live on Steam but we urge anyone curious to instead seek out the itch.io page here and play it for free, as was intended.
Tyson Butler-Boschma is suggesting this Steam release is a scam made by a fake studio. The studio that released the game on Steam, who go by Hero Game Studios, are suggesting that Tyson is an ex-employee. See below for the "developers" response to one person who played the game from Steam.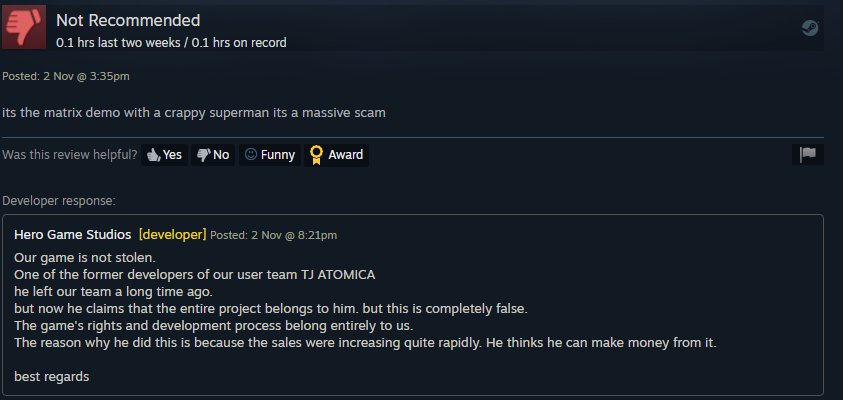 It's quite distressing that someone's passion project has allegedly been stolen for profit. While Tyson isn't affiliated with Superman, Warner Bros., or any other rights holders of Superman, what he created was purely a concept, not intended for profit. Whoever is behind the game being posted to Steam has potentially opened themselves up to legal action.
This is also a cautionary tale to always ensure the games you're purchasing are actually legit and not stolen content from other developers who may not even know the work has been taken. The Steam page for the game has so many errors and odd formatting choices, which may be a tell. Be vigilant, often the discussions on Steam or even a simple Google search will save you in the long run.
Someone has put my Superman demo up and steam and is selling it as a full price game!!!
I made this for fun to show what could be made!

This is a scam! The demo is free on Itch!
Please retweet and report this crap! @DCComics @valvesoftware https://t.co/IpuC6qceo3

— Tyson Butler-Boschma (@TJATOMICA) November 2, 2022
Currently, Steam has yet to take action against the game, but if you do come across it, you can report it on the platform which may help speed along an investigation.