Square Enix has recently unveiled Foamstars at the May 2023 PlayStation Showcase, a  four-on-four party shooter exclusive to PlayStation consoles.
Foamstars promises a unique twist to the shooter genre, as players engage in energetic battles armed with nothing but foam. The trailer, announced by producer Kosuke Okatani, stages the exciting gameplay that awaits. All the gameplay showcased in the trailer is based on development footage and is subject to change.
Players will not only use foam as a weapon to attack but also as a tool to alter the battlefield itself. By shooting foam onto the ground, players can build up foam fortresses, creating strategic vantage points to launch surprise attacks.
Additionally, the versatile nature of foam allows for creative tactics, such as surfing on suds to swiftly navigate the dynamic environment or using foam as a shield to defend against enemy onslaughts.
With its fast-paced action and strategic possibilities, Foamstars is poised to draw both casual gamers and hardcore shooter fans alike.
While the announcement trailer provides a taste of the foam-filled mayhem to come, Square Enix assures fans that there is much more information on the horizon. As development progresses, further details and insights into the gameplay mechanics, character customization options, and immersive multiplayer features will come.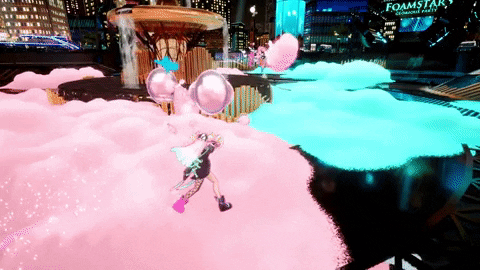 Gear up, prepare for foam-filled battles, and stay tuned for more updates on Foamstars as Square Enix continues to shape this unique and action-packed adventure.