Released:
October 31, 2017
Publisher:
Microsoft Studios
Developers:
Asobo Studio, Frontier Developments
Do you remember watching Disney movies as a child? Popping in a dusty VHS tape, enjoying your favourite movie, and then seeing the advertisement for Disneyland at the end? I vividly remember the feeling that came with it: a sense of longing to be at Disneyland, the "happiest place on Earth". Disneyland Adventures on Xbox One comes close to replicating that feeling, and I'm a full grown adult!
This could potentially be one of the best licensed games in recent memory. Is it perfect? No. Is it janky? A little. Does it capture the imagination and wonder of Disney and package it in a delightful experience that children would love? Absolutely.
As with Rush: A Disney-Pixar Adventure (check out our review here) , Disneyland Adventures is an Xbox 360 Kinect title that has been given the HD treatment and ported to the Xbox One with full controller support. The controls are simple (and you can still use Kinect if you so desire) and are frequently prompted on screen so younger audiences should have no issue getting among the fun.
The game has many, many characters to interact with and plenty of attractions to visit so avid Disney fans will have plenty to experience. Whilst this is definitely a children's game, some of the attractions provided enough challenge for even a seasoned gamer to break a sweat in (Matterhorn Bobsledding is no easy feat!).
During your stay in Disneyland Adventures, you will meet and complete tasks for all the characters you know and love. Mickey, Mini, Goofy, Donald, Ariel, Cinderella… they are all present and ready to sign your autograph book, dance with you, and help on your way through the massive park. All this is just a vessel to get you moving around Disneyland and taking in the sights.
The theme park has been lovingly recreated in rich detail, and anyone who has been before will be familiar with the layout. For newcomers, it won't take long before you know the ins-and-outs of the park, and there is always the handy Park Map in your menu screen to help out with any navigation issues.
Visiting the different areas of the park will reveal portals to the interactive attractions; small games to play to earn coins, secret Mickey icons, and pin badges of Disney characters for your collection. These games range from on-rails collect-a-thons, to interactive dance battles and story books. With a child-friendly no-fail in place, the games are easy, but getting 5 stars and unlocking all the possibly secrets actually provided a challenge for me which more mature gamers will definitely appreciate. In the grand scheme of things, the games are very similar to Mario Party in depth, but when kids are having fun does it really matter?
"Honestly, Disneyland Adventures is gorgeous. Often, I would find myself stunned by how true-to-film the visuals were…"
The environments, characters, and attractions are rendered beautifully and accurately to the source material, which is a huge plus for the game. Honestly, Disneyland Adventures is gorgeous, and shines especially well thanks to the high definition remastering and 60fps optimization. Often, I would find myself stunned by how true-to-film the visuals were, with the stand out being Alice in Wonderland's world and attractions.
The sound design is also spot-on, with music, voices, and effects taken straight from the motion pictures immersing the player in the wonderful words they are visiting. It is all too obvious when a licensed title couldn't secure the rights to the music, or get the original voice actor, and in Disneyland Adventures the authenticity is clear and makes a profound impact.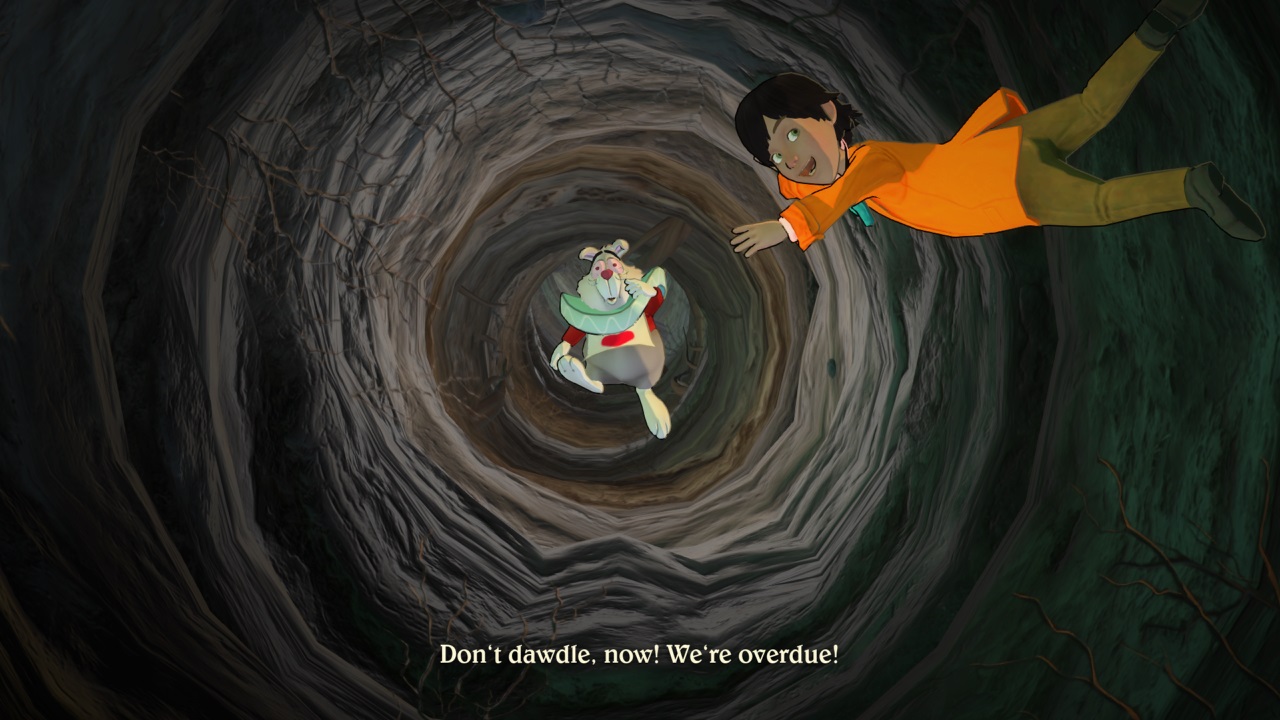 Where the game falls short is in its insistent hand-holding at all times. A golden trail will lead you to where the game wants you to go, a handy feature to help younger minds, but frustratingly has no option to disable. Your companion will speak to you and give you instructions when you aren't completing the specific task it wants you to complete, and can get annoying fast.
There are also some frame rate and visual glitches that I encountered sparingly, and to much less annoyance than in Rush: A Disney-Pixar Adventure, but were present all the same. The load times for each attraction are long; much longer than what we are used to in smaller, child-centered titles of the current generation, and would even kick in while simply talking to a character around the park.
Positive:
Wonderfully colourful and accurate depiction of Disneyland
Great music, voice acting, and sound design
Engaging mini-games, even for a kid's game!
Negative:
Incessant hand-holding and pandering
Infrequent, but noticeable, framerate drops and visual tearing
Loooong load times
Disneyland Adventures swept me away to the magical world of Disney, and I am so glad it didn't disappoint. It is so easy for licensed games to seem like a cheap cash-grab, but Disneyland Adventures presents an authentic, lovingly crafted recreation of the park itself and fills it with all the characters, magic, and music we grew up with. It isn't a perfect game, but it is a solid game and a must-have for kids, kids-at-heart, and Disney fans alike.