Platforms:
Xbox One, PS4, PC, Nintendo Switch, Xbox Series X
Released:
October 6, 2020
Publisher:
GameMill Entertainment
Developers:
Bamtang Games, GameMill Entertainment
Nickelodeon Kart Racers 2: Grand Prix made me nostalgic for the good ol' days. You know those days when you were a kid and the most exciting thing ever was having access to a TV with more than three channels? Well, my Aunty had cable, which had the Nickelodeon channel on it; and watching characters like Ren, Chucky and Spongebob would make my seven-year-old self (who just happened to be all hyped up on sugar) super giddy.
Now that I'm in my thirties, it's been many a year since then. But seeing all these characters in this racing game made me feel like that seven year old kid again.
Nickelodeon Kart Racers 2: Grand Prix is the sequel to the 2018 racer Nickelodeon Kart Racers. Kart Racers 2 lets you play and compete against 30 Nickelodeon characters on 28 unique tracks. These characters span 25 years of the channel and include the cast of Rug Rats, Ren and Stimpy, and even real-life pop star JoJo Siwa. Each of these characters have different stats that cover their top speed, turbo, steering and drift. For example, Patrick is super duper fast but his drift is super duper low. My boy Leonardo from the Teenage Mutant Ninja Turtles stats are pretty average across the board, but seeing as I'm a total TMNT fangirl, it would feel wrong if I didn't play as him. It's not his fault his stats aren't the best! So if you want to win the Prix, you may have to pick a character that you don't particularly love.
Then there are other characters, some of them playable on the track, that work as part of your crew. These guys give you bonuses and help you on your drive. Your 'Chief powers' can be activated when you have enough bonus points, which are given to you when you suck up enough slime. They have your back when you need that extra oomph. Plankton is my fave. If there are annoying karts that just won't leave you alone, activating him means that they will slow down nearby racers. BowBow's chief powers are also pretty cool, if not totally extra. When activated, it creats a barrier of floating rainbow stars around you and makes you a lot faster.
Crew Engineer and Crew Mechanic also provide bonuses, but these are triggered automatically. They come under three colours – support, defence and attack. For instance, choosing Hey Arnold!'s Eugene will let give you a boost after you recover from being hit by a projectile (defence), Danny Phantom's Valerie gives you a boost when you successfully attack an opponent with a projectile (support), and Rugrats' Kimi will give you a freebie with every item you collect on the course (attack). Some characters and crew are unlocked from the get-go, but a number of them are unlocked once you complete certain tracks and challenges.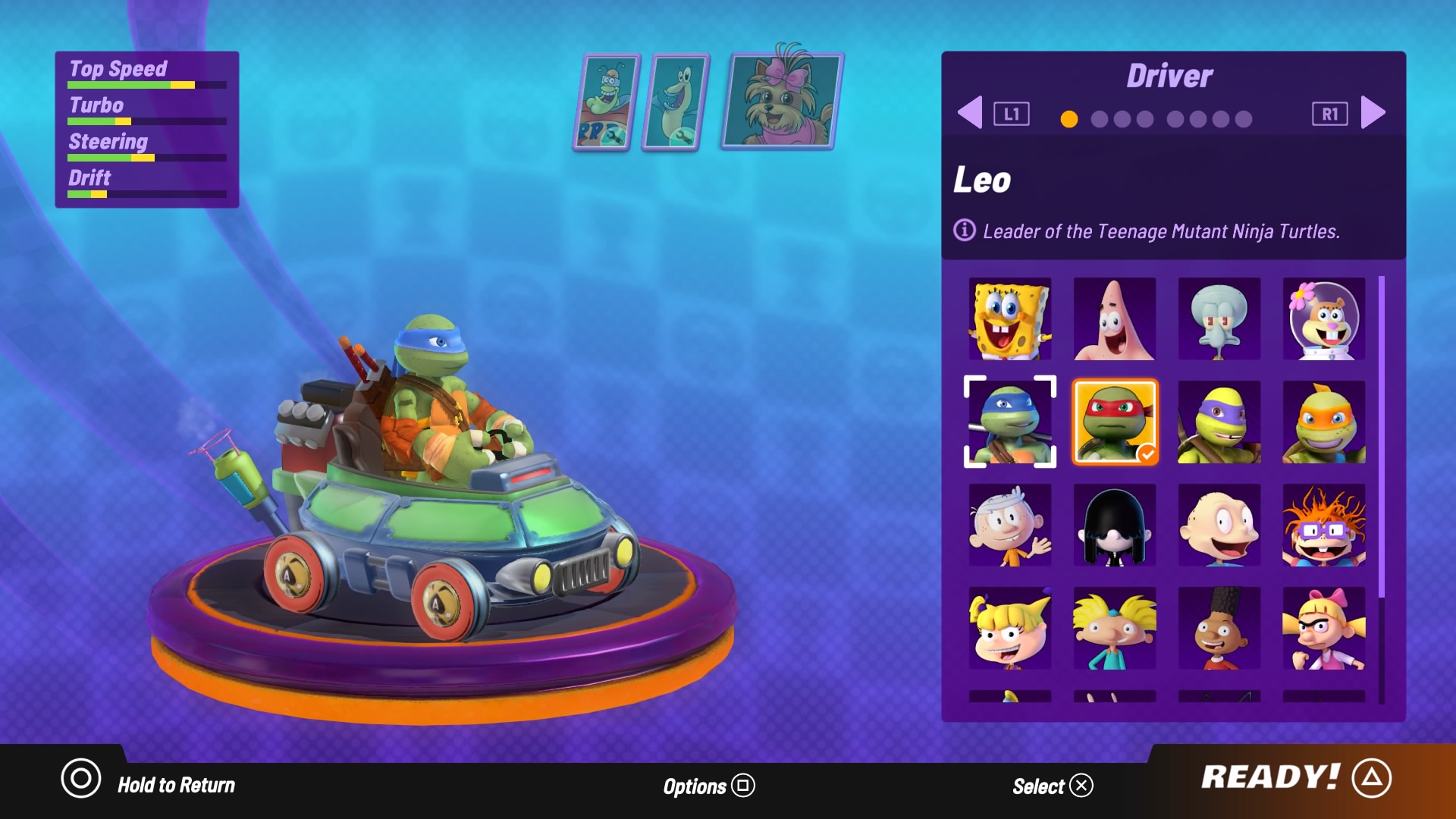 The main mode in Kart Racers 2 is the "Slime Grand Prix" which has eight main "cups" that include four tracks each. Each of these tracks has a different theme, such as the House of CatDog (which gives real Toy Story/Andy's room vibes), Space Madness (lots of jumps and orbiting) and my favourite due to the bouncing skulls (I do love a good skull) Most Haunted Tour. These tracks include lots of jumps, obstacles that will get in your way (giant fidget spinners!) and lots and LOTS of slime.
The problem with these cups is that a lot of the tracks double up. Even though I completed the cups in order, I got a bit bored when I started playing on a track I had already circled around. Also… the slime. I know that in the Nickelodeon world you get slimed and that's a bad thing. But in the world of Kart Racer? It's not clear if it's a bad, good, or a mixture of both. It does slow your racer down, but it also pumps up your bonus meter. There are also slime tokens scattered around the courses, which look like gold coins with a slimy centre and are used as currency within the Garage section.
Along with these slime tokens, there are also bonuses you can pick up in the shape of little gold gravitating question mark balls. A lot of the time these rewards you with projectiles that can be thrown at players to cause them to spin off course. Some of these include footballs, bouncing balls that come in singular or triple modes, lawn gnomes that can be strategically placed on the course, and throwing knives.
Opponents can also use these items on you and dodging these were frustrating. Even though it showed me that a projectile was incoming and I swerved around to try and avoid it, a lot of the time it still hit me. There are a couple of game generated modes that slow down everyone on the track. The most annoying is the pink pig that attaches to the back of your exhaust and slows you down heaps. I did love the giant photo-realistic human hand that covers the racetrack for a couple of seconds so that you have no idea what's in front of you. Maybe it's the Monty Python vibe of it, but I found it too quirky, weird and funny to be frustrating.
The other things you can pick up are boosts. Items such as fizzy pop and hamburgers will double your speed and are good to use when you're struggling to get past a certain opponent.
Arena is a mode that sees you in an open space throwing projectiles at opponents within a time limit. You can only be hit five times and your hit score is tallied by the five pixelated hearts rotating above your head. Time Trials see you complete the Slime Grand Prix with a time limit, and Free Race lets you modify the Grand Prix to your liking. These modes are a bit lacklustre and disappointing, as they are just the Slime Grand Prix with tiny modifications.
Challenges mode was both fun and frustrating. Fun because it mixed up the standard race format by including objectives you need to compete on the track before the time ran out. Frustrating because some of the things you need to do to complete these challenges weren't fully explained. The "Do You Dare?" challenge asked you to "Perform 7 slime stunts and win the race." What is a slime stunt?! I had no idea how to perform one and therefore, did not win the race. There are six challenge levels each with six challenges. Once you complete five, the seventh challenge, which is a boss race pops up. Once you defeat this boss the next challenge stage is unlocked.
Kart Racers 2 also offers multiplayer and online modes. The former kept on timing out, so, unfortunately, I could not give this element of the game a go. I played some multiplayer with my Dad who probably hasn't picked up a controller since the mid-90s. Even though he kept on going the wrong way and finished last a lot of the time, I could tell he had fun watching his character swerve around the course. If my 70-year-old Dad can get the hang on this game, it does show that this is a game that all ages and skill types will enjoy. I'm already making a list of all my non-gamer mates that I may just entice to play multiplayer with me…
This slideshow requires JavaScript.
7
Good
Positive:
Tracks are exciting and unique
Lots of customisation options
Suitable for all skill types
Negative:
A number of elements to the game were not explained
Slime Grand Prix tracks are repetitive
Nickelodeon Kart Racers 2: Grand Prix really did make me feel like a kid again due to its collection of Nickelodeon characters and exciting racing tracks. It's the ideal 2020 game – one that is light and fun and makes you remember that the simpler things in life can bring so much joy. It made me tap back into that 7-year-old kid who was content to escape into the world of her favourite cartoon characters and not have to worry about a global pandemic. Sure, it's not a game that will be on heavy rotation, due to its repetitive nature, but it is one that I'll definitely boot up when I need that reality check and want to feel that childish excitement wash over me.