Platforms:
PC, PS5, Xbox Series X
Released:
December 2, 2022
Developer:
Criterion Games
It has been a red-hot minute since a Need For Speed game captured the attention of racing fans. Not since the glory days of Underground, Underground 2, and Most Wanted has one of EA's racers really excelled. Most recently, Need For Speed Heat found itself on my PS5, courtesy of PlayStation Plus, and it certainly didn't knock anyone's socks off. Now comes along Need For Speed Unbound, a hyper-stylised, narrative-focused entry in the long-running series, and once again, my faith in the series (but not humanity, not yet) is restored. Despite a few, and I mean just a few, small glitches here and there, Need for Speed Unbound is a super stylish, polished, and downright fun racer that I greatly enjoyed my time with.
From the outset you are greeted with neon clouds of spray paint, comic book graffiti art with thundering Drum n Bass beats, and a highspeed flashy introduction that sets the scene of Need For Speed Unbound. The campaign kicks off with a surprisingly in-depth character creator, followed by a fairly meaty prologue that introduces the game's key characters, and lays the foundation for the drama-filled campaign's story. Unbound tells a dramatic story of loyalty, betrayal, revenge, and… well… family. Is it cliché? Yes. Did it hold my attention? Also yes.
"Spurred on by a betrayal by one-time bestie … you compete in weekly qualifiers to reach The Grand, Lakeshore's ultimate street racing challenge."
You play as a nameless, but not voiceless, protagonist striving to reach the top of the local racing scene in Lakeshore City, the game's fictional setting. Spurred on by a betrayal by one-time bestie (or sister, because family) Yaz, you compete in weekly qualifiers to reach The Grand, Lakeshore's ultimate street racing challenge. As you crush the competition and pass each qualifier, you'll be building Heat and earning cash, all the while the local PD gets more tenacious and the street events become more formidable. You'll need to win as many of these events as possible too; each qualifier has a steep entry fee.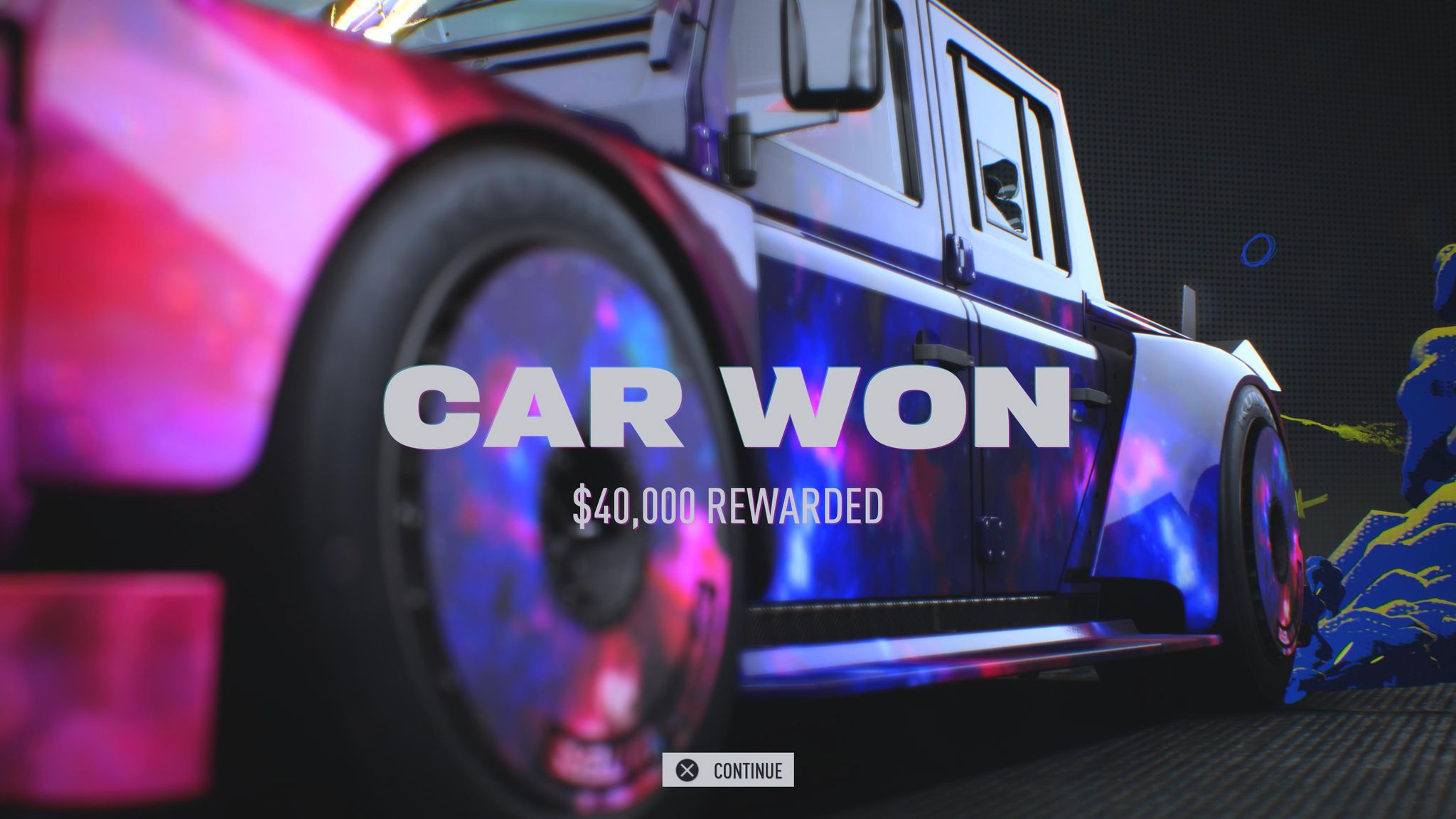 Racing, drifting, and tearing up the blacktop in Need For Speed Unbound is an absolute delight. I don't think a Need For Speed game has felt this good since the Most Wanted reboot in 2012, and this game absolutely shines on the PS5's under-the-hood hardware. Everything is fluid and responsive, giving the player a true sense of control over the various muscle cars, sporty jaw-droppers, and beastly trucks you can utilise in the game.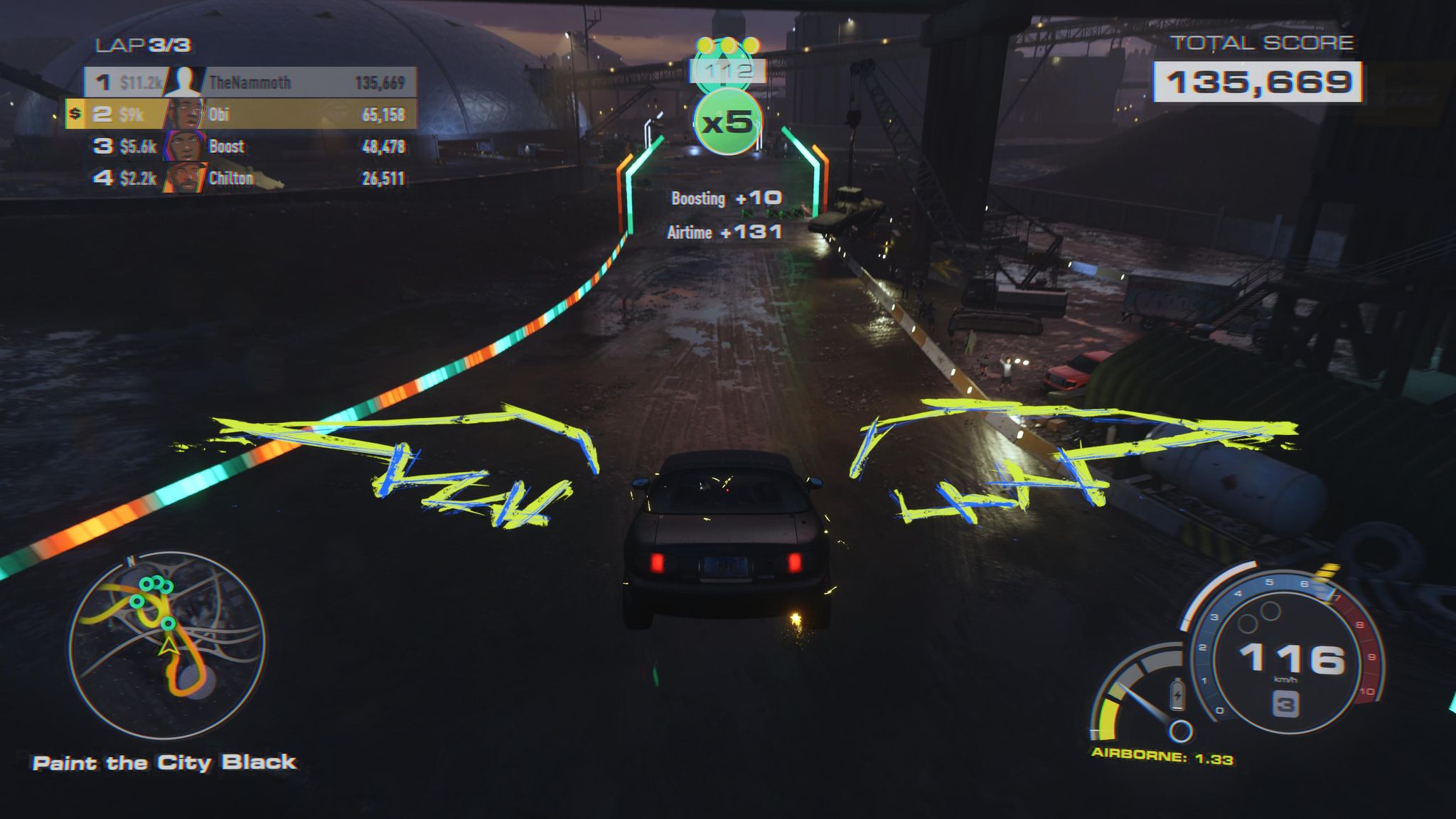 The twitchy, finesse-like control is super evident in the Takeover Events; arena style point-chaser challenges that set you racking up high scores while combining drifting through obstacles, NOS boosting down laneways, catching air over big jumps, and hardtailing U-turns together to form combos. I found these events are where the game flexes how well the team at Criterion has worked to make this the best feeling Need For Speed game yet.
During these events, the game really tests you; unofficial skill checks are peppered throughout the Persona-style daily calendar routine, testing your mettle against the other racers of Lakeshore. Other event types include Endurance, Speed Races, Corner King, and the classic Drift, among others.
The game's sense of progression is very well crafted, with early-game races feeling like you are barely clawing your way to victory. Indeed, I was humbled repeatedly in the game's opening hours, coming in last more than once and, with Need For Speed Unbound limiting restarts to only a few per day, forced to accept my failures.
As you upgrade your rides and begin to master the courses scattered across Lakeshore, you truly get the sense that you are making real progress and progressively conquering the open world that Need For Speed Unbound provides.
Each day is broken into a morning session and evening session, and you'll have to complete events while navigating a risk vs reward equation; do I risk $20,000 in the bag and level 5 Heat to compete in one more event? Getting busted could lose it all – all your daily earnings are confiscated by the Lakeshore PD if caught, yet the allure of a 'Big Money' event often feels worth the extra Heat.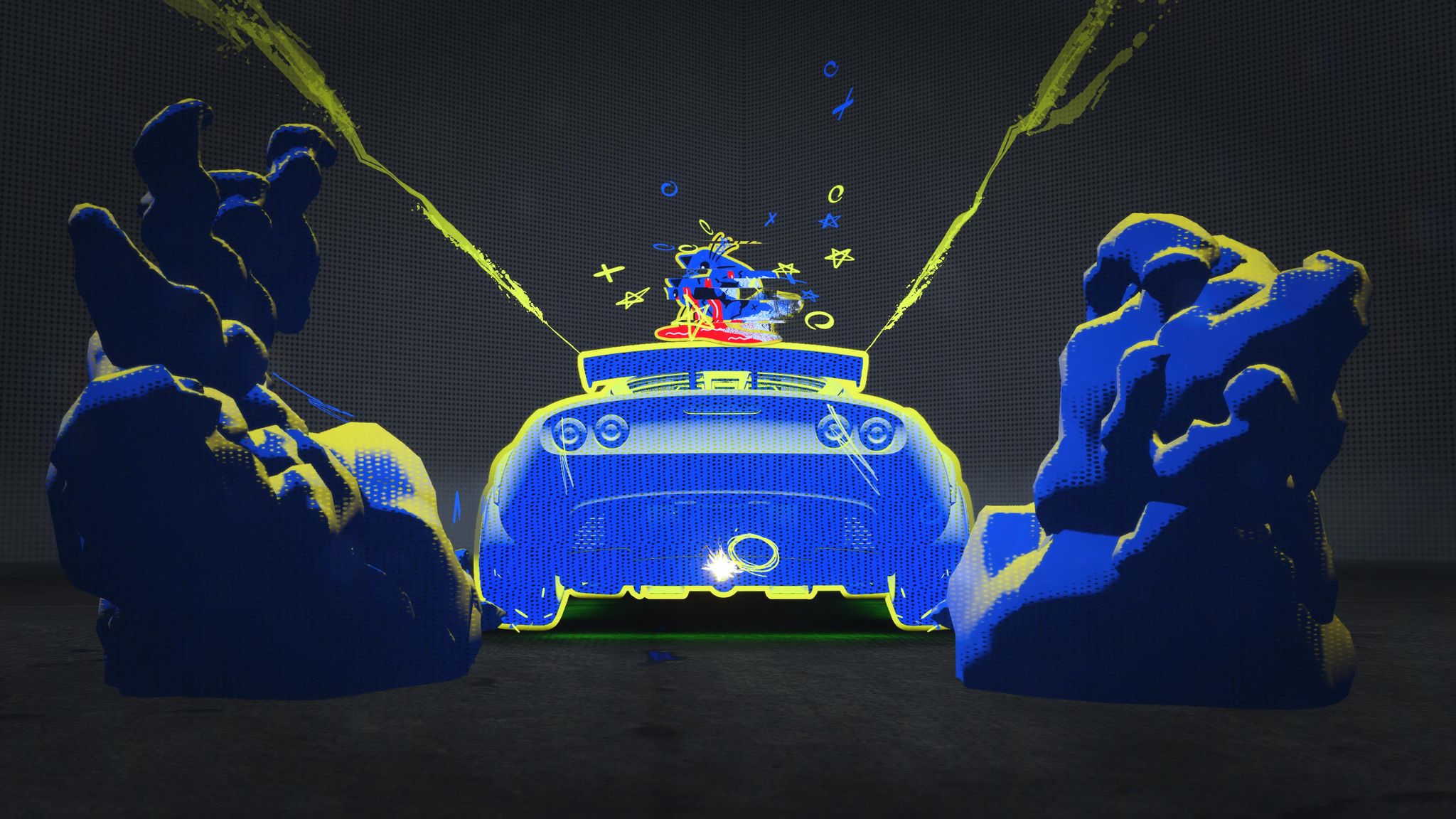 The graphical flair of Need For Speed Unbound is super slick and eye-catching, favouring a comic-book style complete with spray paint aesthetics and hip-hop-leaning car culture sensibilities. I found the various effects glancing off the back of my car as I performed stunts, cool moves, and smooth evasions to amplify the experience uniquely. I was very skeptical at first, thinking it would all come off as a little cringe, but I am happy to report that everything, from a visual standpoint, complements each other well.
The game runs super smoothly at a steady 60fps on PS5, and everything is presented in crispy 4K greatness. Need For Speed Unbound positively shone on my TV, and I imagine would dazzle on higher end OLED screens as well. Each car looks sexy and stylish, from the early game junkers to the late game headturners, and the series' staple ability to customise each to your own personal taste is always a treat.
"Need For Speed as a series has, historically, played a huge part in shaping a generation's musical taste."
The same positives about the visuals can be said for the sound effects and music; everything works well together. Need For Speed as a series has, historically, played a huge part in shaping a generation's musical taste. While the included soundtrack in Need For Speed Unbound isn't exactly to my taste (a big lack of rock & metal representation), it's clear that Criterion has tapped into today's car culture vibe to curate a list of hip-hop beats to drive to.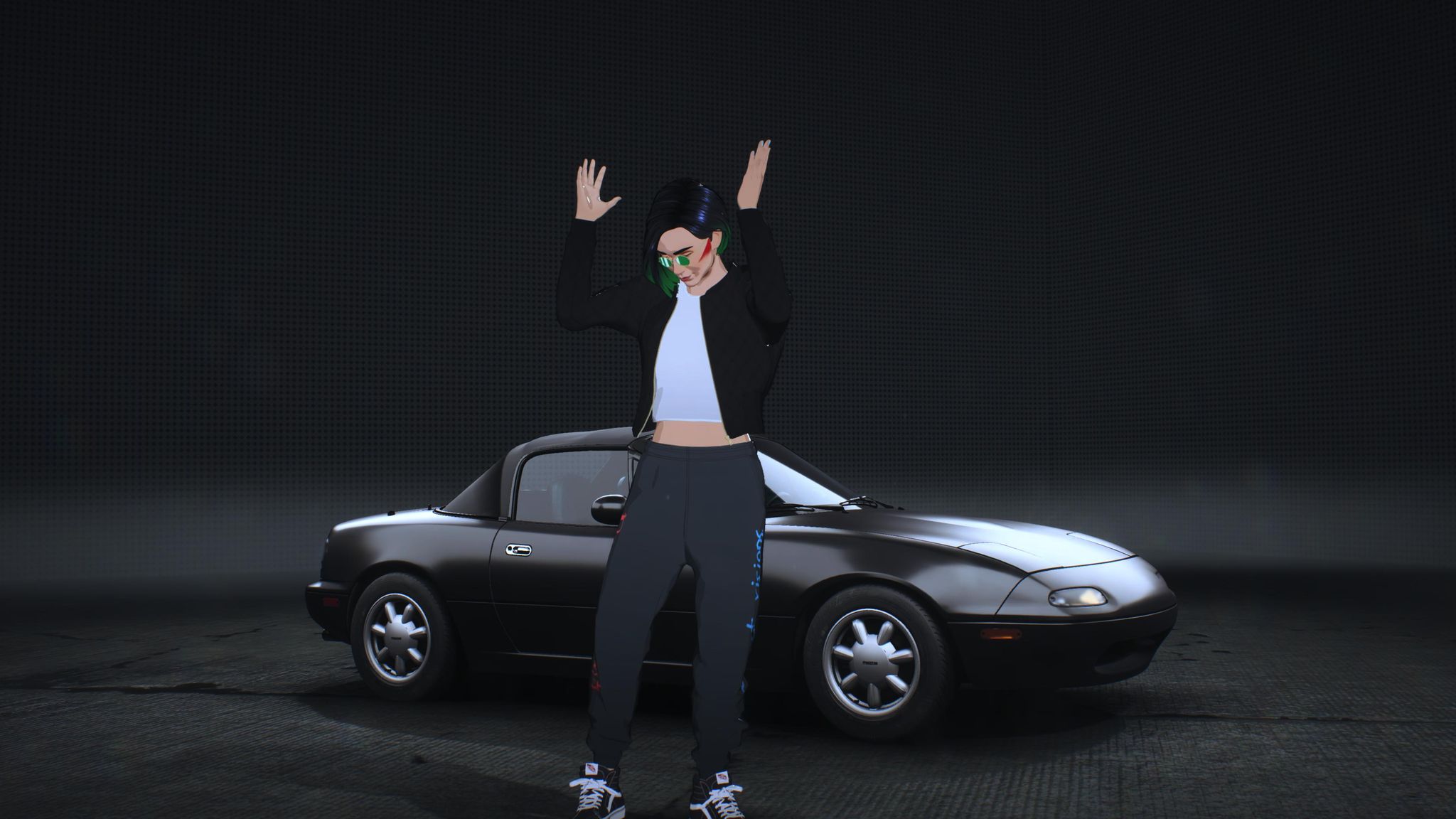 There are very few negatives to speak of that I encountered in Need For Speed Unbound. As mentioned before, the plot presents as fairly cliché and leans a little too heavily into "the youth of today" speak, but overall I was unfazed by it. Several small bugs reared their heads at times – cop cars totaling themselves out of nowhere, in-game achievement notifications becoming frozen onscreen for minutes at a time, and at one time a car I had selected to use in a race vanishing from my garage temporarily. However, when taking into consideration just how well the game is presented, how good it feels to play, and how many activities there are across the large open world, it is a small price to pay for what may just be the best Need For Speed game in a generation.
8.5
Great
Positive:
Comic book graphics paired with 4K brilliance works great to create a unique visual style
Great sense of pace and progression
Driving feels stellar, with obvious care given to how the game feels and how each car drives
Plenty of activities to engage with in the open world
Negative:
Storyline drifts into cliché tropes often
Soundtrack lacks genre variety
A small array of gameplay bugs
Need For Speed Unbound is easily one of the best racers I've played in recent years and a modern highlight of the series. Through great gameplay, a true sense of progression, an engaging visual style, and a well-crafted open world the game manages to cement itself as one of 2022's most unexpectedly shining stars. A few knocks for cliché story beats, a samey soundtrack, and a few minor bugs shouldn't be enough to keep players from driving over to the streets to Lakeshore for some stylish, speedy fun.