This past weekend at PAX AUS myself and Jimmy Twin went hands on with Ticket to Earth, a fabulous episodic puzzle tactics hybrid game by indie developer Robot Circus, on display for its second year on the PAX Rising floor. The first episode for Ticket to Earth was released in March 2017 for iOS followed by a Steam release with more episodes on the way and a planned release for Android users on the near horizon .  There was also an updated version of the game on display at PAX AUS which featured Augmented Reality and was released to celebrate Melbourne International Games Week.  For those who are already familiar with the game and are looking to try Ticket to Earth in an exciting new way, the AR version can be downloaded here. But for those wanting to know a little more we got to speak with Mick from the Ticket to Earth booth who told us all about this not only visually stunning but addictive indie title.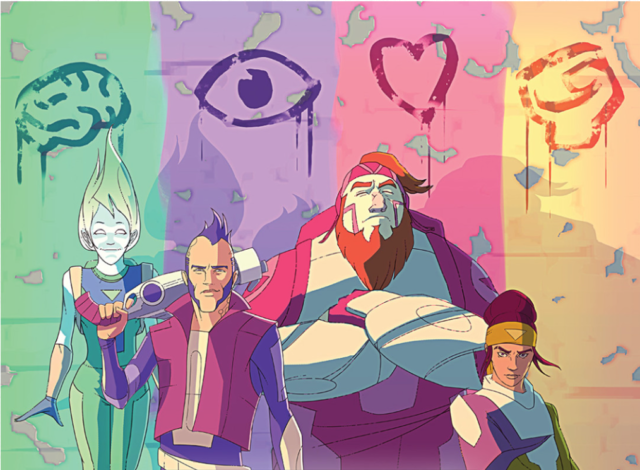 "Only one woman in the colony will stand up for what's right – Rose. Along with her three  team members, Rose fights back…"
The story for Ticket to Earth is a pretty gripping one from the moment you start playing. Set in the far future in a remote off-world mining colony called New Providence, the mining boom is over and things are closing down. A ticket to Earth can only be obtained by a mere one percent of the population and the final ship back to Earth will depart in just seven days. To top this off there are now mutant alien lifeforms, a robot uprising and an uncaring government all threatening the ship's departure and the people left on the colony.
Only one woman in the colony will stand up for what's right – Rose. Along with her three team members, Rose fights back against the alien invasion, robot uprising and a government who has turned its back on the poor who are desperate to leave the now ravaged planet to return home.
The gameplay for Ticket to Earth is relatively simple – it's turn-based tactical combat with elements of line drawing (think Match 3). Characters are able to perform two actions per turn, made up of a mix of movement orders and ranged or melee attacks. You move across the board along a path of identical tiles – the more you claim, the greater that respective combat power becomes. But beware, whenever you are hit, you will not only lose health, but also a portion of your attack power. It is not all doom and gloom though, defeating an enemy will have them leaving behind hearts to restore health or credits (who doesn't love credits), but be quick before your enemy  picks them up.
Jimmy: I was drawn to this game by its stylish classic sci-fi graphics but was admittedly apprehensive at first at the seeming complexity of the gameplay.  The reason being, the game looked amazing to watch with many different moves and abilities and I thought that was a measure of player skill and ability.  This was my first time playing Ticket to Earth, and it wasn't long before I started to wonder why I haven't embarked upon this adventure earlier.  It turned out the gameplay is quite simple and intuitive yet relies upon strategy, making this a compelling game to return to.  Having played the game now beyond PAX, I find the story interesting and am glad a new episode will be released shortly.  Anyone who is a fan of turn-based strategy games should book their ticket to Earth as soon as possible.
Rachel: I absolutely adore this game, I first played it back at PAX Aus 2016 and it was one of the highlights of my PAX. There seems to be an art form to making a truly addictive and visually stunning game and Robot Circus have mastered this here with Ticket to Earth. I was drawn to it the moment I first tried it and once I was able to fully play it upon its release in March this year I've definitely been taken down the rabbit hole that is this delightful indie game. If you haven't yet played it I can only suggest you download it now and get started on the first part of this game's episodic adventure before they continue to wow us again in the next one.