Each week there are plenty of new games coming out. Although with so much going on it can be hard to keep track of them all. Thankfully Checkpoint is here to sift through them all and bring you our highlights of the week.
So let's jump in and have a look at what's coming out this week.
Zombie Army 4: Dead War | 04/02/2020
Genre: Shooter
Platforms: PC, PS4, Xbox One
"Hitler's hordes are back for more in this spine-chilling shooter from the makers of Sniper Elite 4! Abominable occult enemies, epic weapons and a harrowing new campaign for 1-4 players await in 1940s Europe, as you fight to save humankind from undead Armageddon!"
"The resistance have defeated Zombie Hitler and cast him into Hell – but the dead rise once again with greater hunger than before! Continue the alternate history of Zombie Army Trilogy in huge new levels, and uncover a sinister plan that takes the Survivor Brigade across Italy and beyond! Fight the forces of darkness in corpse-riddled canals, survive a Zombie Zoo, and journey to dark, inexplicable places no person has been before…and lived to tell the tale!" 
– [
source
]
The Dark Crystal: Age of Resistance Tactics | 04/02/2020
Genre: Turn-Based Tactics
Platforms: PC, PS4, Xbox One, Switch
"In The Dark Crystal: Age of Resistance Tactics, you will lead a fledgling resistance of Gelfling against their oppressive overlords, the Skeksis, across more than 50 unique turn-based tactics RPG battles. Along the way, you will recruit and customize new allies by assigning them jobs, modifying their abilities, and outfitting them with equipment to ensure victory. With 14 playable characters, including familiar faces from the classic film and the new Netflix original series, build your own teams and devise winning strategies to overthrow the rule of the Skeksis and restore light to the Gelfling homeworld of Thra!" – [source]
Monster Energy Supercross – The Official Videogame 3 | 04/02/2020
Genre: Racing
Platforms: PC, PS4, Xbox One, Switch
"The only Official Monster Energy AMA Supercross Championship videogame is back! Everything is official, from real teams to the training compound, Monster Energy Supercross 3 is the exact replica of the Supercross world!"
"Relive the 2019 AMA Monster Energy Supercross season with 100 riders of both 450SX and 250SX categories, 15 official stadiums and tracks and – for the very first time – race with the official Supercross teams of the 2019 Championship in the career mode." – [source]
The Blind Prophet | 05/02/2020
Genre: Point 'n' Click
Platforms: PC
"The Blind Prophet is a Point'n'Click game where you will play apostle Bartholomeus in his divine mission: liberate the corrupted city of Rotbork, and brave the Great Evil that lurks within. Although he's used to execute his duty, it won't be as easy as it should be this time…"
"Inspired from games such as Blade Runner, Broken Sword series or Gabriel Knight, the game builds its foundation on a strong storyline, a sense of fluidity and a darkly pleasing ambiance. Use your sagacity and intelligence to defeat traps, hunt demons and destroy their diabolical ways." – [source]
MindSeize | 05/02/2020
Genre: Metroidvania
Platforms: PC
"MindSeize is a single player 2D Metroidvania game set in a sci-fi universe. Explore untamed planets and stop the mysterious organization that stole the mind of your daughter."
"You play as the private investigator M.C. Fox, who is chasing a dangerous criminal organization 'The Ascended' across the universe. The first confrontation between M.C. and the leader of The Ascended severely injured M.C. and left him crippled. They also managed to seize the mind of his daughter Taryn. This left only one choice for our protagonist: hire a crew, connect his consciousness into a robotic body called MAG and continue the chase!" – [source]
KUNAI | 06/02/2020
Genre: Metroidvania
Platforms: PC, Switch
"A traumatic event has shaken the balance of the world. Human life has been almost wiped out by the evil A.I. Lemonkus. Robots roam free across the earth. You take control of Tabby, a killer robot infused with the soul of an ancient warrior."
"Start out with nothing, progress and increase in strength by killing enemy robots to unlock abilities, weapons and kick-ass ninja tricks. Explore a world filled with secrets, hidden passages and mysterious characters. KUNAI is all about movement and agility. Use your ninja mobility to reach places where no normal robot could ever go." – [source]
ScourgeBringer | 07/02/2020 (Early Access)
Genre: Action / Platformer
Platforms: PC
"From the developers of NeuroVoider, ScourgeBringer is a fast-paced free-moving roguelite platformer."
"Set in a post-apocalyptic world where a mysterious entity wreaked havoc on all humanity, ScourgeBringer puts you in the shoes of the deadliest warrior of her clan: Kyhra. Help her to explore the unknown and slash her way through ancient machines guarding the seal of her past, and maybe the redemption of humanity". – [source]
Stoneshard | 07/02/2020 (Early Access)
Genre: Roguelike / RPG
Platforms: PC
"Stoneshard is an open-world roguelike RPG with immense tactical freedom, survival elements and an in-depth follower system, set in a grim, medieval world."
"Inspired by legendary classic titles such as Diablo and ADOM and modern games like The Banner Saga and Darkest Dungeon, Stoneshard invites you to shape the future of the kingdom of Aldor… and die a lot." – [source]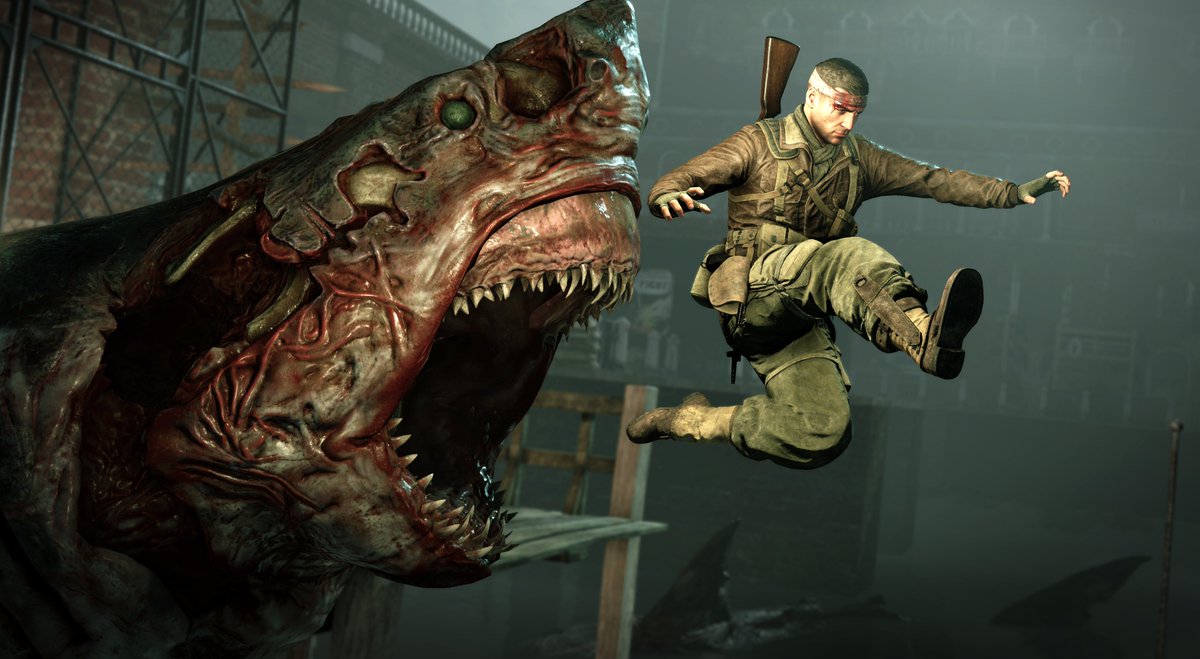 Zombie Army 4: Dead War
04/02/2020
Zombie Army 4: Dead War is coming to us from Rebellion Developments. This is a studio most well known for the Sniper Elite games but they also released 2018's Strange Brigade. Why is this important? Because they have not only proven they can make high quality shooters, but have even proven they know how to make 4 player cooperative survival/horde campaigns. They also have an entire trilogy of Zombie Army games in their back catalogue and have had time to update and advance this franchise.
Get a group of friends together and Zombie Army 4 looks like it'll be a lot of mindless fun. With zombie sharks and the slow-mo bullet technology found in the Sniper Elite series, it's hard to look past this release!
What new titles are you most excited for this week? Be sure to let us know!
Don't forget last week's Coming Out to make sure you didn't miss anything.