Each week there are plenty of new games coming out. Although with so much going on it can be hard to keep track of them all. Thankfully Checkpoint is here to sift through them all and bring you our highlights of the week.
So let's jump in and have a look at what's coming out this week.
Kingdom Majestic
Date (Aus): 09/07/2020
Genre: Management
Platforms: PS4, Xbox One, Switch
"With a minimalist feel wrapped in a beautiful, modern pixel art aesthetic, you play the role of a king or queen atop their horse and enter a procedurally-generated realm primed to sustain a kingdom, then toss gold to peasants and turn them into your loyal subjects in order to make your kingdom flourish. Protect your domain at night from the greedy creatures looking to steal your coins and crown, and explore the nearby, mysterious forests to discover curious and cryptic artifacts to aid your kingdom."
SWORD ART ONLINE Alicization Lycoris
Date (Aus): 09/07/2020
Genre: RPG
Platforms: PC, PS4, Xbox One
"Kirito awakens in a completely unknown virtual world, but something about it feels a bit familiar…
Set in Underworld, an expansive world introduced in the SWORD ART ONLINE anime, Kirito sets out on adventure in the series' latest RPG!
Enjoy seamless, action-packed real-time battles using a combination of sword skills, sacred arts, and your favorite SAO characters!
Kirito meets a boy named Eugeo. Somewhere deep within their hearts is a lingering promise. To fulfill that promise and avoid losing each other, they set out on adventure together. Nothing will keep them from reaching their goal."
Deadly Premonition 2: A Blessing in Disguise
Date (Aus): 10/07/2020
Genre: Adventure
Platforms: Switch
"The true sequel to Deadly Premonition is coming to Nintendo Switch.
In the year 2005, FBI agent York visits Le Carré, a small town in New Orleans where he encounters a mysterious serial murder case alongside his "friend" Zach.
Produced by the original creator team. The story takes place in a small town in New Orleans which was created based on research and interviews."
Bloodstained: Curse of the Moon 2
Date (Aus): 10/07/2020
Genre: Action / Platformer
Platforms: PC, PS4, Xbox One, Switch
"Curse of the Moon 2 brings classic 2D action and a dark, 8-bit aesthetic together with modern playability. The multiple-scenario structure of the previous title returns with an epic new story supervised by IGA (Koji Igarashi) himself.
Players take control of Zangetsu, a swordsman from the far east who bears a deep grudge against demonkind and the alchemists who summoned them. Zangetsu must battle his way to the demonic stronghold, but he doesn't have to do it alone! Zangetsu can ally himself with a brand new cast of characters he meets along the way and add them to the playable roster.
Three brand-new playable characters appear in Curse of the Moon 2, including the exorcist Dominique. All characters from the original Curse of the Moon game are playable, too! Each new character adds a variety of gameplay options, abilities, and ways to complete the games' many stages.
Players can also create demon hunting duos in 2-player local co-op, available for the first time in the series! Work together with a friend, mix and match the strengths of two different characters, and conquer stages in tons of new and exciting ways."
Story of Seasons: Friends of Mineral Town
Date (Aus): 10/07/2020
Genre: Farming Sim
Platforms: Switch (PC on July 15)
"Your farming life begins in Mineral Town, a charming village surrounded by nature. You've returned after many years to restore your late grandfather's farm to its former glory. Care for crops, livestock, and more as your very own story of seasons unfolds.
A menagerie of fruits, veggies, and livestock are waiting for you. Raise them all with love and care, and you'll have plenty of products to harvest, sell, or cook with!
Mineral Town is full of friendly faces, both old and new! Head into town, give gifts, and learn all about your neighbors as you befriend them.
Mineral Town is home to several eligible bachelors and bachelorettes. Get to know the boy or girl of your dreams, and you might be able to date them, get married, and even start a family!
Go fishing, cook fresh meals, and when your work's all said and done, take a dip in the local hot spring. Experience the farmer's life like never before!"
Elden: Path of the Forgotten
Date (Aus): 10/07/2020
Genre: Action RPG
Platforms: PC, Switch
"Guide Elden on a mission across a blighted land to save their mother from ancient horrors. Engage in brutal, technical combat and master eldritch magics as you walk the Forgotten Path. Elden explores non-traditional storytelling through indirect methods – like reading an illustrated book in a language you don't understand. The combat is based on reaction rather than action. Strategically, you will need to manage your stamina and position in order to master the art of parry or to find the perfect time to strike. Visually inspired by classic 16 and 8 bit games, Elden: Path of the Forgotten is a stunning, encapsulating, dark world waiting to be explored."
NASCAR Heat 5
Date (Aus): 11/07/2020
Genre: Racing
Platforms: PC, PS4, Xbox One
"NASCAR Heat 5, the official video game of the world's most popular stockcar racing series, puts you behind the wheel of these incredible racing machines and challenges you to become the 2020 NASCAR Cup Series champion.
Features all the official teams, drivers and cars from the three NASCAR National Series as well as the Xtreme Dirt Tour, racing on 39 authentic tracks. The immersive Career is complemented by Quick Race, a new Test Session mode and multiplayer, both online and split screen.
To take the win in NASCAR Heat 5 you have to Refuse to Lose!"
F1 2020
Date (Aus): 11/07/2020 (July 7 for Schumacher Edition)
Genre: Racing
Platforms: PC, PS4, Xbox One
"F1 2020 is the most comprehensive F1 game yet, putting players firmly in the driving seat as they race against the best drivers in the world. For the first time, players can create their own F1® team by creating a driver, then choosing a sponsor, an engine supplier, hiring a teammate and competing as the 11th team on the grid. Build facilities, develop the team over time and drive to the top."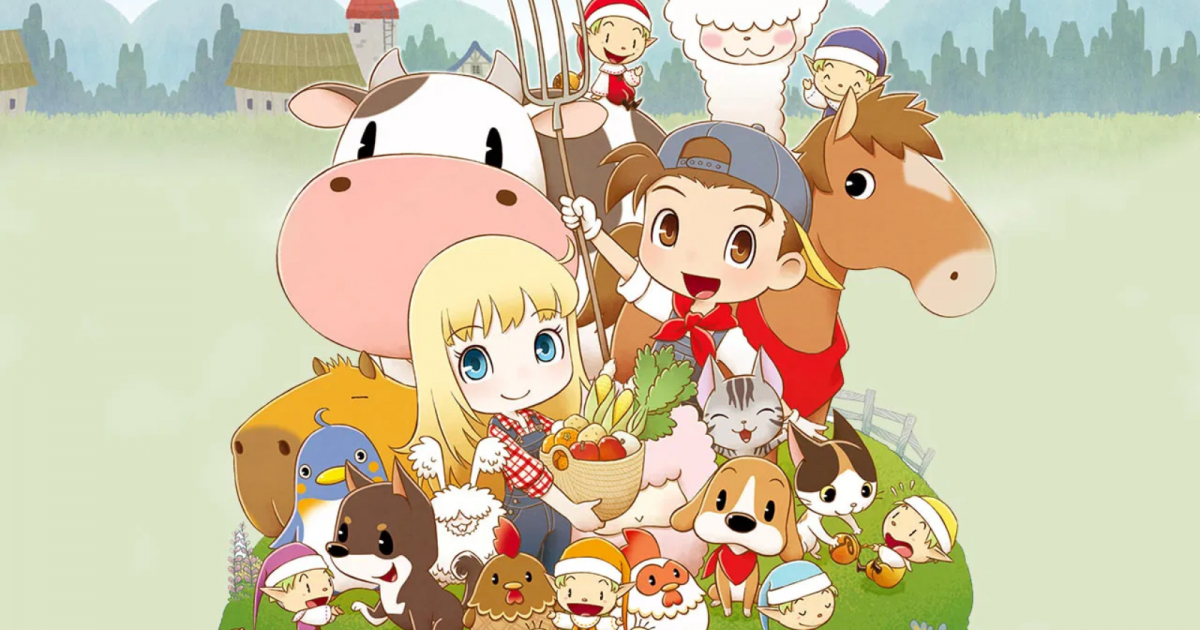 Story of Seasons: Friends of Mineral Town
Originally a Game Boy Advance game from 2003, Story of Seasons: Friends of Mineral Town is getting reimagined and re-released for the modern era. Originally known as Harvest Moon: Friends of Mineral Town, this game played a huge role in defining the farming / life simulation genre that's hugely popular right now. The gameplay has been refined and the graphics have been built to modern standards. This is a game that will certainly appeal to those who played the 2003 original, although we're also hoping that brand new players will find a modernised and enjoyable farming game.
Can it live up to the massive competition of games such as Animal Crossing: New Horizons and Stardew Valley? Who knows! But I know I'll be in there ready to plow some crops, tend to my farm animals, go fishing and mining, and maybe even fall in love!
What new titles are you most excited for this week? Be sure to let us know!
Don't forget last week's Coming Out to make sure you didn't miss anything.