Each week there are plenty of new games coming out. Although with so much going on it can be hard to keep track of them all. Thankfully Checkpoint is here to sift through them all and bring you our highlights of the week.
So let's jump in and have a look at what's coming out in gaming this week.
Rogue Legacy 2 (Early Access)
Date (Aus): 18/08/2020
Genre: Rogue-Like / Action Platformer
Platforms: PC
"Rogue Legacy is back! But now it's got a 2 in front of it!
Rogue Legacy 2 is a genealogical rogue-LITE. That means it has all the trappings of a typical rogue-like (randomized runs, changing characters, and more), but with persistent upgrades, and persistent dead heirs. In this game, your legacy defines you. Spend your parents' inheritance and grow the family manor to give your children a better fighting chance. Each child is unique, with their own traits and abilities. Your daughter could be an archer. She could also be a Vegan. Rogue Legacy 2 also lets you play how you want to. Go hard and fast, and you can dive deeper into the depths of a randomly-generated world. Or take it slow and steady, and build your character up until you're ready for greater challenges."
Microsoft Flight Simulator
Date (Aus): 18/08/2020
Genre: Simulation
Platforms: PC
"From light planes to wide-body jets, fly highly detailed and accurate aircraft in the next generation of Microsoft Flight Simulator. Test your piloting skills against the challenges of night flying, real-time atmospheric simulation and live weather in a dynamic and living world. Create your flight plan to anywhere on the planet. Microsoft Flight Simulator includes 20 highly detailed planes with unique flight models and 30 hand-crafted airports."
Pathfinder: Kingmaker Definitive Edition
Date (Aus): 18/08/2020
Genre: RPG
Platforms: PS4, Xbox One
"Pathfinder: Kingmaker – Definitive Edition is the ultimate single-player RPG experience based on the acclaimed Pathfinder series. Explore and conquer with your party the Stolen Lands of Golarion, a world rich with history, mystery and conflict featuring real-time combat or optional turn-based fights. Enjoy a classic RPG experience inspired by games like Baldur's Gate, Fallout 1 and 2 and Arcanum."
Mortal Shell
Date (Aus): 19/08/2020
Genre: Hardcore Action RPG
Platforms: PC, PS4, Xbox One
"Mortal Shell is a deep action-RPG that tests your sanity and resilience in a shattered world. As the remains of humanity wither and rot, zealous foes fester in the ruins. They spare no mercy, with survival demanding superior awareness, precision and instincts. Track down hidden sanctums of devout followers and discover your true purpose.
The dead litter this tattered landscape, but not all are without hope. The lost remains of defeated warriors are yours to discover. Awaken these Mortal Shells, occupy their bodies and significantly open your understanding to diverse masteries of combat.
Your path is guarded by desperate adversaries, devoted to inscrutable gods. Behold creatures both pitiable and grotesque, but do not let fear halt your journey. Muster your courage and face them down.
Combat is strategic and deliberate. You must commit your sword only when an opportunity opens. Calculate your parries to unleash devastating counterblows. Temporarily entomb your Mortal Shell in stone to block attacks, or play aggressive and use your stone-form to add brutal weight to your own sword swings."
Helheim Hassle
Date (Aus): 19/08/2020
Genre: Narrative Adventure
Platforms: PC, Xbox One, Switch
"Helheim Hassle is a narrative adventure game that is as much about friendship as it is about body parts.
From the same universe (and set on the same Tuesday in fact) as previous hit Manual Samuel, comes this macabre adventure where you play as Bjørn, a pacifist Viking who hates the idea of dying and going to Valhalla… who then ends up dying and getting taken to Valhalla. When Bjørn is resurrected to assist with a task for the mysterious Pesto, he sees a way to negotiate his way out. Using Bjørn's undying corpse with its ability to detach and combine limbs at will, players must solve challenging puzzles and navigate tricky levels in order to retrieve a certain magical item… In return, Pesto will try to grant Bjørn a permanent residence in Helheim – what a hassle!"
Battletoads
Date (Aus): 20/08/2020
Genre: Multi-genre
Platforms: PC, Xbox One
"The wait is over! Rash, Zitz and Pimple are returning at last to smash-hit their way through an all-new action-packed adventure of choreographed chaos, and couch co-op may never be the same again.
1-3 players will take control of the Battletoads and team up to storm through wild and unpredictable stages with only one rule – expect the unexpected. Teamwork makes the dream work in a drop-in, drop-out gameplay blast, filled with over-the-top gameplay moments that anyone can enjoy, but only a True 'Toad' can master.
With a unique hand-animated cartoon style and packed with memorable characters and locations, the Battletoads are back for a larger-than-life brawl across the universe that promises to be fun alone, and unforgettable together."
Peaky Blinders: Mastermind
Date (Aus): 20/08/2020
Genre: Adventure
Platforms: PC, PS4, Xbox One, Switch
"Peaky Blinders: Mastermind is a puzzle-adventure game, based on the multi-award-winning BBC and Netflix TV show.
Welcome to Birmingham, during the aftermath of the Great War. Set right before the events of Season One, Peaky Blinders: Mastermind lets you join the Shelby family's criminal gang. Follow the rise of Tommy as he successfully uncovers a sinister plot to put the family out of business, proving himself worthy of being the true mastermind of the Peaky Blinders.
Mastermind refers to Tommy's ability to plan complex scenarios in his head. As the player, you get to exercise this power by taking control of key members of the Shelby family including Tommy, Arthur, Polly and more. Become the Mastermind as you freely reset and rewind each character's path in order to tune all of their actions for perfect coordination.
Achieve the highest mission rating by strategically utilising characters and stealth to solve increasingly complex puzzles with optimum timing."
Griefhelm
Date (Aus): 20/08/2020
Genre: Fighting
Platforms: PC
"Griefhelm is an award-winning tactical dueling game with lethal medieval weaponry. Skewer your enemies, deflect their blows, and push your advantage as your tactically overcome foes in fast-paced duels. Every engagement begins a new dance to the death as warriors search for an opening. Master the art of combat to overcome your enemies and claim victory.
Experience a challenging, replayable campaign that will test the limits of your abilities on the battlefield. Battle your own way with or against your friends locally or online. Abandon the heresy of peaceful rest. Reach out and lay claim to your eternal reward."
PGA Tour 2K21
Date (Aus): 21/08/2020
Genre: Sports
Platforms: PC, PS4, Xbox One, Switch
"Play against the pros. Play with your crew. In PGA TOUR 2K21, you can play by the rules or create your own. Featuring an all-new PGA TOUR Career Mode with real courses and top pros to compete against on your journey to win the FedExCup.
Create and personalise your MyPLAYER with equipment and apparel from top sporting brands. Design your ultimate course with 1,000s of custom options and share them with friends and rivals online. Hit the links with friends in local and online multiplayer and run full seasons and tournaments with all-new 'Online Societies'."
Samurai Jack: Battle Through Time
Date (Aus): 21/08/2020
Genre: Action Adventure
Platforms: PC, Xbox One, Switch
"Voiced by the original voice-actors, Samurai Jack: Battle Through Time is an action platform game that spans across time and space, where your actions will determine a new legend!

Team up with trusted allies from the show to face off against familiar enemies.
Visit classic worlds and moments from your favorite episodes. Travel to a dark future to free mankind. Dive into the past to face off against diabolical monsters. Seek your fate as you travel across space and time.
Equip and master over a dozen different weapons in combat. Increase your power even more by training and unlocking new skills to support your playstyle."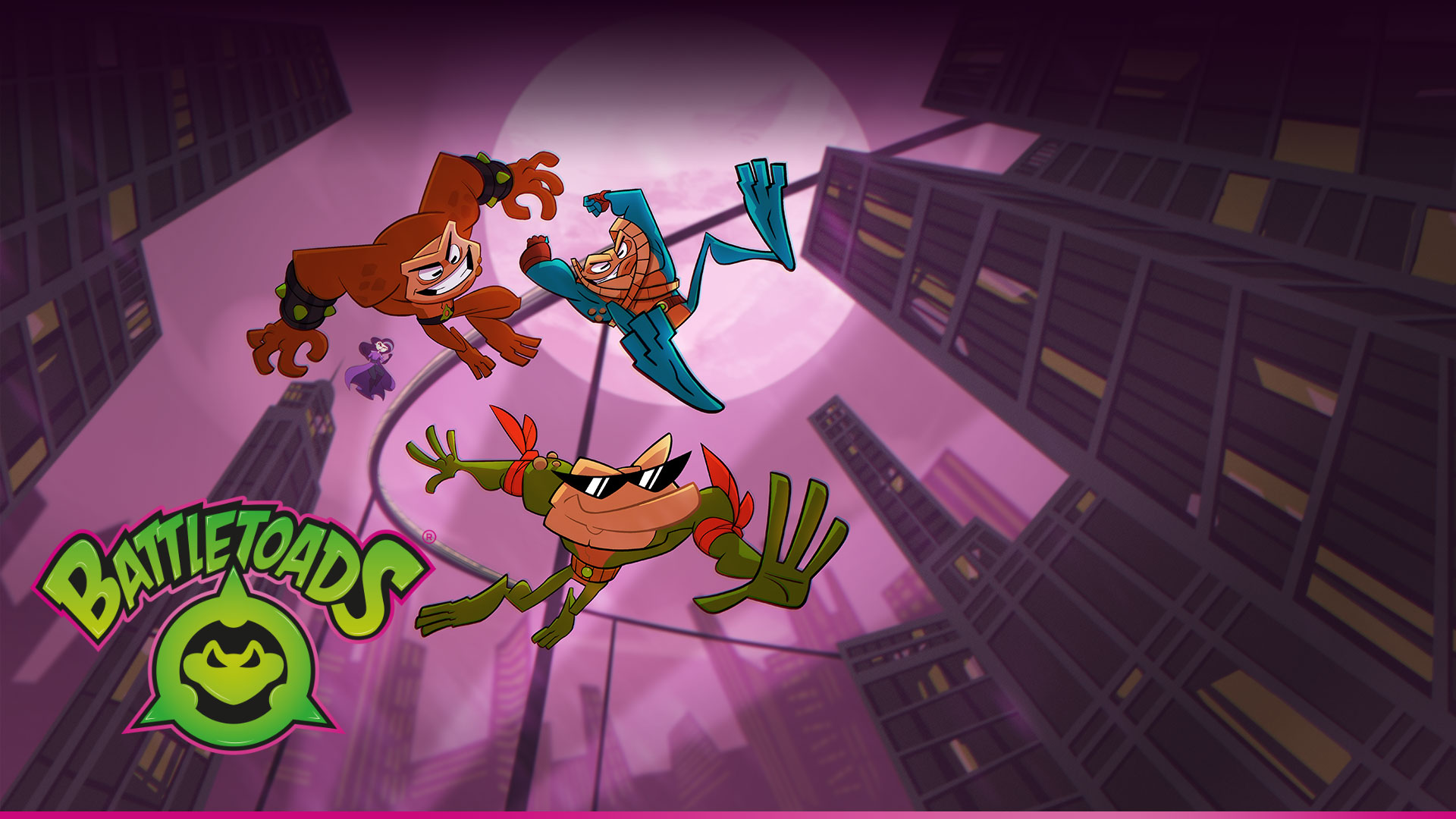 Battletoads
It must be hard to reboot a series like Battletoads. This beat 'em franchise started way back in 1991 by Rare Entertainment. Designed to be a competitor to Teenage Mutant Ninja Turtles, this game series turned animated series turned prank phone call is somewhat infamous in the gaming space. And if I'm being totally honest with myself, the 2020 reboot has no right to look as fun as it looks.
Battletoads is a multi-genre game that mixes platforming and brawling with other classic gameplay elements from the past. It looks like a ludicrous amount of fun and a good callback to the 90's. I'm ready for Battletoads.
What new titles coming out are you most excited for this week? Be sure to let us know!
Don't forget last week's Coming Out to make sure you didn't miss anything.