Each week there are plenty of new games coming out. Although with so much going on it can be hard to keep track of them all. Thankfully Checkpoint is here to sift through them all and bring you our highlights of the week.
So let's jump in and have a look at what's coming out in gaming this week.
Spelunky 2
Date (Aus): 15/09/2020 (Coming September 29 to PC!)
Genre: Roguelike / Platformer
Platforms: PS4
"Spelunky returns in this greatly-expanded sequel to the original roguelike platformer! Meet the next generation of explorers as they find themselves on the Moon, searching for treasure and missing family. Spelunky 2 builds upon the unique, randomized challenges that made the original a classic, offering a huge adventure designed to satisfy players old and new. Explore the game alone, play locally with up to four players, or, for the first time, join up with friends online to unravel its mysteries together (or battle it out in competitive Arena modes).
Spelunky 2's world is even denser than the one in the original game, offering many more areas, characters, traps, and items, as well as new ways to interact with them (and for them to interact with each other). The world has expanded in other ways, too, with branching paths and multi-layered levels adding a third dimension to the classic 2d platforming. Animals can also be tamed and ridden. And dynamic liquid physics create new challenges and make the world feel extra reactive and alive.
Back in Base Camp, characters you unlock will mill about and relax between runs, offering encouragement and advice. As you explore, your camp will expand and develop into a thriving little community to welcome you whenever you need a break from exploring. While there, you can also access shortcuts and practice your moves in safety.
Spelunky 2 is not just about "getting good and beating the game" – more than that, it's an endlessly replayable playground to experiment in and find your own way, creating stories against the backdrop of an expansive, deeply-interactive world filled with secrets. The more you play, the more the game becomes yours!"
BPM: BULLETS PER MINUTE
Date (Aus): 16/09/2020
Genre: FPS / Rhythm
Platforms: PC
"Fight as a mighty Valkyrie to repel the forces of the underworld from invading the world of Asgard.
In BPM, all of your actions and the actions of your enemies are tied to the beat of the music. Your enemies perform a dance-like sequence of attacks to an epic rock opera. BPM is inspired by retro shooters of the 90's. It is fast, frenetic and rhythmical. You can double jump, dash, rocket jump and bunny hop to evade your opponents.
Your goal is to reach the end of randomly generated dungeons, collecting different weapons, abilities and items each time you play. These weapons and abilities can radically alter the way you play, making each playthrough unique.
You must defeat 7 bosses to reach the final boss. Each boss moves and attacks in a unique way that you must learn to exploit if you want to succeed. Some attacks require you to jump over fields of lava, some to dodge fast projectiles, some to hold fast for a beat."
eFootball PES 2021
Date (Aus): 16/09/2020
Genre: Sport
Platforms: PC, PS4, Xbox One
"The eFootball PES 2021 Season Update brings you all of the critically acclaimed features that won us E3 2019's "Best Sports Game" award, plus more!
As the PES franchise celebrates a quarter of a century since its debut in 1995, we invite you to join us once again as we head out onto the pitch for a new action-packed season of football."
Pacer
Date (Aus): 17/09/2020
Genre: Racing
Platforms: PC, PS4, Xbox One
"2075: The PACER World Championship has become the new apex of anti-gravity motorsport delivering high-speed racing across the world's most dangerous and challenging circuits. Corporations from all over the globe race against each other in a battle of technical and piloting prowess with the aim of winning the championship and achieving ultimate victory.
With the depth of a simulation and the excitement and combat of arcade racers, PACER provides a true test of player skill, reflexes, and strategy.
Choose from four speed classes with speeds from 400 km/h to over 1000 km/h, then test your mettle in a variety of game modes including Elimination, Endurance and PACER's unique 'Flowmentum' and 'Storm'. The single-player Campaign lets you develop from a trainee Pilot, advancing through 10 unique race teams from around the world unlocking rewards and challenging yourself in blisteringly fast races in an effort to become the PACER world champion."
WWE 2K BATTLEGROUNDS
Date (Aus): 18/09/2020
Genre: Wrestling
Platforms: PC, PS4, Xbox One
"The world of WWE is your battleground with all-new, over the top, in-your-face arcade action as your favorite WWE Superstars and Legends battle it out in outlandish interactive environments around the world. Compete in your favorite match types with an arsenal of exaggerated maneuvers, special abilities, and devastating power-ups, including Steel Cage, Royal Rumble, Fatal Four Way and more, as Mauro Ranallo and Jerry "The King" Lawler call all the mayhem! Are you ready to enter the battleground?
Take your favorite WWE Superstars and Legends into battle with unrestrained, unhinged, and in-your-face pandemonium! Pull off over-the-top moves and use your special abilities to destroy your opponent while battling in interactive environments!
Play through an all-new story mode told through original comic strips, alongside Paul Heyman and Stone Cold Steve Austin and help lead the charge to find the next WWE Superstars! Battle as unique and colorful new characters against established WWE Superstars to test your mettle and show your skills while unlocking new characters and Battlegrounds along the way."
Crysis Remastered
Date (Aus): 18/09/2020
Genre: FPS
Platforms: PC, PS4, Xbox One (Already on Switch!)
"With its 2007 release, Crysis set the industry standard for first person shooters with stunning visuals, highly evolved gameplay, and an enormous sandbox world. Crysis Remastered adds new graphic features, high-quality textures, and the CRYENGINE's native hardware- and API-agnostic ray tracing solution to update the game for a new generation of hardware.
What begins as a simple rescue mission becomes the battleground of a new war as alien invaders swarm over the game's island setting. Armed with a powerful Nanosuit, players must use adaptive tactics to survive and conquer."
Super Mario 3D All-Stars
Date (Aus): 18/09/2020
Genre: 3D Platformer
Platforms: Switch
"Play three classic games at home or on the go—all in one package on the Nintendo Switch™ system!
Experience Mario's first foray into 3D platforming in the Super Mario 64 game, originally released in 1996. Wall jump, backflip, and even fly as you explore paintings and collect Power Stars to save Princess Peach!
Soak up the sun in the Super Mario Sunshine game, originally released in 2002, and spray the goop away with your water-spouting pal, FLUDD! You'll need to collect Shine Sprites and clear the picturesque Isle Delfino of pollution—just watch out for Bowser Jr.
Defy gravity as you explore space in the Super Mario Galaxy game, originally released in 2007! Help Rosalina restore her ship by collecting Power Stars and save Princess Peach. Gently shake a Joy-Con controller to activate Mario's Spin ability or pass a Joy-Con controller to a friend for some extra help in 2-player Co-Star Mode."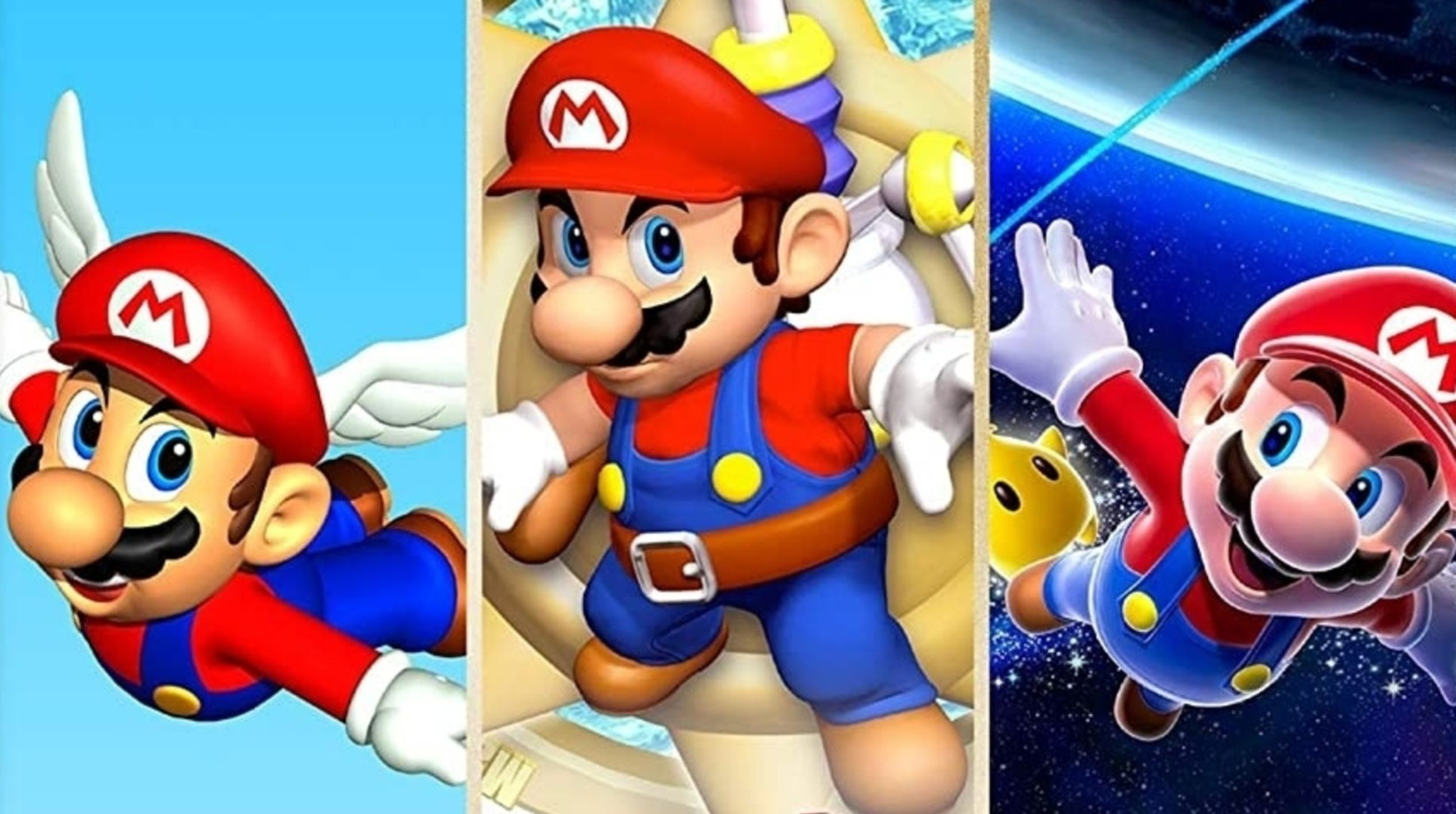 Super Mario 3D All-Stars
It was a tough week to select a top pick. Every game releasing this week is a serious contender with some very exciting new games releasing alongside some remastered classics. Although it's very hard to look past Super Mario 3D All-Stars. This game collection features 3 absolute classic Mario games. These games are Nintendo at their best, and for anyone who is yet to play them or ready for a replay, this bundle will be an easy pick up and play.
Some slight points have to be deducted for what appears to be quite a basic remaster of these 3 classic games. In fact they are basically just ports with a few small improvements. However it's still hard to deny how huge this collection of games are for Mario fans and 3D platforming fans. We know there'll be a lot of fun to be had within this collection.
What new titles coming out are you most excited for this week? Be sure to let us know!
Don't forget last week's Coming Out to make sure you didn't miss anything.