Each week there are plenty of new games coming out. Although with so much going on it can be hard to keep track of them all. Thankfully Checkpoint is here to sift through them all and bring you our highlights of the week.
So let's jump in and have a look at what's coming out in gaming this week.
13 Sentinels: Aegis Rim
Date (Aus): 22/09/2020
Genre: Adventure / Tactics
Platforms: PS4
"Vanillaware, the storytellers behind Odin Sphere and Dragon's Crown, craft a sci-fi mystery epic spanning thirteen intertwining stories.
Uncover the truth and delve into a 2D sidescrolling adventure featuring gorgeous art and environments. Then, battle the kaiju in fast-paced, top-down combat. Customize the Sentinels with an arsenal of mechsuit weaponry, and fight to defend humanity!"
Unrailed!
Date (Aus): 23/09/2020
Genre: Coop / Casual
Platforms: PC, PS4, Xbox One, Switch
"Unrailed! is a chaotic online and couch co-op multiplayer railroad construction game where you work together with your friends as a team to build a train track across endless procedurally generated worlds. Master encounters with its inhabitants, upgrade your train and keep it from derailing!
Gather resources and craft tracks to extend your railroad to prevent your train from reaching the end. But watch out – there is only one tool of each type. Co-operation and co-ordination of your team is essential to survive this increasingly challenging journey!
Every world is unique! You and your team will have to master ever new challenges to stay on track!
Upgrade your train to be prepared for whatever is about to come. Get an atomic engine, upgrade your crafting wagon, attach a supercharger or choose from a vast range of other options.
Play cooperatively with up to four players in a single team or challenge the co-op skills of your friends in a two versus two game."
Against The Moon
Date (Aus): 24/09/2020
Genre: Roguelike / Deckbuilder
Platforms: PC
"Featuring a bleak post-apocalyptic setting, Against The Moon mixes elements of popular trading card games like Slay the Spire, Hand of Fate and Talisman to create an epic strategy experience with a thrilling plot and unique visual style.
Having lost control of the planet to weird beasts of their own creation, humanity's last survivors took refuge in an ancient citadel. Now the superhuman Ultori represent mankind's last hope. Lead a squad of powerful Ultori to defeat the Furos, the nightmare creatures of the Moon, and restore humanity as the rightful rulers of Earth.
Craft your own deck, upgrade your cards and level up your characters to combat bizarre and dangerous opponents. Crush enemy bosses, build your forces and gather the resources you need to challenge the Moon itself!
May Great Mother Arx bless your mission. You are our only hope!"
Going Under
Date (Aus): 24/09/2020
Genre: Action / Roguelike
Platforms: PC, PS4, Xbox One, Switch
"Going Under is a satirical dungeon crawler about exploring the cursed ruins of failed tech startups. As an unpaid intern in the dystopian city of Neo-Cascadia, you'll wield office junk as weaponry as you make your way through the offbeat procedural dungeons beneath your company campus.
Failed businesses no longer just cease to exist–they sink beneath the earth, and their employees are cursed to wander the halls for eternity as monsters. It's your duty to put these monsters out of their misery and repossess their assets–so that your boss can afford a new car, or something.
Battle through the remains of failed startups themed off of gig workers, dating sites, and cryptocurrency. Uncover the true motives of your employer, a carbonated drink startup known as Fizzle, and their parent company, a subscription box manufacturer with an army of helpful shipping drones. Make friends with your co-workers! Hire a freelance goblin! Date a slime! Invest in crypto! Set a rideshare on fire!"
Serious Sam 4
Date (Aus): 24/09/2020
Genre: FPS
Platforms: PC
"Humanity is under siege as the full force of Mental's hordes spread across the world, ravaging what remains of a broken and beaten civilization. The last remaining resistance to the invasion is the Earth Defense Force led by Sam "Serious" Stone and his heavily-armed squad of misfit commandos.
Croteam returns with a high-powered prequel to the Serious Sam series that scales up chaos to unprecedented levels. The classic Serious Sam formula is revamped by putting an unstoppable arsenal up against an unimaginable number of enemies that requires players to circle-strafe and backpedal-blast their way out of impossible situations."
Tennis World Tour 2
Date (Aus): 24/09/2020
Genre: Tennis
Platforms: PC, PS4, Xbox One, Switch
"Play as the world's top players or create your own player to try and dominate the world rankings. Faster paced, with more animations and more realism: experience the true sensations of tennis, in singles or doubles games, and challenge your friends locally or online.
Your player, your decisions. In Career mode, you manage your season, your staff, your equipment and your sponsors. And if you are up to the challenge, you can become the new star of world tennis.
Master the timing of your strokes, the new serve mechanics and all the moves to dominate your opponent, just for fun or to win in Ranked mode.
More animations, more strokes, a faster pace… Experience dynamic, realistic and precise gameplay that puts you in the heart of legendary rallies."
art of rally
Date (Aus): 24/09/2020
Genre: 3D Platformer
Platforms: Switch
"art of rally is a stylized experience inspired by the golden era of rally from the creator of Absolute Drift
Race across the world through colorful and stylized environments in top-down view. Compete for first place in the leaderboards with daily and weekly challenges. Will you master the art of rally?"

Mafia: Definitive Edition
Date (Aus): 25/09/2020
Genre: Action / Adventure
Platforms: PC, PS4, Xbox One
"Part one of the Mafia crime saga – 1930s, Lost Heaven, IL.
Re-made from the ground up, rise through the ranks of the Mafia during the Prohibition era of organized crime. After a run-in with the mob, cab driver Tommy Angelo is thrust into a deadly underworld. Initially uneasy about falling in with the Salieri crime family, Tommy soon finds that the rewards are too big to ignore."
Port Royale 4
Date (Aus): 25/09/2020
Genre: Strategy / Simulation
Platforms: PC, PS4, Xbox One, Switch
"Set sail and join the colonial powers of Spain, England, France and the Netherlands in their fight for supremacy of the Caribbean in the 17th century.
In 'Port Royale 4' you will take control of a colony as a young and ambitious governor who is eager to learn what it takes to manage and grow his small settlement into a bustling trader city.
Develop production chains connecting multiple islands and create complex trade routes across the Caribbean, covering the ever-growing needs of the respective cities. Make use of the detailed sea map to avoid stormy weather regions, cliffs or shallow waters. Fulfill tasks for your nation's viceroy, earning more fame to unlock town buildings, ships and more. Conquer the cities of rival nations or hunt down their fleets with a letter of marque while also keeping a keen eye out for pirates and other privateers.
For the first time in the series, naval battles will be turn-based, with up to 8 ships battling at one time and tactical captain maneuvers that can turn the tide in even the most hopeless of situations for a glorious victory."
Trollhunters: Defenders of Arcadia
Date (Aus): 25/09/2020
Genre: Action / Adventure
Platforms: PC, Ps4, Xbox One, Switch
"Jump into the world of Trollhunters as Jim Lake Jr. to stop Porgon the Trickster Troll and his sneaky plans! Team up with Claire in couch co-op and also get a helping hand from lots more loved characters to face unknown evil forces and help stop the Time-pocalypse! Upgrade your armour and boost your abilities to become more powerful than ever. The fate of the universe is in your hands!"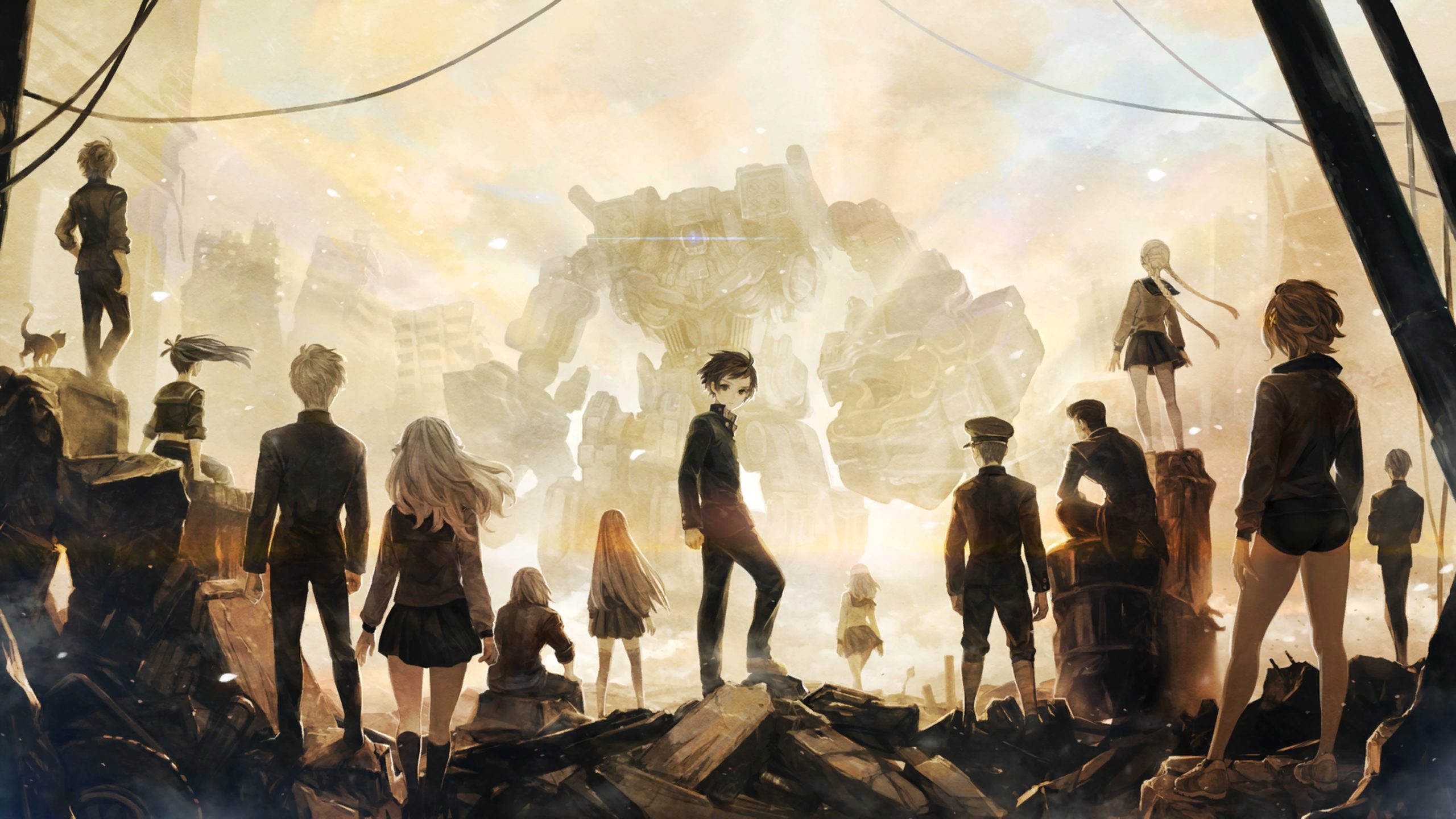 13 Sentinels: Aegis Rim
Most of the time we select our top pick based on what game looks the most promising or has the most excitement behind its release. Although occasionally a game's embargo will lift well enough in advance that we don't have to take any guesses. With reviews going up almost a full week before its release, including our own, we can safely say that 13: Sentinels: Aegis Rim is a fantastic video game absolutely worthy of a top pick this week!
When talking about 13 Sentinels: Aegis Rim, our reviewer said that "its unique combination of genres is refreshing and exciting, and its art style is the most gorgeous thing I've seen… It's definitely worth it to see the ending which, while complex and difficult to fully understand, is a masterpiece."
What new titles coming out are you most excited for this week? Be sure to let us know!
Don't forget last week's Coming Out to make sure you didn't miss anything.