Each week there are plenty of new games coming out. Although with so much going on it can be hard to keep track of them all. Thankfully Checkpoint is here to sift through them all and bring you our highlights of the week.
So let's jump in and have a look at what's coming out in gaming this week.
Torchlight III
Date (Aus): 13/10/2020
Genre: ARPG
Platforms: PC, PS4, Xbox One
"It's been a century since the events of Torchlight II, and the Ember Empire is in decline. In Torchlight III, Novastraia is again under threat of invasion and it's up to you to defend against the Netherim and its allies. Gather your wits and brave the frontier to find fame, glory, and new adventures!"
ROBOTICS;NOTES ELITE
Date (Aus): 14/10/2020
Genre: Visual Novel
Platforms: PC, PS4, Switch
"Thanks to the rising popularity of the PhoneDroid—a device which features augmented reality (A.R.)—the age of advanced technology has finally reached Tanegashima. On that island, Central Tanegashima High's Robot Research Club is about to have their club disbanded. Despite their predicament, Kaito Yashio, one of only two members in the Robot Club, couldn't care less and would rather play a robot fighting game all day. His counterpart, the reckless club leader Akiho Senomiya, ignores Kaito's apathy as she strives to keep the club from being disbanded by completing their giant robot.
One day, Kaito discovers a mysterious A.R. annotation titled "Kimijima Report." It contains instructions involving locations all across the island—and warns of a conspiracy involving the entire world."
Re:Turn – One Way Trip
Date (Aus): 14/10/2020
Genre: Puzzle Adventure / Horror
Platforms: PC, PS4, Xbox One, Switch
"Re:Turn – One Way Trip tells the terrifying story of five college friends on a post-graduation vacation. This might be their last trip together before the adulthood swallows them whole. Unfortunately for them, a far more sinister force has found them and hungers for their souls.
When Saki awakens in the middle of the night to find that her friends have disappeared from their campsite, she is soon lured to an abandoned train. It stands silent, as if has been waiting for its final passenger to board. Waiting for her.
As Saki searches the train for her friends, the barrier between the past and the present starts to dissolve. Otherworldly horrors confront Saki as she begins to learn the train's deadly secrets."
Werewolf: The Apocalypse – Heart of the Forest
Date (Aus): 14/10/2020
Genre: Visual Novel
Platforms: PC
"Werewolf: The Apocalypse — Heart of the Forest throws you deep into a primeval wilderness in the center of modern Europe. It's where the protectors of nature wage their ancient, neverending war against the forces of destruction.
You play as Maia, who comes to Poland hoping to trace her family roots. Trying to learn more about her ancestry, she will discover her family's dark secrets and reveal hidden truths about the last wilderness of Central Europe.
Visit real-world places of mystery and power. Explore local legends and traditions. Discover the fascinating world and history of the Polish-Belarusian borderlands. You will witness how nature clashes with technology and greed. Can it survive without our help?"
Alpaca Ball: Allstars
Date (Aus): 15/10/2020
Genre: Sports
Platforms: PC, Switch
"GOAAAAAAAAAAAAAAAAAAL! Play the craziest kind of football with the furriest alpacas around the world.
Block, ram your opponents and dive-kick your way to that dream goal!
Enjoy frenetic local multiplayer with up to 8 other people or play online with your friends via Steam Remote Play (they don't even need to own the game)!
Take your alpaca to glory in solo career mode, or share the credit with the local two-player co-op!
Enjoy all the different arenas and stadiums inspired by famous locations such as South American Machu Picchu!"
Ring of Pain
Date (Aus): 15/10/2020
Genre: Card Battler / Roguelike
Platforms: PC, Switch
"Delve into randomly generated ring dungeons where encounters come to you!
Observe and plan your route. Will you go for the loot or backstab a creeping horror? As you scavenge, fight and sneak to new encounters, the ring reacts to your actions.
Play as fast or slow as you like in this challenging, turn-based roguelike. Just be careful where you tread – You may find yourself ambushed, or worse…"
Partisans 1941
Date (Aus): 15/10/2020
Genre: Real-Time Tactics
Platforms: PC
"A new approach to the stealth tactics genre: Partisans 1941 combines stealth, action, resource management and base-building elements.
Take control of a group of Partisans resisting the German occupation Eastern Front during World War II. Plan and initiate combat your way. Use tactical pause, study the environment and choose the best position to set up an ambush.
Build up your resistance camp hidden deep in the woods and find allies to join your cause. Form squads of unique Partisans and undertake diverse missions to undermine enemy forces and infrastructure, while securing resources desperately needed to sustain the resistance.
Experience a dramatic and unique chapter of World War II and become a Red Army commander behind enemy lines."
Space Crew
Date (Aus): 15/10/2020
Genre: Strategy / Simulation
Platforms: PC, PS4, Xbox One, Switch
"Space Crew is the brand new sequel to acclaimed strategic survival simulation game Bomber Crew.
Your Space Crew Needs You! Enlist today and blast off to new heights!
The United Defense Force will allow you to set across the galaxy on a campaign to defend Earth.
It will be your responsibility to help stop all of humankind being wiped off the intergalactic stage by the mysterious extraterrestrial threat known as the Phasmids.
The U.D.F. is doing their part, are you?
Join the Space Crew today!"
Vigil: The Longest Night
Date (Aus): 15/10/2020
Genre: Action / Platformer
Platforms: PC, Switch
"Vigil: The Longest Night is a 2D action platformer with precise, technical combat and a strong narrative. Inspired by Salt and Sanctuary and Castlevania, Vigil: The Longest Night aims to challenge players with its difficulty while compelling them with a tale of eldritch horror. Follow Leila on her quest to save her hometown from the creeping evil infesting the surrounding countryside. Navigate a world that wanders between dream and reality, sanity and madness, and uncover the secret of the longest night and the monstrous entities invading their world."
Noita
Date (Aus): 15/10/2020
Genre: Roguelike
Platforms: PC
"Noita is a magical action roguelite set in a world where every pixel is physically simulated. Fight, explore, melt, burn, freeze and evaporate your way through the procedurally generated world using spells you've created yourself. Explore a variety of environments ranging from coal mines to freezing wastelands while delving deeper in search for unknown mysteries."
Monster Truck Championship
Date (Aus): 15/10/2020
Genre: Racing
Platforms: PC, PS4, Xbox One
"The first Monster Truck simulation!
From Las Vegas to Orlando, go head-to-head against experienced drivers in drag races and freestyle competitions! But before you can pull off doughnuts, wheelies and bicycles, you must first tune your truck to perfection. These machines are spectacular and impressive yet highly technical to drive. The game faithfully reproduces all the unique demands of mastering these powerful trucks, including independent front and rear wheel management, mass transfer anticipation in bends, and predicting bounces after jumps.
But what's performance without style? Customise your Monster Truck to reflect your style and show it off to your 7 opponents in online mode."
The Signifier
Date (Aus): 15/10/2020
Genre: Adventure
Platforms: PC
"The Signifier is a first-person tech-noir mystery adventure that blends investigation, experimental psychology, and artificial intelligence.
Players step into the role of Frederick Russell, an expert in AI and psychology, and the main researcher behind an experimental deep brain scanner called the Dreamwalker. Its controversial technology allows the exploration of the recorded senses and unconscious realms of the mind. He finds himself thrust into a spiral of intrigue when asked to use his creation after the vice president of the world's biggest tech company turns up dead in her apartment.
Explore the real and surreal worlds, become immersed in fringe psychology, solve puzzles, and find the truth."
Leisure Suit Larry – Wet Dreams Dry Twice
Date (Aus): 15/10/2020
Genre: Point and Click Adventure
Platforms: PC
"Hey Ladies, it's time to get wet again! I am not done yet and still dreaming of you in Leisure Suit Larry – Wet Dreams Dry Twice. I left New Lost Wages, stranded in Cancum, and had prepared to marry my only true love, Faith. But, unforeseen events interrupted us and we've become separated again! She is somewhere in the famous, sunny and huge Kalau'a archipelago and I have to find her. Help me — if I don't find her soon, I think I may burst!
No obstacle will keep me away from my beloved, my Faith, not even the wild and untamed islands of Kalau'a. Those lovely island ladies can only distract me for so long as my heart's compass only points in one direction – Faith! Care to set sail with me as a true pirate and become a real gold digger? Join my crew on this glorious quest — you may just end up soaked to the bone!"
Mario Kart Live: Home Circuit
Date (Aus): 16/10/2020
Genre: Racing / AR
Platforms: Switch
"Control a real-life Mario Kart with Nintendo Switch and watch it come to life in the game! Race a real-world Mario Kart™ through your home! Use the Nintendo Switch™ system to control your kart and watch as it reacts to what's happening in the game as you boost and drift to victory. Your in-home course comes to life on-screen with a view from right behind the driver's seat.
Turn your home into a Mario Kart course of your design. Place gates and customize courses* in the real world, then see them come alive with different in-game environments like jungles and snowscapes and obstacles like Piranha Plants. Use objects from around the house to customize your courses and add challenge, then watch the game transform your home into the Mario Kart world.
Zoom around the house with up to three friends. Bring along some friends** to race around your custom course in Custom Race or Grand Prix! Just make sure each player has their own Nintendo Switch system, the Mario Kart Live: Home Circuit game and a Mario kart or Luigi kart."
Age of Empires III: Definitive Edition
Date (Aus): 16/10/2020
Genre: RTS
Platforms: PC
"Age of Empires III: Definitive Edition completes the celebration of one of the most beloved real-time strategy franchises in definitive form with enhanced features and modernized gameplay.
Command mighty civilizations from across Europe and the Americas or jump to the battlefields of Asia in stunning 4K Ultra HD graphics and with a fully remastered soundtrack.
Now featuring two new game modes: Historical Battles and The Art of War Challenge Missions, including all previously released expansions and all 14 civilizations, plus two brand new civilizations – the Swedes and Inca.
Head online to challenge other players with updated online multiplayer with cross network play and enjoy modern gaming features including spectator modes and mod support.
Complete your collection with this final chapter in the Age of Empires Definitive Edition journey."
9 Monkeys of Shaolin
Date (Aus): 16/10/2020
Genre: Beat 'em up
Platforms: PC, PS4, Xbox One, Switch
"9 Monkeys of Shaolin – marks a true rebirth of the iconic beat 'em up genre in vein of old-school video games. If, as a kid you had hours of fun playing SNES or SEGA beat 'em up videogames crushing foes left and right then this new title from the creators of hardcore brawler REDEEMER is definitely for you!
As a mere Chinese fisherman Wei Cheng you have to avenge the death of your friends and family slaughtered in a pirate raid at your peaceful village. Game protagonist is quite a tough nut to crack as he knows the basics of ancient martial arts only mastered by legendary Shaolin monks. Get your trusty battle staff ready for a challenging adventure in Medieval China and for merciless fights with hordes of various enemies.
Action-packed battles, user friendly controls and incredible atmosphere of great kung-fu movies of 70s – all this makes 9 Monkeys of Shaolin a perfect choice for every true fan of really hardcore brawlers."
Crown Trick
Date (Aus): 16/10/2020
Genre: Adventure / RPG
Platforms: PC, Switch
"Crown Trick is a beautifully animated rogue-like RPG adventure characterized by turn-based combat and skill-item interactive strategy. Enter a labyrinth that moves as you move, where mastering the elements is key to defeating enemies and uncovering the mysteries of this underground world. With a new experience awaiting every time you enter the dungeon, let the power bestowed by the crown guide you in this challenging adventure!"
Aquanox Deep Descent
Date (Aus): 17/10/2020
Genre: Shooter
Platforms: PC
"Aquanox Deep Descent is a first person underwater vehicle shooter, in which players control a variety of customizable ships to engage in fierce battles in the dystopian deep sea world of Aqua.
In the near future the Earth's surface has become uninhabitable. What remains of humankind lives in former mining and research stations, deep below the surface of the sea. Born and raised in the only world we know, the loose network of underwater settlements, torn by the war for resources and dominance between various factions.
Take control of a team of highly trained fighter pilots and experience an epic story in the dark world of Aquanox. Send your enemies down to Davy Jones' Locker with well-aimed torpedoes, shrapnel blasts, mines and more in a journey that takes you across the world's oceans and into the deepest trenches of our Earth."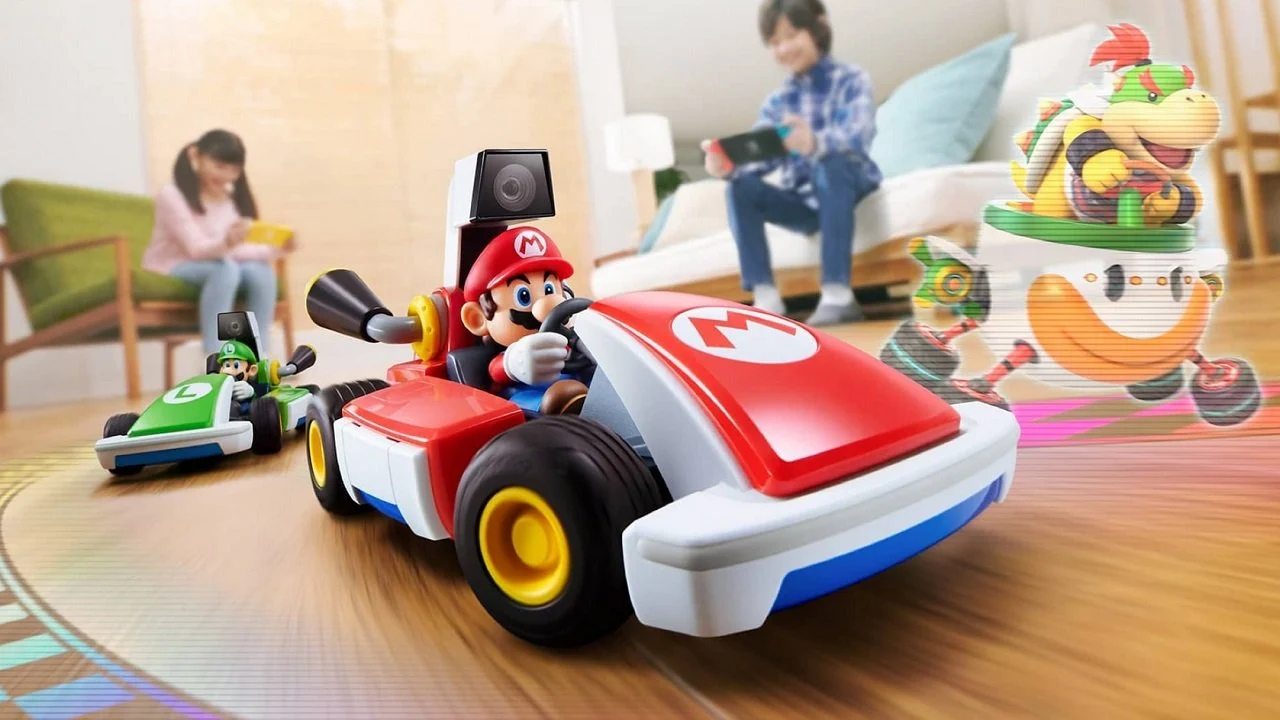 Mario Kart Live: Home Circuit
The idea of creating and racing on a track created by your own hands is pretty tantalising. And whilst we're all stuck at home due to COVID-19, an idea that allows you to turn your house into a virtual racecourse is pretty damn exciting.
I can see Mario Kart Live: Home Circuit being a real winner for families and kids. The idea is absolutely solid and with Augmented Reality technology getting better and better the implementation will hopefully be solid as well. Quite honestly this could be a really cool experience, we'll just have to wait to see how it all stacks up!
What new titles coming out are you most excited for this week? Be sure to let us know!
Don't forget last week's Coming Out to make sure you didn't miss anything.