Each week there are plenty of new games coming out. Although with so much going on it can be hard to keep track of them all. Thankfully Checkpoint is here to sift through them all and bring you our highlights of the week.
So let's jump in and have a look at what's coming out in gaming this week.
Serious Sam Collection
Date (Aus): 17/11/2020
Genre: FPS
Platforms: PS4, Xbox One, Switch
"Experience one of the most explosive shooter game series of all time as you save the world from a merciless alien invasion. Visit the ruins of ancient Egypt and roam through the vivid arenas of South America fighting seemingly never-ending hordes of enemies using an extremely destructive arsenal including shotguns, heavy lasers, rocket launchers, a huge cannon and an iconic minigun.
Tired of playing alone? Go to war against Mental's horde with up to 4 players in local co-op, blasting your way through the campaign or the stand-alone survival mode. Finally, put your skills to the test against other players in classic multiplayer modes including Deathmatch, Team Deathmatch, Capture the Flag and more.
Serious Sam Collection includes all content from Serious Sam HD: The First Encounter, Serious Sam HD: The Second Encounter and Serious Sam 3: BFE, including The Legend of the Beast and Jewel of the Nile expansions."
Mars Horizon
Date (Aus): 18/11/2020
Genre: Management / Strategy
Platforms: PC, PS4, Xbox One, Switch
"In Mars Horizon, you take control of a major space agency, leading it from the dawn of the space age through to landing astronauts on Mars. Guide your agency through the space race and write your alternate history of space travel – any of the agencies can be the first to land on The Moon if you make the right choices. Manage the numerous challenges faced then and now.
You're in charge of every element of the journey into space: success rides on your decisions."
BloodRayne: Terminal Cut & BloodRayne: Terminal Cut 2
Date (Aus): 20/11/2020
Genre: Action
Platforms: PC
"Enhanced and updated for modern systems by the game's original developers, this is the definitive edition of BloodRayne.
In the years between the World Wars, Agent BloodRayne works as a killing machine for The Brimstone Society – a top secret fraternity that hunts down and destroys supernatural threats. Two missions, five years apart, turn out to be connected by one man. For years, this man has been searching the world for powerful occult relics to bring about a new age of domination for the Third Reich. In this frenetic and bloody third-person shooter that unleashed the iconic red-headed femme fatale on the world, the dhampir Rayne faces horrific creatures, hordes of soldiers with an array of tools and firepower, and every Nazi officer that stands between her and the one she must stop."
Bridge Constructor: The Walking Dead
Date (Aus): 20/11/2020
Genre: Simulation / Puzzle
Platforms: PC, PS4, Xbox One, Switch, Xbox Series X/S
"Prepare for the ultimate mashup experience! Bridge Constructor: The Walking Dead combines the legendary and challenging puzzle gameplay of Bridge Constructor™ with the post-apocalyptic zombie universe of AMC's The Walking Dead.
Join a group of survivors as they fight against hordes of undead walkers and a hostile human community. Build bridges and other constructions through bleak landscapes and ruined structures. Team up with fan-favorite characters like Daryl, Michonne and Eugene, and create safe passage for iconic vehicles from the series.
Use movable level objects, explosives and baits to your advantage as you lure walkers into lethal traps and guide your survivors to safety. Enjoy the physics-based frenzy and ragdoll animations as walkers succumb to the forces of gravity."
Hyrule Warriors: Age of Calamity
Date (Aus): 20/11/2020
Genre: Hack and Slash
Platforms: Switch
"Join the struggle that brought Hyrule to its knees. Learn more about Zelda, the four Champions, the King of Hyrule and more through dramatic cutscenes as they try to save the kingdom from Calamity. The Hyrule Warriors: Age of Calamity game is the only way to see firsthand what happened 100 years ago.
From barbaric Bokoblins to towering Lynels, menacing monsters have emerged in droves. In addition to Link and Zelda, take control of characters like the four Champions and a young Impa must use their distinct abilities to carve through hundreds of enemies to save Hyrule from the impending Calamity."
Dieselpunk Wars
Date (Aus): 20/11/2020
Genre: Simulation
Platforms: PC
"Build magnificent machines from over 300 unique elements. Utilize various kinds of weapons, armor, engines, wheels, and propulsion systems. Take air drag into account since every element has an impact on a vehicle's handling and its capabilities. Expand upon your vessel's design to complete a mission or start over from a blank slate. Construct fighters, transporters, tanks, destroyers, or blimps and savor your creative freedom.
Use different kinds of guns and plating to duke it out with hostile vehicles. Revel in the destruction caused by your weapons with fully simulated projectiles. Protect yourself with angled armor which might reflect enemy shots. Be careful not to overexert your engines or else they might catch on fire. Make good use of physics and rain destruction upon your enemies.
Take pleasure in exploring a vast and interesting world filled with adventure. Face danger on the desert, in the mountains, and in the swamp. Launch a full-scale invasion and conquer entire islands. Delve into the world of a single-player campaign and onto an arena filled with enemies. Enjoy limitless freedom in sandbox mode.
Go where combat is the most intense and take part in massive battles, unleashing your vehicle's full potential. Learn the extent of your creations' capabilities and face increasing challenges. Figure out your enemies' battle plan and spot the weaknesses of their vessels. Fight alongside allies or solo."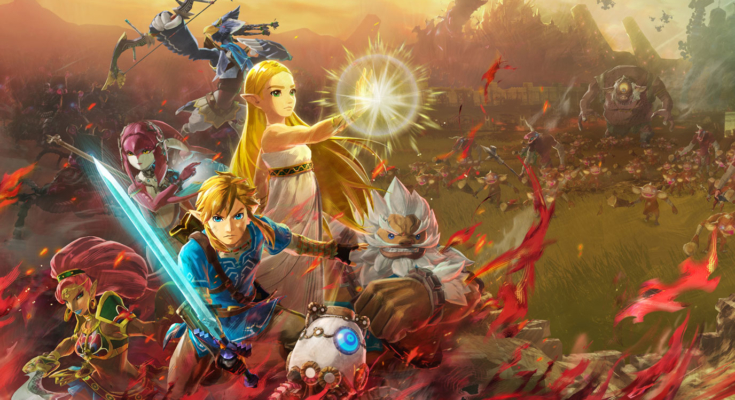 Hyrule Warriors: Age of Calamity
It's the week following console launch and things are starting to slow down. Although Nintendo still has a game up their sleeve in the form of Hyrule Warriors: Age of Calamity. This mash-up between The Legend of Zelda and Dynasty Warriors is sure to get fans of the two franchises excited as iconic Hyrule characters hack and slash their way to victory!
What new titles coming out are you most excited for this week? Be sure to let us know!
Don't forget last week's Coming Out to make sure you didn't miss anything.