Each week there are plenty of new games coming out. Although with so much going on it can be hard to keep track of them all. Thankfully Checkpoint is here to sift through them all and bring you our highlights of the week.
So let's jump in and have a look at what's coming out in gaming this week.
FUSER
Date (Aus): 10/11/2020
Genre: Rhythm
Platforms: PC, PS4, Xbox One, Switch
"From the creators of Rock Band and Dance Central comes FUSER – a nonstop digital music festival where you control the music! Combine elements of the world's most popular songs to create your own sound or partner with friends on epic collaborations, then share your amazing mixes and headlining performances with the world!"
Tetris Effect: Connected
Date (Aus): 10/11/2020
Genre: Rhythm / Puzzle
Platforms: PC, Xbox One, Xbox Series X/S
"Tetris Effect: Connected is the original Tetris Effect with all-new co-op and competitive online and local multiplayer modes. This is Tetris like you've never seen it, or heard it, or felt it before—an incredibly addictive, unique, and breathtakingly gorgeous reinvention of one of the most popular puzzle games of all time. Game leverages Smart Delivery allowing access to both the Xbox One title and the Xbox Series X|S title when available."
Assassin's Creed Valhalla
Date (Aus): 10/11/2020
Genre: RPG
Platforms: PC, PS4, Xbox One, PS5, Xbox Series X/S
"In Assassin's Creed Valhalla, you are Eivor, a fierce Viking warrior raised on tales of battle and glory. Explore a dynamic and beautiful open world set against the brutal backdrop of England's Dark Ages. Raid your enemies, grow your settlement, and build your political power in your quest to earn your place among the gods in Valhalla."
Yakuza: Like a Dragon
Date (Aus): 10/11/2020
Genre: RPG
Platforms: PC, PS4, Xbox One, PS5, Xbox Series X/S
"Ichiban Kasuga, a low-ranking grunt of a low-ranking yakuza family in Tokyo, faces an 18-year prison sentence after taking the fall for a crime he didn't commit. Never losing faith, he loyally serves his time and returns to society to discover that no one was waiting for him on the outside, and his clan has been destroyed by the man he respected most.

Ichiban sets out to discover the truth behind his family's betrayal and take his life back, drawing a ragtag group of society's outcasts to his side: Adachi, a rogue cop, Nanba, a homeless ex-nurse, and Saeko, a hostess on a mission. Together, they are drawn into a conflict brewing beneath the surface in Yokohama and must rise to become the heroes they never expected to be."
XIII
Date (Aus): 11/11/2020
Genre: FPS
Platforms: PC, PS4, Xbox One, Switch
"XIII is a remake of the cult first-person action game that was initially released in 2003. You play as "XIII", a man without an identity, in a solo campaign with numerous twists and turns. Inspired by the eponymous graphic novel, the game features a completely reinvented and unique cel-shading design. In XIII, players can also take part in fierce multi-player fights.
The country remains in a state of shock following the assassination of President Sheridan. You wake up, wounded and with amnesia, on a deserted beach on the east coast. The only clues as to your identity are a tattoo of the number XIII near your collarbone and a locker key. Even though your memory is failing, you discover that you have the reflexes of a highly trained professional fighter. You set off in search of your past, discovering that you played a role in the murder of the President of the United States of America, and revealing the most astounding conspiracy ever hatched in the country's history."
Observer: System Redux
Date (Aus): 11/11/2020
Genre: Horror
Platforms: PC, PS5, Xbox Series X/S
"The year is 2084. The future has turned out much darker than anyone could imagine. First, there was the Nanophage. A digital plague that killed thousands upon thousands of those who chose to augment their minds and bodies.
Then came the War, leaving both the West and the East decimated and shattered. With no one left to seize power, corporations took over and forged their own crooked empires.
You are a tool of corporate oppression. Feared and despised, you hack into the darkest corners of your suspects' minds. You creep into their dreams, expose their fears, and extract whatever your investigation may require.
You are an Observer."
Devil May Cry 5 Special Edition
Date (Aus): 11/11/2020
Genre: Hack and Slash
Platforms: PS5, Xbox Series X/S
"Take advantage of the power of the next generation of consoles and tailor the options to your preferred gameplay experience. Fine-tune your experience as you prioritize gorgeous and photorealistic lighting effects using ray-tracing, the sharpest resolution possible, or the highest framerates the series has ever offered.
Not enough? You'll also be able to hear the action unfold around you with incredible 3D sound, and loading times go by in a blink to keep the thrills coming. All of this with even more intense new modes so you can push your style to the max. And the icing on the infernal cake? Vergil joins the gang as a new playable character!
The PlayStation5 version even uses the DualSense controller's adaptive triggers to let you feel the tension of battle in the tips of your fingers."
The Falconeer
Date (Aus): 11/11/2020
Genre: Action
Platforms: PC, Xbox One, Xbox Series X/S
"Generations of poisonous decisions and treason swirl in the deep, as factions collide.
Become the Falconeer and soar through the skies aboard a devastatingly powerful Warbird. Uncover secrets lost to the sea as you join or oppose different factions and clans scattered throughout The Great Ursee. Take advantage of multiple Falconeer classes with individual stats, weapons and warbirds that can be upgraded through winning battles, completing quests, discovering secrets, or applying Mutagens or Chants. Use ocean thermals and energy to dive, dodge, barrel-roll, and twist to gain an advantage.
The Falconeer is an open-world air combat game, featuring fast, brutal aerial dogfights and deep exploration of an incredible fantasy open-world set not only above the clouds but also amongst the waves and down through the sunken, ocean depths."
Marvel's Spider-Man: Miles Morales
Date (Aus): 12/11/2020
Genre: RPG
Platforms: PS4, PS5
"In the latest adventure in the Marvel's Spider-Man universe, teenager Miles Morales is adjusting to his new home while following in the footsteps of his mentor, Peter Parker, as a new Spider-Man.
But when a fierce power struggle threatens to destroy his new home, the aspiring hero realizes that with great power, there must also come great responsibility. To save all of Marvel's New York, Miles must take up the mantle of Spider-Man and own it."
Demon's Souls
Date (Aus): 12/11/2020
Genre: ARPG
Platforms: PS4, PS5
"From PlayStation Studios and Bluepoint Games comes a remake of the PlayStation classic, Demon's Souls. Entirely rebuilt from the ground up and masterfully enhanced, this remake introduces the horrors of a fog-laden, dark fantasy land to a whole new generation of gamers. Those who've faced its trials and tribulations before, can once again challenge the darkness in stunning visual quality with incredible performance.
In his quest for power, the 12th King of Boletaria, King Allant channelled the ancient Soul Arts, awakening a demon from the dawn of time itself, The Old One. With the summoning of The Old One, a colourless fog swept across the land, unleashing nightmarish creatures that hungered for human souls. Those whose souls were stripped from them, lost their minds – left only with the desire to attack the sane that remained.
Now, Boletaria is cut off from the outside world, and the knights who dare penetrate the deep fog to free the land from its plight, are never seen again. As a lone warrior who has braved the baneful fog, you must face the hardest of challenges to earn the title "Slayer of Demons" and send The Old One back to its slumber."
The Pathless
Date (Aus): 12/11/2020
Genre: Adventure
Platforms: PC, PS4, PS5
"From the creators of ABZÛ, The Pathless is the mythic adventure of an archer and an eagle in a vast forest.
Explore an open world and travel to a mystical island to dispel a curse of darkness that grips the world. Together with your eagle companion, discover the history of the island, and fight epic battles to restore light to the land."
Godfall
Date (Aus): 12/11/2020
Genre: ARPG
Platforms: PC, PS5
"Save Aperion. You are the last of the Valorian knights, masters of combat equipped with legendary armor called Valorplates. Ascend in Godfall, a first-of-its-kind, looter-slasher, melee action-RPG."
Bugsnax
Date (Aus): 12/11/2020
Genre: Adventure
Platforms: PC, PS4, PS5
"Bugsnax takes you on a whimsical adventure to Snaktooth Island, home of the legendary half-bug half-snack creatures, Bugsnax. Invited by intrepid explorer Elizabert Megafig, you arrive to discover your host nowhere to be found, her camp in shambles, and her followers scattered across the island alone… and hungry!
It's up to you to solve the mysteries of Snaktooth Island: What happened to Lizbert? What are Bugsnax and where do they come from? But most of all, why do they taste SO GOOD?"
Sackboy: A Big Adventure
Date (Aus): 12/11/2020
Genre: Platformer
Platforms: PS4, PS5
"Iconic PlayStation hero Sackboy bursts back into breathtaking action with a huge, fun and frantic 3D multiplayer platforming adventure – and a whole new edgy sackitude!
And here's what's going down: 
The dastardly Vex (a near-mythical being born of chaos and fear, no less) kidnaps Sackboy's friends and forces them to build his Topsy Turver. 
This most deadly diabolical device will transform Craftworld from a fantastical land of pure imagination and innocent dreams… into a torrid, barren eyesore of nightmares. Ooh the fiend!
But legend tells of a prophecy from deep within the ancient order of the Knitted Knights, Craftworld's legendary protectors. For only the brave, fearless, chivalrous and, yes, gallant can save the day in an almost too dramatic for words race against time stuffed with danger and peril. So much peril.
Set off alone or with your bravest friends on a whirlwind of capers across the snowiest mountains, the leafiest jungles, the wettest underwater realms and the, uh, spaciest of space colonies.
Take down Vex. Save the sack-folk. Save the day. It's time to fulfill your destiny, Sackboy. From woolly wonderkid and hessian hero… rise our Knitted Knight."
Just Dance 2021
Date (Aus): 12/11/2020
Genre: Rhythm
Platforms: PS4, PS5, Xbox One, Xbox Series X/S, Switch
"Just Dance 2021 is the ultimate dance game, with 40 hot new tracks from chart-topping hits like "Don't Start Now" by Dua Lipa, "Feel Special" by TWICE, and "Señorita" by Shawn Mendes & Camila Cabello. Start a dance party your friends and family can enjoy!"
Call of Duty: Black Ops Cold War
Date (Aus): 13/11/2020
Genre: FPS
Platforms: PC, PS4, PS5, Xbox One, Xbox Series X/S
"The iconic Black Ops series is back with Call of Duty: Black Ops Cold War – the direct sequel to the original and fan-favourite Call of Duty: Black Ops.
Black Ops Cold War will drop fans into the depths of the Cold War's volatile geopolitical battle of the early 1980s. Nothing is ever as it seems in a gripping single-player Campaign, where players will come face-to-face with historical figures and hard truths, as they battle around the globe through iconic locales like East Berlin, Vietnam, Turkey, Soviet KGB headquarters and more.
As elite operatives, you will follow the trail of a shadowy figure named Perseus who is on a mission to destabilize the global balance of power and change the course of history. Descend into the dark center of this global conspiracy alongside iconic characters Woods, Mason and Hudson and a new cast of operatives attempting to stop a plot decades in the making.
Beyond the Campaign, players will bring a Cold War arsenal of weapons and equipment into the next generation of Multiplayer and Zombies experiences."
Kingdom Hearts: Melody of Memory
Date (Aus): 13/11/2020
Genre: Rhythm
Platforms: PS4, Xbox One, Switch
"Experience the music of KINGDOM HEARTS like never before! Melody of Memory features 20+ characters, 140+ music tracks, and online VS multiplayer mode. Explore the music and memories from the KINGDOM HEARTS series!
Play as familiar faces from the KINGDOM HEARTS series, including Disney guest characters who will appear to lend you a hand.
Enjoy a massive variety of music from both the KINGDOM HEARTS series and Disney, with a collection of over 140 songs. Dive into rhythm-action gameplay with memorable tunes in this can't-miss musical journey!"
Let's Sing 2021
Date (Aus): 13/11/2020
Genre: Rhythm
Platforms: PS4, Xbox One, Switch
"Battle your way to the top as a Solo superstar or against your friends! Mix it up and play the game your way with the latest rendition of the singing game Let's Sing. Let the music take control and lose yourself with songs like TONES AND I with "Dance Monkey". Become a legend on the stage with classics like "Kiss From A Rose" with Seal. Let's Sing 2021 offers you, the performer a great variety of songs and has a hit for everyone!
Grab the microphone and choose your song. If you don't have a USB microphone at hand, just transform your phone into a microphone with the Let's Sing Microphone-App and your performance begins straight away …the stage is all yours!"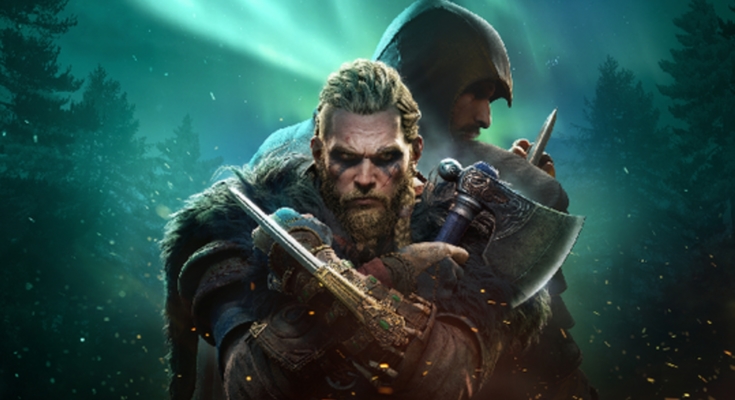 Assassin's Creed Valhalla
It's the biggest week in gaming for a very long time and so this decision would never be easy. But there is one series that has been absolutely killing it recently and that series is Assassin's Creed. The team at Checkpoint are very excited to check out this new release and to experience just what Ubisoft can achieve with one of its flagship franchises.
What new titles coming out are you most excited for this week? Be sure to let us know!
Don't forget last week's Coming Out to make sure you didn't miss anything.