Each week there are plenty of new games coming out. Although with so much going on it can be hard to keep track of them all. Thankfully Checkpoint is here to sift through them all and bring you our highlights of the week.
So let's jump in and have a look at what's coming out in gaming this week.
Twin Mirror
Date (Aus): 01/12/2020
Genre: Narrative Adventure
Platforms: PC, PS4, Xbox One
"Embark on a twisting, psychological journey through the struggles of homecoming and heartbreak, in narrative-driven branching adventure Twin Mirror.
Dive into the compelling emotional story of Sam, a 33-year old man recovering from a recent break-up, as he returns to his hometown of Basswood in West Virginia for the funeral of his best friend. 
Understandably depressed and bitter, he feels out of sorts and out of place… But when he wakes up in his hotel room with a bloody shirt and no memory of his whereabouts the previous night, he sets out to unravel the mystery and clear his name."
Worms Rumble
Date (Aus): 01/12/2020
Genre: Battle Royale
Platforms: PC, PS4, PS5
"Worms Rumble is Worms like you've never played it before, with intense, real-time, arena-based 32 player cross-platform combat. Get ready for Deathmatch and Last Worm Standing modes where you're only ever a Holy Hand Grenade away from death!
Use a variety of fan-favourite weapons like the Bazooka and Shotgun plus all-new additions to the armoury to bring the pain to your invertebrate opponents as you climb the ranks. Customise your worm, take part in challenges and seasonal events and experiment with new ways to play in The Lab. This is Worms, reinvented."
Empire of Sin
Date (Aus): 02/12/2020
Genre: Strategy
Platforms: PC, PS4, Xbox One, Switch
"Empire of Sin is a new strategy game brought to you by Romero Games and Paradox Interactive that puts you at the heart of the ruthless criminal underworld of 1920s Prohibition-era Chicago. Slip into the shoes of one of the fourteen real and historically inspired mob bosses such as Al Capone, Stephanie St. Clair, or Goldie Garneau and assemble a rag-tag gang, build and manage your criminal empire, and defend your turf from rival gangs. It's up to you to hustle, charm, and intimidate your way to the top and do whatever it takes to stay there – break a leg!"
Chronos: Before the Ashes
Date (Aus): 02/12/2020
Genre: Action RPG
Platforms: PC, PS4, Xbox One, Switch
"Chronos: Before the Ashes is an atmospheric RPG that chronicles a hero's lifelong quest to save their homeland from a great evil. Grow wiser, stronger and more powerful as you explore the depths of the mysterious labyrinth. But beware, the labyrinth takes a heavy toll – each time your hero dies, they lose a year of their life!"
Immortals Fenyx Rising
Date (Aus): 03/12/2020
Genre: RPG
Platforms: PC, PS4, Xbox One, Switch
"Play as Fenyx, a new winged demigod, on a quest to save the Greek gods and their home from a dark curse. Take on mythological beasts, master the legendary powers of the gods, and defeat Typhon, the deadliest Titan in Greek mythology, in an epic fight for the ages.
Immortals Fenyx Rising is a fresh and witty take on the open world action adventure genre, featuring dynamic action, combat and stories inspired by Greek mythology. Roam freely across a beautifully stylised world and use extraordinary abilities gifted by the gods against fearsome mythological monsters. Treacherous trials, heroic feats and the very underworld itself await your bravery. Experience a tale for the ages, of gods and monsters, and become the legend you were destined to be."
Sam & Max Save the World Remastered
Date (Aus): 03/12/2020
Genre: Point and Click Adventure
Platforms: PC, Switch
"In 2006, the comic book crime-fighting duo Sam & Max starred in the first full-fledged episodic game from Telltale, the studio that went on to make The Walking Dead and Batman: The Enemy Within.
Now everyone's favorite dog and rabbity-thing are back in Sam & Max Save the World Remastered, a new version of their first season of episodic games that has been lovingly updated by a small group of the original developers with the blessing of Sam & Max creator Steve Purcell.
Return to the adventure game that was once called "gaming's first sitcom" and is today known as "the remaster you didn't know you were waiting for." With enhanced graphics, new widescreen and gamepad support, five new musical tracks, and the same brain-tickling puzzles and offbeat humor that won it IGN's Best Adventure GOTY award back in the day, Sam & Max Save the World Remastered is a modern classic that you'll love to play—or play again."
Oniria Crimes
Date (Aus): 03/12/2020
Genre: Point and Click Adventure
Platforms: PC, PS4, Xbox One, Switch
"Oniria Crimes is an adventure game that takes place in Oniria, the Land of Dreams. Help Detective Santos and Inspector Torres to investigate crime scenes as part of the Rounders, a secret society that pursues crime in dreams.
Oniria Crimes is a combination of visual-novel-like story with point&click mechanics similar to graphic adventures, where the objects will help you to figure out what happened in the crime scene.
Oniria Crimes features a 6-chapter story with a mystery plot, oniric objects with their testimony, puzzles that hide key clues, dark voxel theme and appealing progressive music."
El Hijo – A Wild West Tale
Date (Aus): 03/12/2020
Genre: Strategy
Platforms: PC
"El Hijo – A Wild West Tale is an exciting spaghetti-western stealth game, in which you guide a 6-year-old boy on his quest to find his mother.
As a six-year-old, "El Hijo" must always sneak past the dangers of his world. As he overcomes his challenges, he gains self-confidence and cunning and with it more schemes to get past his foes. On his journey, he will find himself in a remote monastery, a harsh and unforgiving stretch of desert and a frontier town rife with crime and villainy."
Taiko no Tatsujin: Rhythmic Adventure Pack
Date (Aus): 03/12/2020
Genre: Rhythm
Platforms: Switch
"Taiko no Tatsujin RPG?! Join Don-chan in two exciting RPG adventures!
From the past to the future, Don-chan sets out on a great adventure that will transcend time and space and save the world from mysterious occurrences around the world in "Taiko no Tatsujin: Rhythmic Adventure Pack"."
Per Aspera
Date (Aus): 03/12/2020
Genre: Simulation
Platforms: PC
"The surface of Mars is littered with Humanity's failed attempts to colonize its surface. This time will be different – this time there is no room for human error.
Per Aspera is a planetary simulation game that combines hard science fiction and base building and takes the experience planet-wide. Step into the role of AMI, an Artificial Consciousness with the prime directive of terraforming Mars for human colonization."
Shiren the Wanderer: The Tower of Fortune and the Dice of Fate
Date (Aus): 03/12/2020
Genre: Roguelike
Platforms: PC, Switch
"Adventure with Shiren the Wanderer and his sidekick Koppa, the storytelling ferret, through a world filled with cunning monsters, deadly traps and countless treasure."
Morbid: The Seven Acolytes
Date (Aus): 03/12/2020
Genre: Action RPG
Platforms: PC, PS4, Switch
"Challenging foes, mini-bosses, and memorable large-scale boss fights with fully orchestrated music, are central to the world of Morbid. To overcome these obstacles you must master the combat, as well as improve your character and gear through a wealth of elements such as Quests, Perks, Runes, Upgrades, and Looting."
Haven
Date (Aus): 04/12/2020
Genre: Adventure RPG
Platforms: PC, Xbox One, PS5, Xbox Series S|X
"Yu and Kay have escaped to a forgotten planet, leaving everything they knew behind.
Play two lovers at the same time as they settle into an unknown world. Explore the planet looking for parts and material to fix your ship and make it a cosy home. Enjoy moments of everyday life as a relatable couple while cooking meals, crafting and collecting precious resources to make it to the next day.
Fight against those trying to tear you apart by synchronizing actions in combat, finding the perfect timing and rhythm, while controlling both characters and battling to keep them and their relationship alive.
In this unexpected RPG adventure, explore the beautifully eerie and unstable planet while enjoying the thrilling soundtrack of renowned musician, DANGER."
Fire Emblem: Shadow Dragon & the Blade of Light
Date (Aus): 04/12/2020
Genre: Tactical RPG
Platforms: Switch
"Meet Marth and recruit some of the most beloved Fire Emblem characters in their 8-bit glory as you play through all 25 chapters of this classic Famicom tactical role-playing game, localized and released for the first time in North America—for a limited time."
Fitness Boxing 2: Rhythm & Exercise
Date (Aus): 04/12/2020
Genre: Fitness
Platforms: Switch
"Jab, uppercut, dodge, and more to catchy pop tunes in this rhythmic boxing game! Pass a Joy-Con™ controller to an exercise buddy and box to the beat together.
Customize your workout with the help of a virtual instructor.
Choose from nine virtual instructors, select a challenge level from light to heavy and have a workout prepared for you by your trainer, or create one all by yourself from scratch in Free Training. Check out detailed examples, practice specific moves, and receive helpful feedback from your instructor to get the most out of your workout!"
Crumble
Date (Aus): 05/12/2020
Genre: Platformer
Platforms: PC
"Crumble is a physics platformer with a grappling tongue mechanic. Join the chaos of unstable platforms and unexpected destructions with this cute blue ball! Try to progress in exciting levels falling around you. Move like a Slime, jump like a Ball, swing like Spiderman!"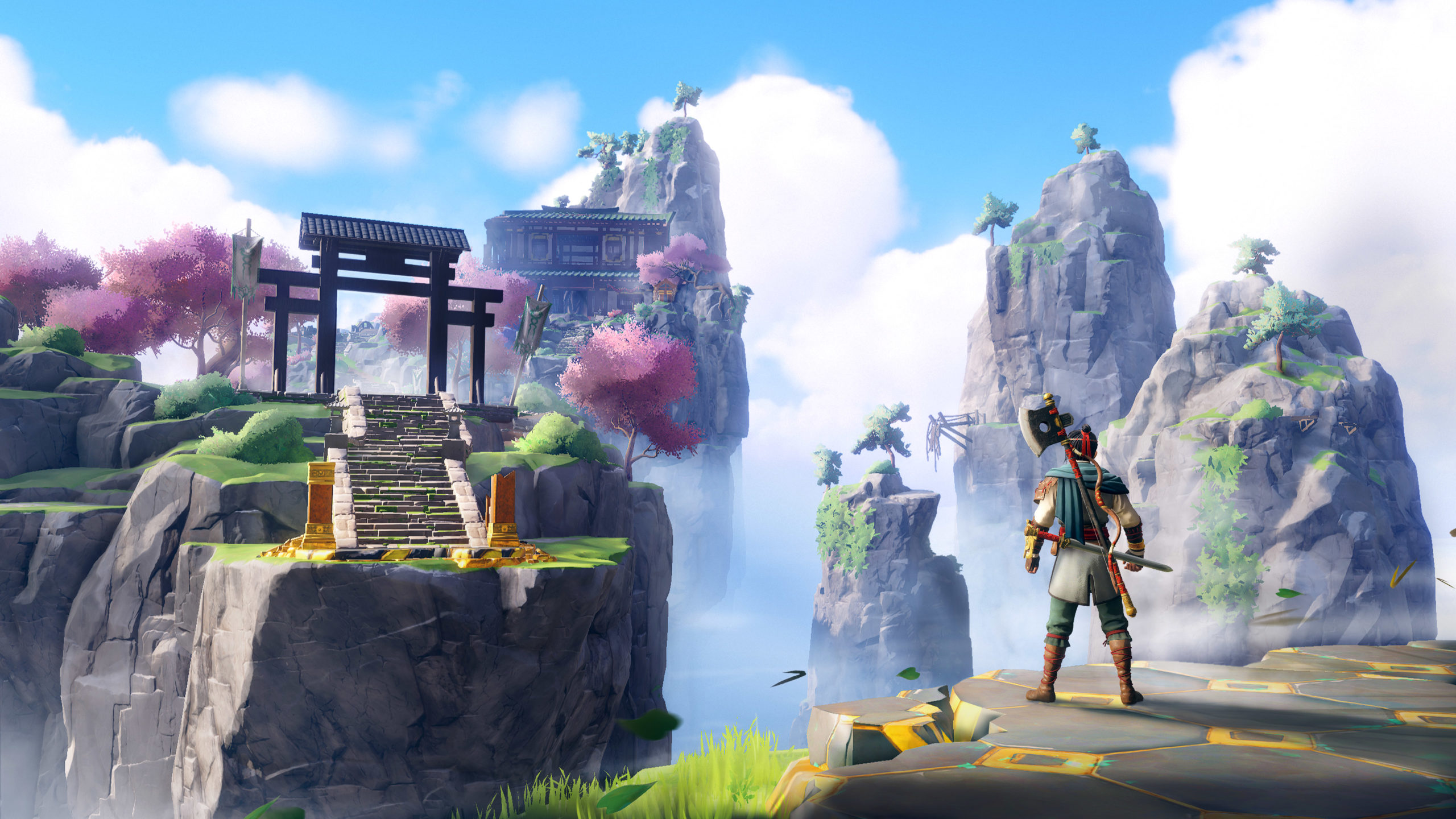 Immortals: Fenyx Rising
Yea, you could write this game off as an Ubisoft attempt at Breath of the Wild. But I don't know why that would be such a bad thing. The game looks gorgeous and interesting and we honestly can't wait to see this one in action. If it can capture even half of the charm of its inspiration then this is going to be a winner.
What new titles coming out are you most excited for this week? Be sure to let us know!
Don't forget last week's Coming Out to make sure you didn't miss anything.