Each week there are plenty of new games coming out. Although with so much going on it can be hard to keep track of them all. Thankfully Checkpoint is here to sift through them all and bring you our highlights of the week.
So let's jump in and have a look at what's coming out in gaming this week.
Drawn to Life: Two Realms
Date (Aus): 07/12/2020
Genre: Adventure
Platforms: PC, Switch
"The quirky Raposa and your drawn hero return in Drawn to Life: Two Realms, the next installment in the beloved franchise! You again take on the role of the Creator, unlocking the mysterious connection between the two worlds, and creating a Hero to save them both!"
Call of the Sea
Date (Aus): 08/12/2020
Genre: Adventure
Platforms: PC, Xbox One, Xbox Series X|S
"It is 1934, in the far reaches of the South Pacific. Norah has crossed the ocean following the trail of her missing husband's expedition and finds herself on a lush island paradise – a nameless, forgotten place, dotted with the remnants of a lost civilization.
What strange secrets does it hold, and what might Norah unearth in her quest for the truth?"
Monster Sanctuary
Date (Aus): 08/12/2020
Genre: RPG
Platforms: PC, PS4, Xbox One, Switch
"Embark on an epic adventure using the powers of the monsters you collect, and the team you build, to unlock an ever-expanding world. On your quest to become the ultimate Monster Keeper you'll unravel the cause of a mystery that threatens the peace between humans and monsters."
Puyo Puyo Tetris 2
Date (Aus): 08/12/2020
Genre: Puzzle
Platforms: PC, PS4, PS5, Xbox One, Xbox Series X|S, Switch
"Japan's beloved puzzle game series Puyo Puyo and the world-renowned Tetris® game franchise have teamed up again to deliver even more Puyo-popping and Tetrimino-clearing fun in Puyo Puyo Tetris 2. Playing is easy: match 4 or more same-colored Puyos or complete a line of blocks to clear them from your board and dump Garbage into your opponent's game. But keep an eye on what's coming your way too.
Play traditional Puyo Puyo and Tetris…or mix them together to level up your game. Offline or online, you'll have loads of modes that let you play the way you want from single-player Adventure to couch-competition Versus to ranked Online matches, and more."
Unto The End
Date (Aus): 10/12/2020
Genre: Action / Adventure
Platforms: PC, PS4, Xbox One
"Unto The End is a challenging combat adventure game in the style of a cinematic platformer. The story is simple: get home to your family. Master read-react combat in intense sword fights. Spot opportunities to trade and use items. An adventure told through your actions, how will you make it home?"
Cyberpunk 2077
Date (Aus): 10/12/2020
Genre: FPS / RPG
Platforms: PC,PS4, Xbox One
"Cyberpunk 2077 is an open-world, action-adventure story set in Night City, a megalopolis obsessed with power, glamour and body modification. You play as V, a mercenary outlaw going after a one-of-a-kind implant that is the key to immortality. You can customize your character's cyberware, skillset and playstyle, and explore a vast city where the choices you make shape the story and the world around you."
Myst VR
Date (Aus): 10/12/2020
Genre: Adventure
Platforms: Oculus Quest
"Explore the surrealistic Ages of Myst in a new dimension! Welcome to Myst: the starkly beautiful island, eerily tinged with mystery and shrouded in intrigue. Explore the deeper connections and uncover a story of ruthless family betrayal. Cyan, the indie studio that created the beloved classic, has reimagined Myst — built from the ground up for VR and available soon to play on Oculus Quest. With new art, sound, interactions, and even optional puzzle randomization – the highly anticipated Myst VR experience has finally arrived. Journey to the Ages, unravel the puzzles, and become part of the epic story."
Orwell's Animal Farm
Date (Aus): 11/12/2020
Genre: Adventure
Platforms: PC
"In Orwell's Animal Farm, the animals have fought off their exploitative human masters. Now they're in charge. Assign their tasks, manage their resources, choose their laws, and direct their propaganda. Determine which of the animals will make sacrifices and which will be "more equal than others."
George Orwell's 1945 novella was a scathing critique of totalitarianism in the early days of the Soviet Union. Since then, it has spoken to people of many ideologies in countries around the world. It offers a powerful awareness of how power can be abused – and of how generation after generation seeks a more just and equal society, where the many do not suffer at the hands of the few.
Orwell's Animal Farm brings the familiar characters and situations to the medium of a game, and to the context of 2020. Depending on how you play, you may encounter situations very close to those in the book, or others influenced by events Orwell never lived to see.
Play it to explore a classic tale from inside. Play it to try your hand at running the farm – or because you dream of spreading Animalism across the world. Play it because you've always wanted to oversee a construction project by a herd of cows. Play it because Boxer deserved better."
Medal of Honor: Above and Beyond
Date (Aus): 12/12/2020
Genre: FPS
Platforms: PC VR
"Medal of Honor: Above and Beyond is an action-packed, immersive VR experience set in World War II, where you step into the boots of an agent of the Office of Strategic Services (OSS) in war-torn Europe. A deep single-player campaign bursting with authentic detail takes you through historic events on land, air, and sea, sabotaging Nazi bases, subverting enemy plans, aiding the French Resistance, and partaking in the biggest moments of the war.
In addition to the rich narrative campaign, you'll be able to hone your skills in challenging combat exercises, go deeper into the history with award-winning short films created just for the game, and test yourself against your fellow soldiers in explosive, fast-paced multiplayer matches. Multiplayer modes take place on numerous sites across Europe and feature competitive modes where you fight alone, with a team, or even scramble to plant and diffuse timed explosives.
You'll need more than good aim to succeed in your mission. Use anything in the world as cover, throw back enemy grenades, swim from sinking ships, and dive out of burning airplanes. You'll have to stay on your toes if you want to make it out alive. You're not watching history, you're experiencing it, like never before."
Alba: A Wildlife Adventure
Date (Aus): 12/12/2020
Genre: Adventure
Platforms: PC
"From the BAFTA-Award winning studio behind Monument Valley and Assemble with Care comes something entirely new.
Join Alba as she visits her grandparents on a Mediterranean island. She is ready for a peaceful summer of wildlife exploration with her friend Ines, but when she sees an animal in danger, she realises she needs to do something about it.
This is truly a Mediterranean paradise if you ignore all the litter! From the idyllic beaches to the ancient castle overlooking the town a whole island is ready to be explored. With Ines and your grandfather – who is a total bird nerd – by your side, you can start the movement to save the island. Maybe even the world after that."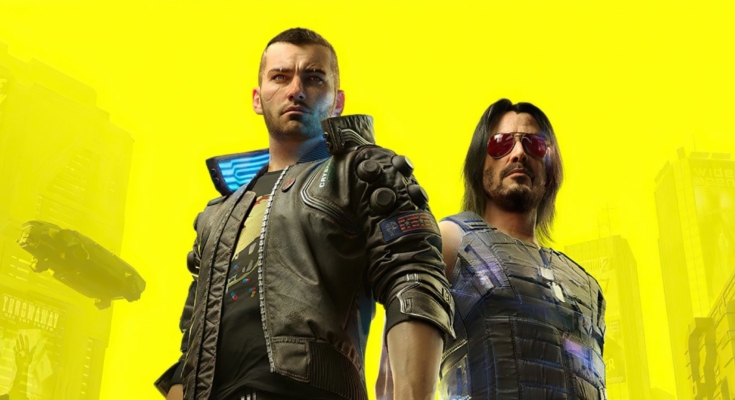 Cyberpunk 2077
It's hard not to be at least slightly curious about Cyberpunk 2077. The game is going to release next week and we should all expect it to be the only game people are talking about for a while. Releasing from the renowned Witcher developer, the game will be big. Whether that's for better or for worse is still yet to be seen.
What new titles coming out are you most excited for this week? Be sure to let us know!
Don't forget last week's Coming Out to make sure you didn't miss anything.