With Australia still engaging in a national debate surrounding the annual celebration of a day tarnished by historical violence and colonialism, we wanted to focus our energy in reaching out to local developers who have a deep passion and understanding of First Nations culture and video games.
We spoke with Brett Leavy, an Indigenous artist, Managing Director of Bilbie Virtual Labs, and creator of Virtual Songlines, representing the heritage and histories of First Nations people within an immersive and interactive VR experience. We also chatted with Phoebe Watson, an Indigenous Game Designer with DragonBear Studios, currently working on the upcoming magical co-op extravaganza Innchanted. Our full interviews with these two amazing individuals is available to listen to via podcast.
Brett Leavy is a Kooma person from Western Queensland with extensive knowledge of his culture, dedicating his "whole life about how we communicate connection" and helping others learn through technology. He exclaims, "that's my journey". Brett was one of the establishers of the First Nations national TV service we now know today as NITV, among many other arts and media initiatives. It's the best space to share ideas and expand knowledge of First Nations culture as a platform.
"… it's just the ability for us to tell people our great ideas, and everybody's got a great idea… great ideas are what moves our people together and collectively forward as a community."
Now, Brett and his team at Bilbie Virtual Labs are harnessing Virtual Reality to generate empathy and understanding of First Nations culture. They are crafting Indigenous people's ongoing connection to country, bringing people back to a natural landscape without city high-rises to experience a pre-colonised Australia.
Brett always knew that technology, radio and games, for example, are great spaces to "have a voice… allow people the time to explore these ideas and make them a reality". He knows how powerful building a virtual experience to explore First Nations culture and the philosophy of the world can be. Brett wants to challenge our understanding of our surroundings and environment, incorporating his culture's knowledge into Virtual Songlines.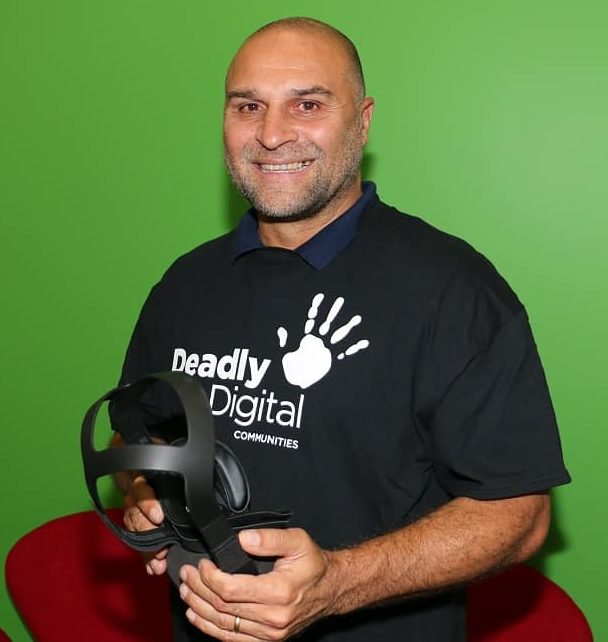 "…[Virtual Songlines] is a virtual cultural rendition of First Nations people, as many places as I can with those people who want to work with me, to tell their stories using this medium. This new emerging experience design incorporates all that knowledge that we've always known about space in a geospatial and temporal sense."
This innovative tool-kit demonstrates a new way to share stories and learn about the deep culture of the land we live on. Brett describes the project as a "virtual heritage landscape", based on a three-dimensional, topographical world representing the traditional land. This extraordinarily technical and ambitious undertaking requires a lot of research and advisory with First Nations people to appropriately build an accurate simulation, and it continues to grow.
"…all the knowledge we can find about First Nations caring, living, working, playing, hunting and gathering on their culture, on that landscape, and then reconstructing that as a three-dimensional, virtual forensic analysis of our connection to that space."
To recreate and reconstruct an interactive and immersive First Nations experience authentically, the project's humble team uses modern technology to finally realise the project. With the capabilities of Unity3D and the SDK development kit, Virtual Songlines can be cost-effectively developed. Users can step into a world often not seen in games, using their eyes to experience a lost way of life.
"…when you put those eyes onto cameras, those cameras can then generate that world any format you want. That format could be on a mobile phone as an AR app. It could be in VR goggles as 3D immersive space, and it could be on a PC, on a flat-screen behind a character that you could follow as a third-person view or as a first-person view."
There are now over fifty virtual heritage landscapes to explore using Virtual Songlines. These include Maiwar, Warrane, and Whadjuk. Soon, Brett and his team aim to bring the environments of Bankfoot, Kamay, Kambera, and more to everyone. Within each experience, the Bilbie Virtual Labs team wants to present a snippet of what the social life may have been like for First Nations people.
"…that's where I come back to this concept of gamification and the concept of cultural survival in the virtual sense. What do you do to get up in the morning? Where do you go? Who teaches you, who fills your vessel, your consciousness? That's where you go off, and you talk to elders, and they tell you knowledge."
"…if you do listen to those elders, elders tell you some amazing, important knowledge which allows you to continue on your virtual walkabout."
"1900 school teachers have come to me about the project… it's basically a virtual excursion."
Brett always wanted to share stories through games. In his second year of school as a child in 1972, he drew games on paper. From building worlds and tales on a simple piece of paper to realising his ambitions and potential with technology, growing bigger and bigger, he is now leading the development of such an innovative approach to sharing his culture with Virtual Songlines. VR has really come so far in games and its ability as a medium for education and entertainment.
Working independently, non-government funded, Brett has dedicated his team to ensure everything in the project is accurate and well-designed. He explains, "I've got some great programmers helping me. People who are animating an Aboriginal man swinging a bullroarer above his head and getting the physics of that bullroarer moving through the world, the flotation or the buoyancy of a canoe on the Sydney Harbour. The changing of the weather. The changing of the tides when the wind blows over the landscape or over the water and then causes greater waves that actually capsize that [canoe]."
"What happens when you don't successfully catch that wallaby and you come back to camp? What is your wife going to tell you? That's the virtual simulation we're trying to create."
Considering our recent chat with game developer Phoebe Watson about the lack of First Nations culture in interactive media, it's fantastic to hear from Brett that schools and education programmes around Australia are excited to use Virtual Songlines. Through educating students, kids, and people of all types at a wide variety of events, festivals, and galleries; it's more evident than ever that our country wants to understand the traditional culture of this land and make it mainstream.
It raises the question: how do you embed Indigenous perspectives in schooling and make it relatable? Brett Leavy and many other fledgling artists and developers have the answer.
"We give them a serious simulation of culture in a gamified way at their local level. So, someone at Wollongong can play the game in that historical setting and then get an understanding of that connection, to their people, at that place. You're in Melbourne. Imagine being able to walk along Yarra Yarra and then see the campsites along that point, catch some cod out of the water and take that to shore… All these things are part of the simulation of culture in the virtual world. It's the personification of Maslow's hierarchy of needs in a three-dimensional landscape. That's the work I'm doing."
You can follow Brett Leavy and his upcoming work on Virtual Songlines on his website.