Each week there are plenty of new games coming out. Although with so much going on it can be hard to keep track of them all. Thankfully Checkpoint is here to sift through them all and bring you our highlights of the week.
So let's jump in and have a look at what's coming out in gaming this week.
Monster Jam Steel Titans 2
Date (Aus): 02/03/2021
Genre: Racing / Sports
Platforms: PC, PS4, Xbox One, Switch
"More Trucks! New Worlds!
Monster Jam Steel Titans 2 features more fan-favorite trucks in brand new Monster Jam worlds!
Brand new online multiplayer modes, 38 trucks to choose from and five new outdoor worlds! Drivers train at Camp Crushmore and compete in authentic stadiums to become the ultimate champion! More Trucks! Truck roster features 38 of the greatest trucks in Monster Jam history, including Higher Education, Sparkle Smash and Grave Digger. New Worlds! Five all-new Monster Jam Worlds that expand the Monster Jam universe. Explore and uncover Monster Jam secrets. Competition! Compete just like the pros in 12 authentic stadiums and game modes inspired by the real-world shows! Perform your favorite stunts! Bicycles, Stoppies, Moonwalks, Walk Its, Cyclones, Pogos, Power Outs and Back-Flips.
Improved Gameplay! Enjoy a range of improvements in physics, career and exploration!"
Maquette
Date (Aus): 02/03/2021
Genre: Puzzle / Adventure
Platforms: PC, PS4, PS5
"Maquette is a first-person recursive puzzle game that takes you into a world where every building, plant, and object are simultaneously tiny and staggeringly huge. Maquette makes it possible by twisting the world into itself recursively in an MC Escher-esque fashion."
Sir Lovelot
Date (Aus): 04/03/2021
Genre: Action / Platformer
Platforms: PC, PS4, Xbox One, Switch
"Spring is in the air. Can you feel it?
Sir Lovelot surely can, and he's determined to roam the four corners of Lululand, from castle to castle, to find the love of his life!
Your goal is to collect a selection of gifts to offer the next awaiting damsel while avoiding treacherous hazards and fighting off weird creatures, all in the best possible time!
The game boasts over 40 hand-crafted levels of platforming goodness, from rope climbing and wall sliding to high jumping and water diving. Sir Lovelot can hold his breath really really long!
Off you go now, Sir Lovelot. You can do this!"
Gnosia
Date (Aus): 04/03/2021
Genre: Visual Novel / RPG
Platforms: Switch
"The crew of a drifting spaceship, facing off against a mysterious and deadly threat known as the "Gnosia" and having no idea who among them is really the enemy, formulate a desperate plan for survival. The most suspicious among them will be put into "cold sleep" one by one, in an effort to rid the ship of Gnosia.
Gnosia is a Sci-Fi Social Deduction RPG in which you will engage in discussion with a variety of unique characters, with the aim of identifying the Gnosia among the group. Players will have to use what information they can gather during the discussions to ascertain whom they think is Gnosia and then vote to put them into cold sleep. As you progress, your abilities will improve – but so will those of the crew.
As the numbers of crew members, Gnosia, and various "roles" increase, it will become increasingly difficult to determine who is telling the truth. Work in collaboration with or against other crew members to ensure your survival until the end."
The Life and Suffering of Sir Brante
Date (Aus): 04/03/2021
Genre: Strategy / RPG
Platforms: PC
"The Life and Suffering of Sir Brante is a narrative-driven RPG that comes to life on the pages of the protagonist's journal. Set in a ruthless world where any form of dissent is mercilessly crushed, the story follows a man who has dared to challenge the existing order. Set out on a lifelong journey and become an individual able to carve out their own destiny… But remember that freedom never comes cheap.

Life in the Great Arknian Empire is harsh and its hardest Lot is yours by the circumstance of birth. You are a commoner, holding no rights and no title. To seize your fate and become the rightful heir to the legacy of the Brante family you will have to come to grips with ossified tradition and prejudice. Embarking on a life-long journey from one's birth until true death, you will have to endure great upheavals, face adversity, and make many difficult choices. Every decision will affect not only the protagonist, his family, and loved ones, but may even topple the foundation of the Empire itself."
Everhood
Date (Aus): 04/03/2021
Genre: Action / Adventure / RPG
Platforms: PC, Switch
"Welcome to the world of Everhood
Where up is down
And left is right
Where time has stopped
And strange characters R O A M
Here you control a wooden doll whose arm has been stolen by a blue gnome…
Features
-Groove to music based battles
-Embark on a 5-6 hour journey with many twists and turns
-Expect the unexpected
-Enter a wild world with visceral visuals accompanied with magical music
-Conquer a great challenge that awaits the bold…"
Loop Hero
Date (Aus): 05/03/2021
Genre: Strategy / RPG
Platforms: PC
"The Lich has thrown the world into a timeless loop and plunged its inhabitants into never ending chaos. Wield an expanding deck of mystical cards to place enemies, buildings, and terrain along each unique expedition loop for the brave hero. Recover and equip powerful loot for each class of hero for their battles and expand the survivors' camp to reinforce each adventure through the loop. Unlock new classes, new cards, and devious guardians on your quest to shatter the endless cycle of despair."
Harvest Moon: One World
Date (Aus): 05/03/2021
Genre: Adventure / RPG
Platforms: Switch, PS4, Xbox One
"Trek across beaches, the desert, and even a volcano in the latest entry into the long-running Harvest Moon series! The Harvest Goddess has gone missing, and it's up to you to help bring her back! Along the way, you'll come across cows, sheep, camels, and even reindeer! Dig in, because in this game, the world is literally your oyster!
Before the Harvest Goddess disappeared from this world, she imbued the tiny Harvest Wisps with the knowledge of various seeds, thus ensuring the various fruits and vegetables of the world would not be lost. Using the power given to these Harvest Wisps, you'll unlock various seeds as you progress through the game! But the Harvest Wisps can be tricky to find, as they all appear at different times and places. You'll need to use your noggin to make sure to seek as many as you can of them out!"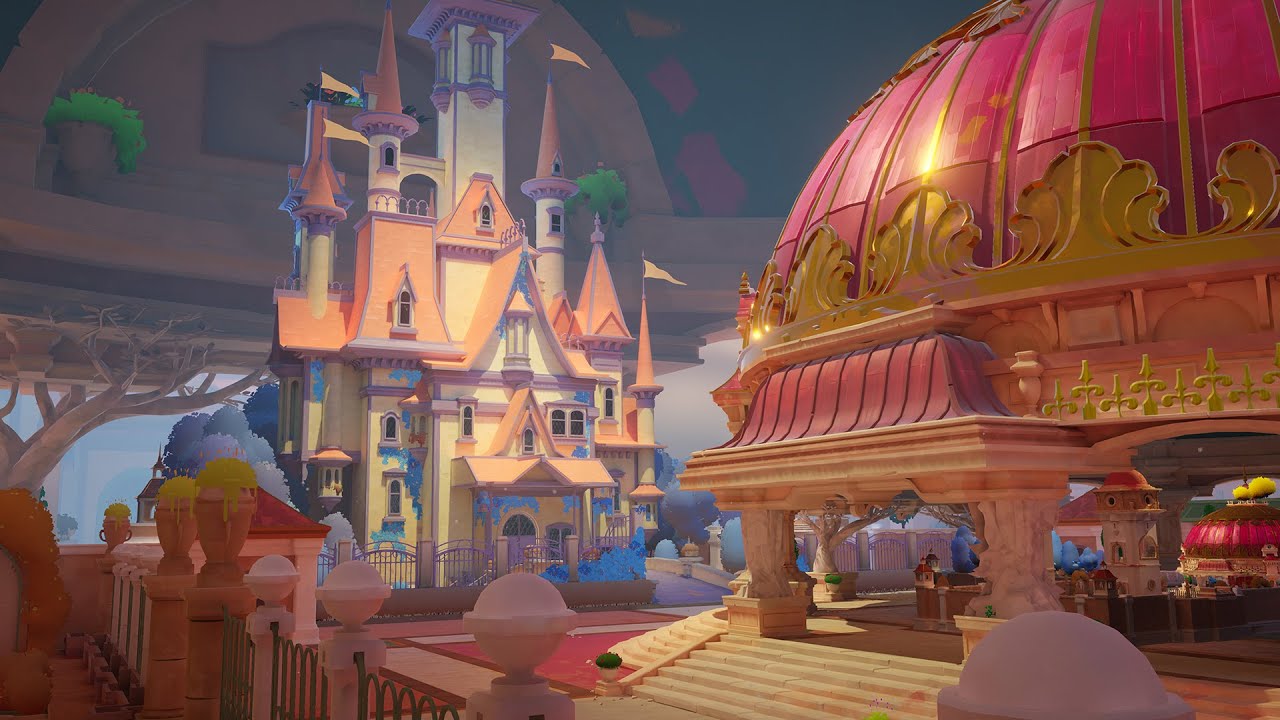 Maquette
Puzzle games that bring with them fun new concepts are such a treat! Having your world affected by a miniature version is a really cool idea. The fact that this game also tells of a love story that seems to go to a dark place has me already hooked. Additionally, it's coming to PS Plus this month, so why not give it a go?