Each week there are plenty of new games coming out. Although with so much going on it can be hard to keep track of them all. Thankfully Checkpoint is here to sift through them all and bring you our highlights of the week.
So let's jump in and have a look at what's coming out in gaming this week.
Saviors of Sapphire Wings / Stranger of Sword City Revisited
Date (Aus): 16/03/2021
Genre: RPG / Dungeon-Crawler
Platforms: PC, Switch
"Discover a tale of war, darkness, and the power of bonds, coming to the West for the first time! The world is plunged into ruin after Ol=Ohma, the Overlord of Darkness, defeats the Knights of the Round, the last bastion of defense for mankind. 100 years later, a fallen hero returns to life and must lead a new generation of heroes to defeat Ol=Ohma's forces and restore light and hope to the world.
Explore dungeons, use traps and combat prowess to defeat powerful monsters, and bond with your allies to unlock their true potential in this RPG gem. In Stranger of Sword City Revisited, you are transported to a world of gods and magic where Light, Darkness, and Neutrality hang in a delicate balance. Join your fellow Strangers in a dark story where you have the power to change the fate of Sword City! Brimming with additional content such as expanded character creation options, in-game events, and new items and equipment, this remastered version of the original dungeon-crawling hit comes bundled with Saviors of Sapphire Wings as a bonus game!"
Eximius: Seize the Frontline
Date (Aus): 16/03/2021
Genre: Action / Strategy
Platforms: PC
"Eximius is a Strategic Action Shooter (FPS/RTS Hybrid) that focuses on squad-based combat. Eximius combines tactical First Person Shooter gameplay with high level strategic decision-making of a Real-time Strategy(RTS) game. The game features a competitive 5v5 team battles where players square off in a post apocalyptic urban environment.
Play as a Commander ( RTS ) ; build base, train an army and call down support abilities to help your allies on the ground to gain territory.
Play as an Officer ( FPS ) ; lead your infantry squad into combat and crush your enemies with your agile tactics or brute force. Capture resources for your team, upgrade weapons and equip battlesuits suitable for your combat role."
Neptunia Virtual Stars
Date (Aus): 16/03/2021
Genre: RPG / Dungeon-crawler
Platforms: PS4
"In a dimension called Virtualand, the virtual planets that exist within it contain an extraordinary ability to produce a commodity known as content. Of these celestial bodies is a tranquil planet known as EMO. This was the latest target of a nefarious group whose sole purpose is to destroy content created by virtual planets… Anti. Their decimation of EMO has left its citizens hopeless.
Just then, VTubers, popular live streamers from Earth, were suddenly transported to Virtualand. Because VTubers possess an affinity for creating good content, they were obvious targets for Anti, who quickly captured them and turned them into data pockets known as V Cubes.
Fair, the Virtual Goddess and leader of Planet EMO, sent out a distress signal to multiple dimensions in the hopes of a miracle. Two groups received the signal the rising VTuber stars, Mi and Yu, members of MEWTRAL, as well as the Goddesses of Gamindustri: Neptune, Noire, Blanc, and Vert. Both parties, now entering unfamiliar terrain, decide to team up to duke it out against Anti! Can they band together and save planet EMO from complete destruction?"
R.B.I. Baseball 21
Date (Aus): 17/03/2021
Genre: Sports
Platforms: PC, PS4, Xbox One, Switch
"PLAY YOUR WAY. Create a legacy and make a statement. The world of MLB awaits in R.B.I. Baseball 21. R.B.I. is the fast-paced, easy-to-learn baseball franchise perfect for anyone who wants to pick up and play, and R.B.I. Baseball 21 brings new features including create-a-player, play-by-play commentary, immersive time-of-day, and incredible visual improvements. Step up to the plate, crush home runs, and take your club to a World Series title in R.B.I. Baseball 21."
Red Ronin
Date (Aus): 17/03/2021
Genre: Action / Strategy
Platforms: PC
"Red Ronin is a Tactical Turn-based but fast paced dash 'n slash game where a bloodthirsty ronin and her companion bot searches for revenge.
After being betrayed by her former team, Red embarks with her companion bot ISAAC in a non stop revenge journey to eliminate everyone who left her behind."
Mundaun
Date (Aus): 17/03/2021
Genre: Adventure / Horror
Platforms: PC, PS4, PS5, Xbox One, Xbox Series X, Switch
"Mundaun is a lovingly hand-pencilled horror tale set in a dark, secluded valley of the alps. Explore various areas full of secrets to discover, survive hostile encounters, drive vehicles, fill your inventory and solve a variety of hand-crafted puzzles.
After learning of his grandfathers mysterious death in a fire, the protagonist travels to Mundaun for the first time since childhood. He will soon discover that something old and diabolical is haunting the remaining inhabitants. The quest to find out the meaning behind these sinister events takes the player on an odyssey up Mundaun mountain: From steep meadows across stony fields and to the snow-covered peak."
Endzone: A World Apart
Date (Aus): 18/03/2021
Genre: Strategy / Simulation
Platforms: PC
"In 2021, a group of terrorists blew up nuclear power plants around the world and plunged the world into chaos. Only few were able to escape into underground facilities called "Endzones". 150 years later, mankind returns to the surface – under your command! In an extremely hostile environment full of radioactivity, contaminated rain and extreme climate change, you'll have to prove your worth as a leader."
Dogworld
Date (Aus): 19/03/2021
Genre: Action / Platformer
Platforms: PC
"Shoot, jump, and slide your way through a ruined, mysterious, dog-filled world as you fight to save humanity from the clutches of a rogue AI named Daddy. Acquire new weapons, upgrade them to be more powerful, collect secrets, meet bizarre characters, and explore the ruins of a destroyed world."
Fate of Kai
Date (Aus): 19/03/2021
Genre: Adventure / Puzzle
Platforms: PC
"Fate of kai is a unique and innovative experience in the puzzle genre. Discover Kai's story by walking through the beautiful panels of a magical hand-illustrated book. Explore each chapter like a maze, and modify the characters' ideas to move the plot forward in the correct direction."
Root Film
Date (Aus): 19/03/2021
Genre: Adventure / Visual Novel
Platforms: PS4, Switch
"Root Film is a thrilling adventure game with visual novel elements. Follow Rintaro Yagumo as he is selected to be the director for the rebooted "Shimane Mystery Drama Project", a TV series which was cancelled for an unknown reason 10 years ago. His excitement for this amazing opportunity is quickly curbed when a horrible murder interrupts their location scouting process.
Follow him and a cast of unique and memorable characters as they are drawn deeper into a thrilling mystery. Become your own detective as you unravel the truth through investigative gameplay mechanics, adding a new layer onto the visual novel formula."
Derelict Void
Date (Aus): 19/03/2021
Genre: Simulation / Strategy
Platforms: PC
"It must have been an accident. An entire star system's worth of ships have abruptly been torn away from the universe they knew. It's up to you to salvage the remnants of civilization.
Damaged and disoriented, can you and your crew scrape together enough of civilization to survive?"
Sizeable
Date (Aus): 20/03/2021
Genre: Puzzle
Platforms: PC
"Sizeable is a puzzle/exploration game about shrinking and growing the environment in order to find all the hidden objects that every little diorama hides! What if you where given the power to shrink the moon? Or maybe the sun? Or maybe every house, tree, planet,…?In Sizeable you receive the power to do exactly that! Use your resizing powers to manipulate the objects around you. Shrink the moon and lower the tide or resize a cloud to make it super windy! Puzzle your way through every level!"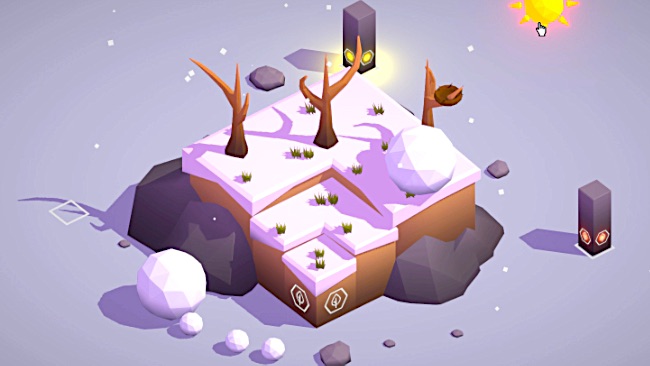 Sizeable
You can never go wrong with a good puzzle! Sizeable looks simple, pleasant and colourful, and an easy choice for all ages to enjoy.