Each week there are plenty of new games coming out. Although with so much going on it can be hard to keep track of them all. Thankfully Checkpoint is here to sift through them all and bring you our highlights of the week.
So let's jump in and have a look at what's coming out in gaming this week.
Inspector Waffles
Date (Aus): 23/03/2021
Genre: Pixel / Adventure
Platforms: PC
"Inspector Waffles was hoping his worst days were behind him, but the murder of a high-profile industrialist CEO beloved by the citizens of Cat Town raises new questions and fears. Being the best inspector on the CTPD, Waffles has no choice: he's gotta push past the painful memories, don his well-worn overcoat, and prepare to get his paws dirty.
A detective story reminiscent of the old school classics, Inspector Waffles provides plenty of peculiar mystery, a story full of intrigue, and a slew of characters to interrogate, all wrapped into beautifully simple pixel-art. Will you be able to sniff out every clue and nab the murderer?"
Story of Seasons: Pioneers of Olive Town
Date (Aus): 23/03/2021
Genre: RPG
Platforms: Switch
"Welcome to Olive Town, a peaceful community established by your trailblazing grandfather and his friends. Now that you've taken over his farm, it's your job to carry on his legacy.
Plant crops, raise animals, build relationships, and get to know the residents of your new home in this brand-new entry in the STORY OF SEASONS series!"
Arkham Horror: Mother's Embrace
Date (Aus): 23/03/2021
Genre: Adventure / RPG
Platforms: PC, PS4, Xbox One, Switch
"Inspired by the award-winning board game franchise, Arkham Horror: Mother's Embrace is an investigation game served with turn-based combat, set in the  haunted worlds of H.P. Lovecraft's Cthulhu mythos. Plunge into an original story written by Fantasy Flight Interactive's official writers and explore the American Roaring Twenties.
The year is 1926: a professor of astronomy is found dead in her mansion and everything indicates that she has been the victim of a heinous murder. Choose from 12 intrepid investigators from the Arkham Horror games, each with a unique set of skills, and assemble your team to shed the light over this mysterious death."
Sanity of Morris
Date (Aus): 24/03/2021
Genre: Adventure / Horror
Platforms: PC, PS4, Xbox One
"After years of next to no contact, Johnathan Morris arrives in the isolated town of Greenlake to check up on the mental state of his father. Nothing is as he expected it to be. There are deadly forces at work that don't want John snooping around.
Equipped with nothing more than a flashlight and a notebook, it is up to you to step into the shoes of Johnathan and tell fact from fiction."
Dandy Ace
Date (Aus): 25/03/2021
Genre: Action / Rogue-like
Platforms: PC
"Dandy Ace is an over the top fast-paced roguelike experience that follows a fabulous magician seeking to combine and use his magical cards while fighting and looting his way to defeat the Green-Eyed Illusionist, Lele, who has imprisoned him in a cursed mirror. While battling your way through Lele's ever changing palace, combine different cards with more than a thousand possibilities, each with their own playstyles and powers. Every run provides new challenges and combinations for players to explore as they progress closer to Lele.
Play as Dandy Ace, the amazing hero, and survive the challenges of the extravagant, lavish and ever changing palace created to defeat him filled with bizarre creatures and outrageous bosses. Find all of the magical cards, gather shards and gold, and get help from his assistants and unconventional allies."
Clea 2
Date (Aus): 25/03/2021
Genre: Survival Horror
Platforms: PC, Switch, Xbox One, Xbox Series X|S
"Four years have passed since the Whitlock Mansion tragedy. Florine, a former maid, is determined to resurrect the person who means everything to her. To succeed, she must travel past the third dimension and into the realms beyond. Otherworldly horrors lie in wait, but Florine is determined to soldier on.
This, after all, is her final chance at redemption."
Balan Wonderworld
Date (Aus): 26/03/2021
Genre: Action / Platformer
Platforms: PC, PS4, PS5, Xbox One, Xbox Series X, Switch
"Welcome to a wonderous all-action show, the likes of which has never been seen before!
BALAN WONDERWORLD is a wondrous action platformer game themed around the Balan Theatre. Led by the enigmatic maestro named Balan, the stars of the show Emma and Leo will use special abilities from a multitude of characterful costumes as they adventure in the bizarre and imaginary land of Wonderworld. Here memories and vistas from the real world mix with the things that people hold dear.
Twelve different tales await our stars in the Wonderworld, each with their own unique quirks. They will explore all corners of these labyrinthine stages, filled with a myriad of tricks and traps, to get to the heart of each story."
Genesis Noir
Date (Aus): 26/03/2021
Genre: Adventure / Puzzle
Platforms: PC, Xbox One, Switch
"You play as No Man, a watch peddler caught in a love triangle with other cosmic beings, Miss Mass and Golden Boy. When your affair turns into a bitter confrontation, you will witness a gunshot fired by a jealous god—otherwise known as The Big Bang. Jump into the expanding universe and search for a way to prevent or destroy creation and save your love."
Spacebase Startopia
Date (Aus): 26/03/2021
Genre: Simulation / Strategy
Platforms: PC, PS4
"Spacebase Startopia captivates with its original mixture of economic simulation and empire building strategy paired with classic RTS skirmishes and a good dose of humor. In addition to the challenging single player Campaign and the versatile battle mode, there are also competitive and cooperative multiplayer modes for up to four players. And as if maintaining the three Space Station Decks, entertaining the eight Alien races and defending against enemy invaders were not enough of a challenge, the dynamic narrator AI is not going to mince matters and commentates the events in a lovely but sharp-tongued manner."
Monster Hunter Rise
Date (Aus): 26/03/2021
Genre: Action / RPG
Platforms: Switch
"The critically acclaimed action-RPG series returns to the Nintendo Switch™!
Set in the ninja-inspired land of Kamura Village, explore lush ecosystems and battle fearsome monsters to become the ultimate hunter. It's been half a century since the last calamity struck, but a terrifying new monster has reared its head and threatens to plunge the land into chaos once again.
Hunt solo or in a party with friends to earn rewards that you can use to craft a huge variety of weapons and armor. Brand new gameplay systems such as the high-flying 'Wire Action' and your canine companion 'Palamute' will add exciting new layers to the already robust combat that Monster Hunter is known for.
Whether it's at home, on the go, online or offline – you'll always be ready for your next hunt on the Nintendo Switch™!"
Kaze and the Wild Masks
Date (Aus): 26/03/2021
Genre: Action / Platformer
Platforms: PC, PS4, Xbox One, Switch
"In Kaze and the Wild Masks, you journey through the Crystal Islands in 90's classics platformer style. Play as Kaze and save your friend Hogo from a curse that spread chaos around the islands. Face enraged living vegetables by invoking the powers of the Wild Masks. Pounce ferociously like a tiger, soar through the sky like an eagle, sprint fiercely like a lizard and rule the sea like a shark."
It Takes Two
Date (Aus): 27/03/2021
Genre: Action / Adventure
Platforms: PC, PS4, PS5, Xbox One, Xbox Series X
"Embark on the craziest journey of your life in It Takes Two, a genre-bending platform adventure created purely for co-op. Invite a friend to join for free with Friend's Pass* and work together across a huge variety of gleefully disruptive gameplay challenges. Play as the clashing couple Cody and May, two humans turned into dolls by a magic spell. Together, trapped in a fantastical world where the unpredictable hides around every corner, they are reluctantly challenged with saving their fractured relationship.
Master unique and connected character abilities in every new level. Help each other across an abundance of unexpected obstacles and laugh-out-loud moments. Kick gangster squirrels' furry tails, pilot a pair of underpants, DJ a buzzing night club, and bobsleigh through a magical snow globe. Embrace a heartfelt and hilarious story where narrative and gameplay weave into a uniquely metaphorical experience.
It Takes Two is developed by the award-winning studio Hazelight, the industry leader of cooperative play. They're about to take you on a wild and wondrous ride where only one thing is for certain: we're better together."
Metal Heads (Early Access)
Date (Aus): 27/03/2021
Genre: Action / Multiplayer
Platforms: PC
"Metal Heads is solo developed, crazy multiplayer party game with head-banging metal music, where up to 8 players compete in mini-games and board game modes with a whole lot of insane mini-games that are easy to play, but difficult to master."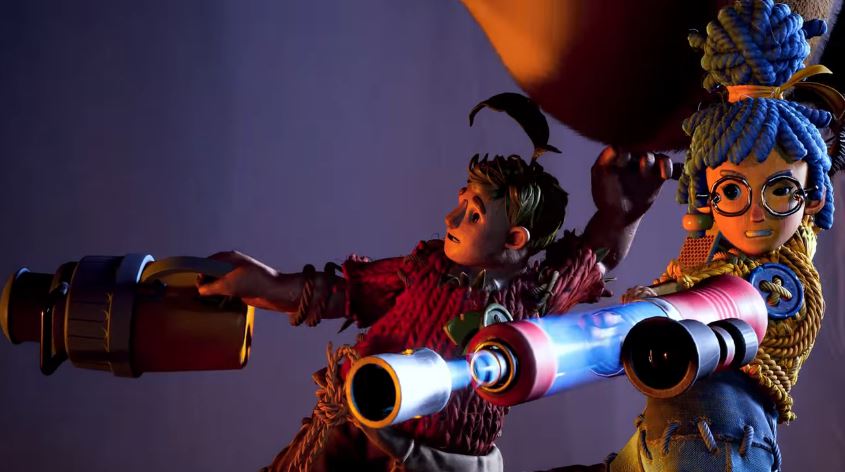 It Takes Two
A game that certainly looks fun and fresh! If it plays out like the trailer at all, we can expect to have an almost movie-like experience. Make sure to grab a buddy for this one!