Each week there are plenty of new games coming out. Although with so much going on it can be hard to keep track of them all. Thankfully Checkpoint is here to sift through them all and bring you our highlights of the week.
So let's jump in and have a look at what's coming out in gaming this week.
Evil Genius 2: World Domination
Date (Aus): 30/03/2021
Genre: Strategy / Simulation
Platforms: PC
"Evil Genius 2 is a satirical spy-fi lair builder, where players take control of an Evil Genius and set their plans for world domination in motion. When it feels this good to be bad, the Forces of Justice don't stand a chance!
Build your own unique evil lair and cover operation, Train a force of criminal minions, Defend your Lair from the Forces of Justice, and Dominate the world with a Doomsday Device in this direct sequel to the 2004 cult classic!"
Disco Elysium – The Final Cut
Date (Aus): 30/03/2021
Genre: RPG
Platforms: PC, PS4, PS5
"Disco Elysium – The Final Cut is the definitive edition of the smash-hit RPG. Pursue your political dreams in new vision quests, meet and question more of the city's locals, and explore a whole extra area. Also enjoy full voice-acting, controller support, and expanded language options.
Get even more out of this award-winning open world. You're a detective with a unique skill system at your disposal and a whole city block to carve your path across. Interrogate unforgettable characters, crack murders, or take bribes. Become a hero or an absolute disaster of a human being."
Shelter 3
Date (Aus): 30/03/2021
Genre: Adventure
Platforms: PC
"Shelter 3 is a game where wisdom, empathy and leadership play an important role in your survival. As a new mother you must protect your calf, but you must also take responsibility for the whole herd, protecting old and young from lurking predators and the threat of starvation. What's more, the matriarch has given you the responsibility of steering the herd to an important destination and difficult choices will need to be made on the way."
Narita Boy
Date (Aus): 30/03/2021
Genre: Adventure / Platformer
Platforms: PC, PS4, Xbox One, Switch
"Flashback to the 80s. The Creator, a genius of his time, creates a video game console called Narita One with its flagship title being a game called Narita Boy.
Narita Boy becomes a tremendous hit! Copies of cartridges are flying off physical shelves worldwide. Within weeks Narita Boy is the best-selling video game of all time, critically acclaimed for its power-fantasy wielding the Techno-sword and taking players on a journey like no other.
Meanwhile, inside the binary code, the digital realm connects with reality. Him has returned and deleted The Creator's memories. Supervisor program, Motherboard, and her agents have activated the Narita Boy protocol.
The Stallions are coming, and the Digital Kingdom needs a hero."
I Saw Black Clouds
Date (Aus): 30/03/2021
Genre: Interactive Film
Platforms: PC, PS4, Xbox One, Switch
"After the unexpected death of a close friend, Kristina returns to her hometown looking for answers, only to unearth a string of dark secrets. The truth turns out to be far more harrowing than she could have imagined…
I Saw Black Clouds is an interactive psychological thriller with supernatural elements and branching storylines. How you connect with the characters and the moral choices you make along the way will affect what you discover, the journey you take, and the resolution you find at the end.
For every decision you make, every interaction, your character's decisions, personality and relationships are being tracked. You are rewarded with a breakdown to evaluate how you are playing the game. Discover five dimensions of your own personality; honesty, strength, morality, tact and introspection — whilst controlling how the character faces their challenges; denial, acceptance, or guilt. How will you play?"
Drive Buy
Date (Aus): 31/03/2021
Genre: Action / Racing
Platforms: PC, Switch
"Drive Buy is a cross-play car combat game with a delivery twist.
To win, drivers must hustle the most deliveries and shake down rival drivers with powerups. The intoxicating mix of deliveries and rivalries sets the perfect stage for peacocking, surprise and revenge."
OUTRIDERS
Date (Aus): 02/04/2021
Genre: Action / RPG
Platforms: PC, PS4, PS5, Xbox One, Xbox Series X
"OUTRIDERS is a 1-3 player co-op RPG shooter set in an original, dark and desperate sci-fi universe.
As mankind bleeds out in the trenches of Enoch, you'll create your own Outrider and embark on a journey across the hostile planet.
With rich storytelling spanning a diverse world, you'll leave behind the slums and shanty towns of the First City and traverse forests, mountains and desert in the pursuit of a mysterious signal.
Combining intense gunplay with violent powers and an arsenal of increasingly twisted weaponry and gear-sets, OUTRIDERS offers countless hours of gameplay from one of the finest shooter developers in the industry – People Can Fly."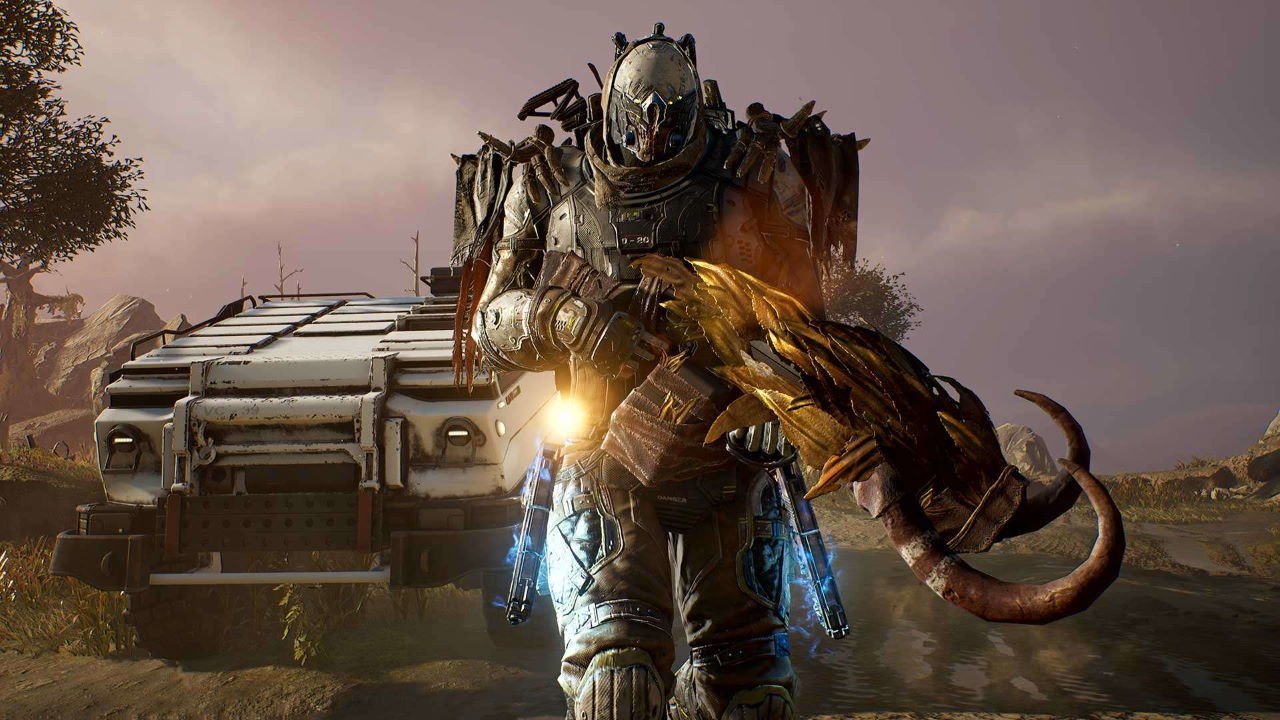 Outriders
The graphics look stunning and the gameplay customisable and fun. A promising new shooter for the action lovers to dig their teeth into.