Diablo 2: Resurrected was shockingly announced only a few months ago in early 2021. Blizzard plans to refresh the game with updated visuals, quality of life changes, and all in a stunning 4k (2160p). For the veterans, a simple key-press will swap back and forth between the new graphics and the original style. However, with Blizzard's unfortunate record with remastering their classics, there's much concern whether this will be any different… well, it seems Blizzard is listening to their fans.
From Friday 9 April until Tuesday 13 April, we've had the chance to play Diablo 2: Resurrected Technical Alpha. This preview lets players explore the first two acts of Diablo 2, navigating through the areas of eastern Khanduras, the Rogue Encampment, and the sands of Lut Gholein. The Barbarian, Amazonian, and Sorceress playable classes are on offer during this short period – and they look and feel terrific.
The new visuals allow the characters to express so much more emotion, movement, and personality. There's a new dimension (almost literally) of character that is given in this remaster. Some fans are hesitant about the updated models, disliking some of the changes to outfits. Although making appropriate changes to what was more revealing clothing seems like a smart move to stay socially appropriate and realistic. For example, the Barbarian's physique is much more realistic now and many female characters have better-covering armour. Although, there are valid criticisms about equipment not sitting right, like the Rogue Mercenary's quivers.
Diablo 2 plays just as expected with minimal changes to the core gameplay and feel. There are two keyboard and mouse control schemes for original mapping and an updated style like Diablo 3's. While options still feel limited, like toggling to view dropped items still missing, this is admittedly a testing phase and all feedback is welcomed.
Controller support is absolutely remarkable – maybe the best for any remastered game. It feels fluent, intuitive, and the control scheme has been carefully considered. There is a completely different UI for inventory and menus when using a controller, helping to make it as easy as ever to navigate. It may be the best way to play, giving adventurers six usable abilities at a time, rather than two that a keyboard and mouse has. Obviously, this strays from the original game but having three times the skills at the touch of the button is certainly inviting. Unfortunately, remapping options aren't available yet and the inventory uses a cursor, though these may be changed by full release.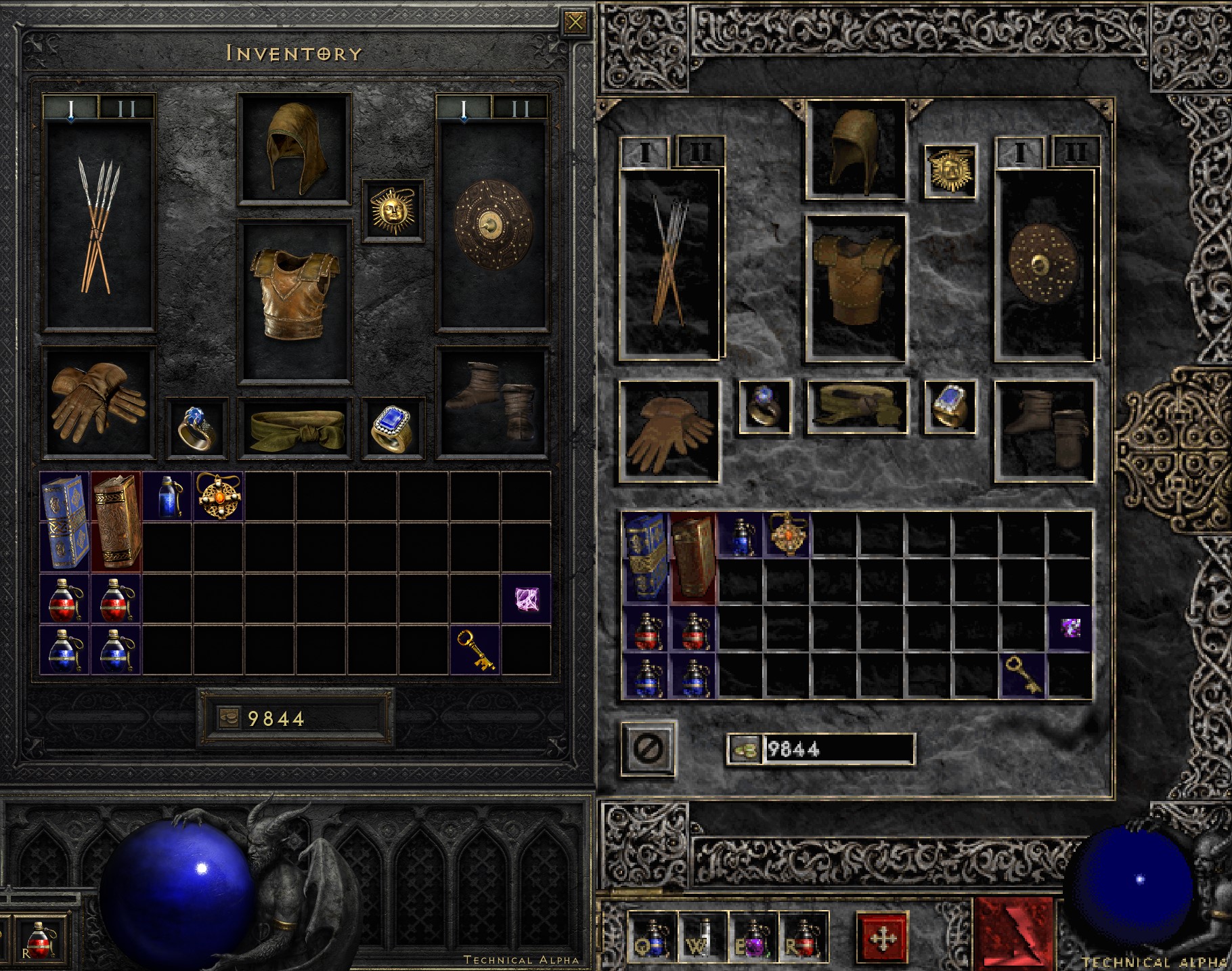 Inventory management remains finicky, with automatic space optimising not working (at least in this build). With such minimal on-character storage, it feels like every three minutes you need to return to town to sell items or drop things you don't need. It does feel like some quality of life changes, like stackable potions, for example, might've been incredibly useful here. Adversely, I can understand loyal fans wanting the purest experience possible – which this is.
Immediately after jumping in, the superb visuals are on display. The world of Sanctuary is dark, muddy, and filled with dread. Open plains are barren and abundant with foul demons, while the caves and dens are equally as spooky. The small additions in detail on the health and mana statues in the UI are a small but welcome addition to support bringing this game into the new age.
It's not all gloomy, though. Abandoned houses and more intricate structures show off the amount of detail added to the environment. There is clearly a lot of passion and care put into these updated visuals from developers who grew up playing the original. With a simple press of a button, adventures will be transitioned to the classic view and aspect ratio. It's a shocking sight viewing them side-by-side, but it really presents how much had to be done to replicate the atmosphere and tone.
The original Diablo 2 is based upon sprites, whereas Diablo 2: Resurrected has a completely reworked engine using 3D models. It was an impressive feat to see the old-school style represented so well while still being technically completely new. It feels almost exactly as it used to.
The audio is another big element that adds to the tone of the game. This hasn't been left on the side, either. Sounds of groaning enemies, flickering flames, and the ambience of the Monastery are expertly redone. Swapping back and forth between the two styles, once again, shows how closely these sound effects have been matched. There is still something about the older sounds that are rawer and more ominous over the cleaner sounds, but that will always be lost with more refined audio.
One addition I would've liked to see made was remastered cutscenes. Blizzard has always been known for its outstanding animations, especially with their newest games like Overwatch and Diablo IV trailers. While the original scenes are included in this package as they were back in 2000, I can't help but feel a sorely missed opportunity for the talented animators to stretch their legs. Imagine the ominous and nostalgic scenes from Diablo 2 reimagined with the epic visuals and audio of the recent Diablo IV rogue trailer. A truly missed opportunity.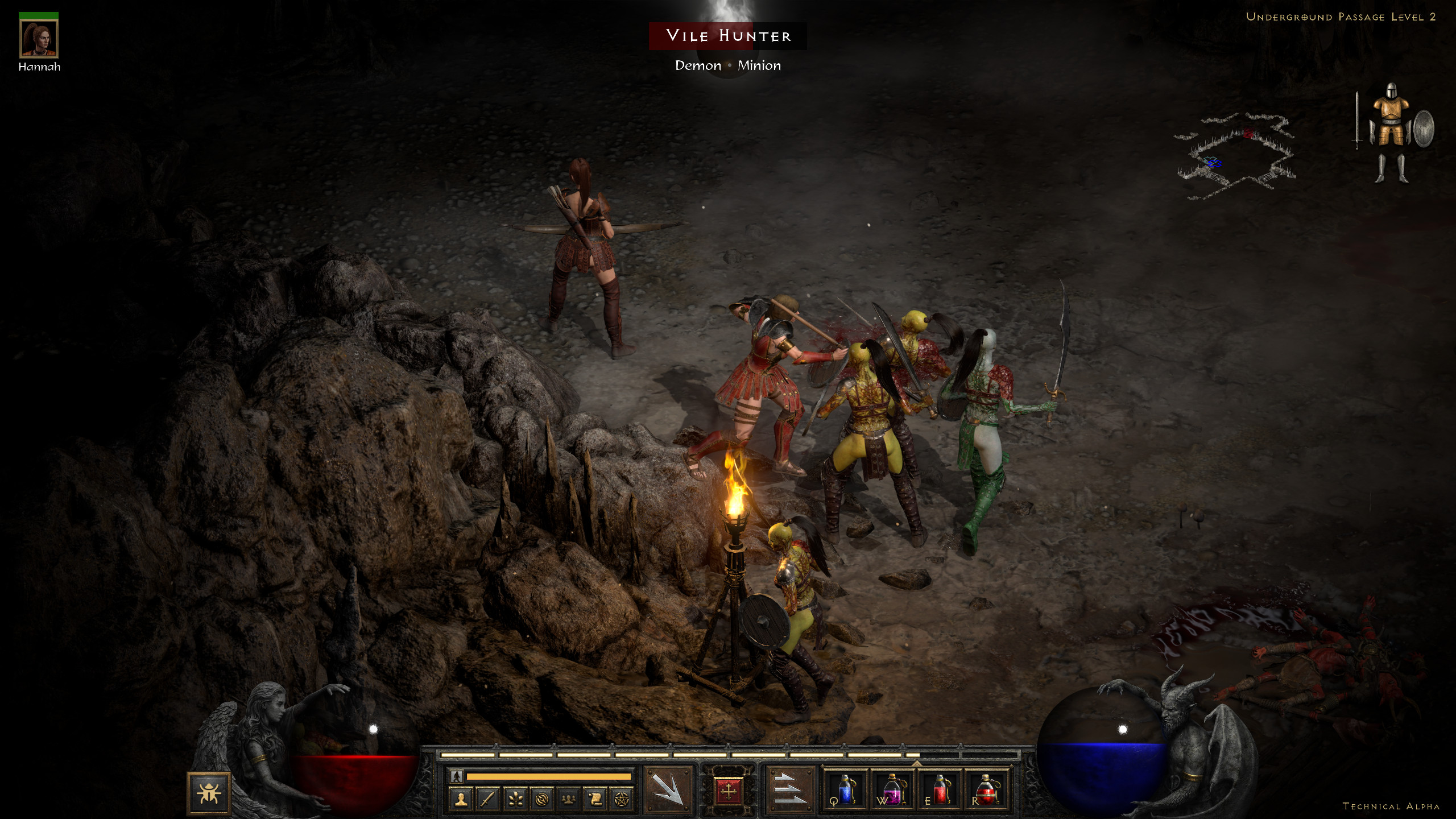 In future tests, the multiplayer experience should be available for preview. Considering how important this is nowadays, fingers crossed that it all works fluently and as expected. There have been only minor bugs, like mercenary AI getting stuck, during our solo preview but multiplayer often comes with a few issues. We'll report back on the online gameplay when/if we are able to soon.
Besides that, the solo experience Diablo 2: Resurrected offers is promising and shows Blizzard still knows what the fans really want.