Each week there are plenty of new games coming out. Although with so much going on it can be hard to keep track of them all. Thankfully Checkpoint is here to sift through them all and bring you our highlights of the week.
So let's jump in and have a look at what's coming out in gaming this week.
Base One
Date: 11/05/2021
Genre: Simulation
Platforms: PC
"Base One is a base building management strategy game with an RPG twist. After a large wormhole tears the moon apart and causes unprecedented levels of natural disasters, the Earth Global Union create the "Solution" space exploration program in order to explore the wormhole for a new home. As a member of the "Solution" program, it is up to you to expand the fleet, find valuable minerals and new planets to inhabit – and maybe even save the Earth from ecological destruction!"
Retro Machina
Date: 12/05/2021
Genre: Adventure / Platformer
Platforms: PC, PS4, Xbox One, Switch
"Only one city remains on the planet, and it's only robots who inhabit it now. Protected by a glass dome, Endeavor rises above the once lively area and worker robots are trying their best to keep it going. In order to maintain it, every robot has to do its job perfectly and any imperfections found are being discarded.
Thrown to a junkyard for a malfunction, a single robot worker is on a quest to get itself fixed. But the city sees this loyal worker as a threat now, so all the robots and defenses that protect Endeavor have turned against their former colleague. With the unique ability to control various machines of the city, including any robots that are in the way, this little Robot is on a mission to fix himself and find intelligent life.
Yet it seems that there is no intelligent life left. Only the robots programmed to keep the city nice and clean for people who are nowhere to be found."
Sacrificial Lighthouse
Date: 12/05/2021
Genre: Adventure / Thriller
Platforms: PC
"Sacrificial Lighthouse is a small but atmospheric story that won't leave you indifferent.
You play as a girl named Maya, who finds herself on a strange island with a lighthouse during a storm. What is this strange place? How and why did you get here?
Do you dare to find out the truth and what you are willing to sacrifice for it?"
Hundred Days – Winemaking Simulator
Date: 13/05/2021
Genre: Simulation / Strategy
Platforms: PC
"In Hundred Days you will have complete control of a new Winery. First choose which vines to grow, learn how to grow them and when to harvest. Then following the entire winemaking process deciding on the type of wine you want to produce or the market requires. You will also have to sell the wine produced to allow your company to expand.
As in reality, every choice made, from the vineyard to the sales, will be able to influence the wine produced both in quantity and quality . A quality wine will increase the reputation of your company worldwide, it may have come at a higher price and will allow you to grow better and faster."
The Companion
Date: 13/05/2021
Genre: Adventure
Platforms: PC
"A cinematic gaming experience. Play as an animal in the spiritual realm. Journey on a quest of purpose and fate. Explore a magical and beautiful world where visions of a past, present, and future, guide you. Collect Essence and find Artifacts that aid in building a link to the corporeal realm.
This is a single player narrative. It is a story of mystery, intrigue, and adventure. Journey across seven majestic landscapes and witness the emotional story of a family as they tackle the challenges ahead of them. One step at a time, together."
Lost Ruins
Date: 14/05/2021
Genre: Action / Platformer
Platforms: PC
"A young girl wakes up in a dimly lit dungeon without any of her memories. Surrounded by horrible, bloodthirsty monsters, she is rescued by a mysterious magician, Beatrice. With Beatrice's help, the girl goes on a perilous journey to find answers and unlock the secrets of the Lost Ruins."
Famicom Detective Club: The Missing Heir
Date: 14/05/2021
Genre: Adventure
Platforms: Switch
"This is the first game in the Famicom Detective Club series.
The mystery begins when a man named Amachi discovers your unconscious body on a cliff in the Japanese countryside. Clouded with amnesia, you learn that you are a detective and must return to your case—solving a murder involving the wealthy Ayashiro family. Uncover the secrets of the Ayashiro family, find the murderer, and regain your lost memories."
Famicom Detective Club: The Girl Who Stands Behind
Date: 14/05/2021
Genre: Adventure
Platforms: Switch
"This is the second game in the Famicom Detective Club series.
As an up-and-coming detective, find the culprit who took the life of an innocent girl and rattled her high school community. The victim was investigating a ghost story of a bloody girl who haunts the school and appears behind students. Deconstruct this grisly rumor at Ushimitsu High School and free these students from their nightmare."
Mass Effect: Legendary Edition
Date: 14/05/2021
Genre: Action / RPG
Platforms: PC, PS4, Xbox One
"One person is all that stands between humanity and the greatest threat it's ever faced. Relive the legend of Commander Shepard in the highly acclaimed Mass Effect trilogy with the Mass Effect™ Legendary Edition. Includes single-player base content and over 40 DLC from Mass Effect, Mass Effect 2, and Mass Effect 3 games, including promo weapons, armors and packs — remastered and optimized for 4K Ultra HD.
Experience an amazingly rich and detailed universe where your decisions have profound consequences on the action and the outcome."
Subnautica: Below Zero
Date: 14/05/2021
Genre: Adventure / Survival
Platforms: PC, PS4, PS5, Xbox One, Xbox Series X, Switch
"Dive into a freezing underwater adventure on an alien planet. Below Zero is set two years after the original Subnautica. Return to Planet 4546B to uncover the truth behind a deadly cover-up. Survive by building habitats, crafting tools, & diving deeper into the world of Subnautica."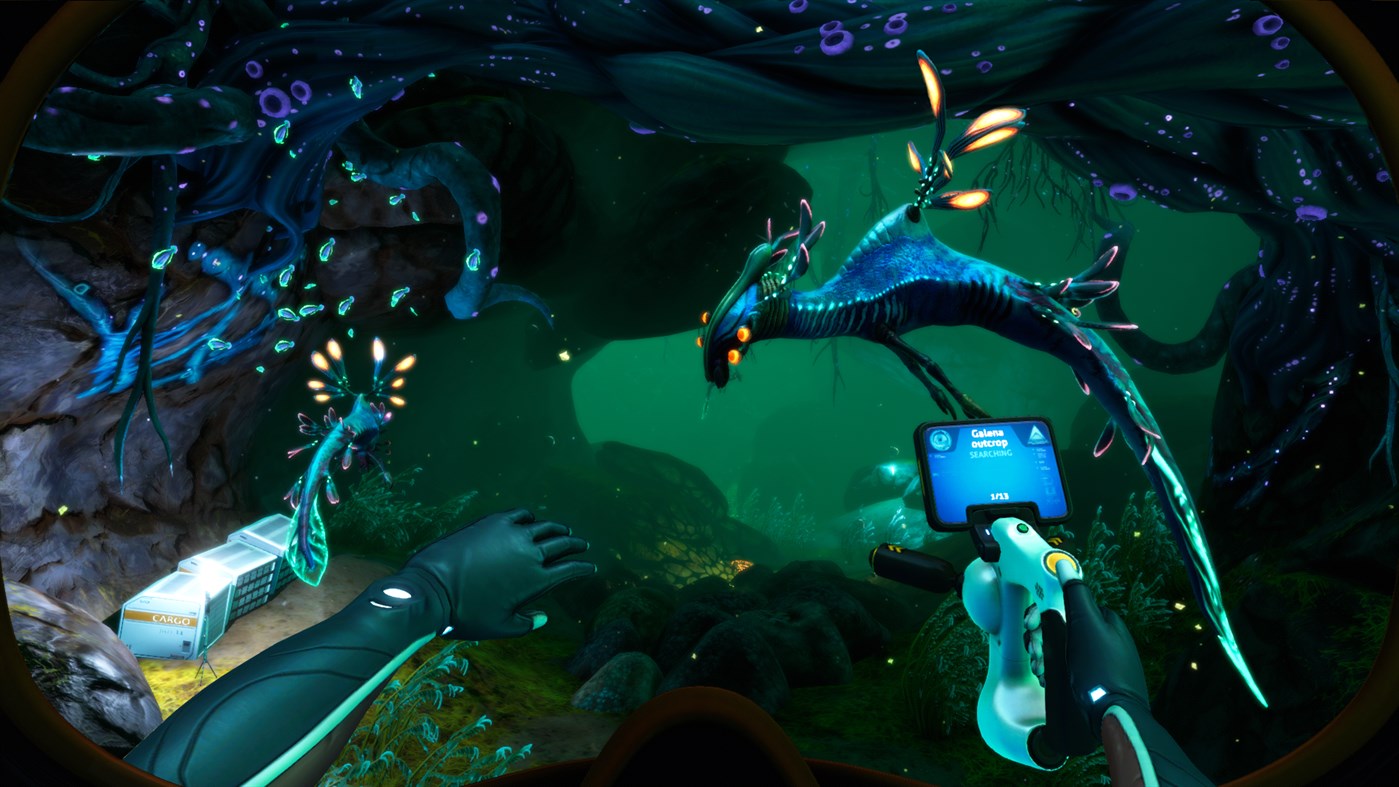 Subnautica: Below Zero
We return to planet 4546B once again! There's so many more beautiful and horrifying things to discover here. If the dreaded memories of the first game are anything to go by, we can all expect to be terrified of the ocean once again.